Cyber Protect Home Office
formerly Acronis True Image
Hello! My name is Gaidar Magdanurov. A few months ago I started as the new General Manager for the Acronis True Image business, and you will be reading more from me here in the future.
Our team is happy to announce the availability of a new update for Acronis True Image 2016 that brings a few new features into the product. The update is available to all Acronis True Image 2016 and Acronis True Image Cloud customers now.
Let me call out a few features that were among the most requested in our User Forums and through feedback forms in the product.
NVMe and eMMC drives support on Windows - Acronis True Image and the bootable media now fully support ultra-fast NVM Express drives, as well as eMMC storage, meaning that we support most of the new devices available on the market.
Upload speed limits for Acronis True Image Cloud on Windows and Mac - New restrictions allow you to make sure that Acronis True Image is not competing with other applications for network bandwidth. See below:
Templates for email notifications on Windows - In Update 2, you can configure the email subject with the name of a backup plan, computer name and operation status. See below: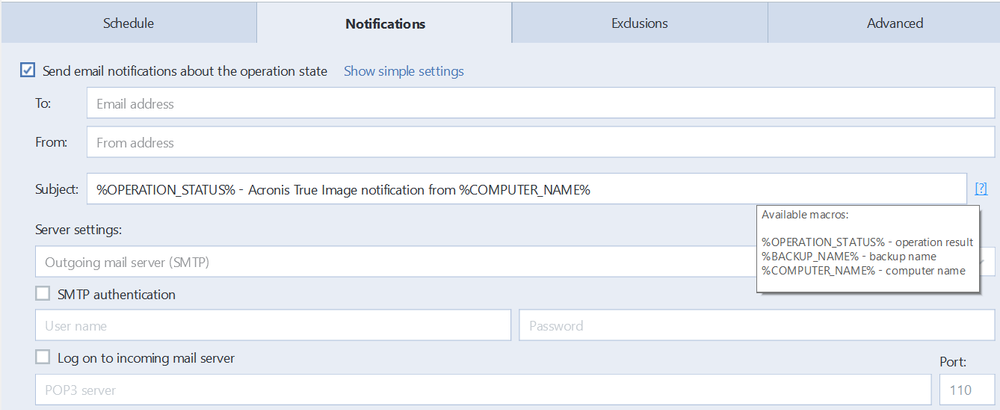 Acronis Media Add-on is included on Windows - No need to download it separately when creating a WinPE bootable media. Although we still love our Acronis Bootable Rescue Media more.
More control over shutdown behavior on Windows - You can now decide, with a setting, what the computer should do if a shutdown interrupts your backups. You can stop the backup and shut down or prevent a shutdown, and continue backing up. We also improved the closing speed with Acronis True Image finishing background operations on system shutdown much faster. See below:

Support for Microsoft Surface 4 in the bootable media - Internal disks of Surface computers are accessible to bootable media.
4K high-DPI display support on Windows - Acronis True Image 2016 now supports 4K displays. The interface stays crisp, and the fonts remain clear, even when you scale the UI.
We also fixed most of the known issues reported by our users via product feedback forms and in our User Forums, as well as improved overall performance of local backup and Cloud backup upload speed. If you want to influence the Acronis True Image feature set – feel free to submit feedback from the Help -> Send Feedback menu. We read and classify all the feedback and apperciate your input.
If you're a current user that needs to upgrade or a new customer looking to get the latest release of Acronis True Image 2016, click here for more info.
Stay tuned for some interesting facts from Acronis True Image team!
About Acronis
Acronis is a Swiss company, founded in Singapore. Celebrating two decades of innovation, Acronis has more than 2,000 employees in 45 locations. Acronis Cyber Protect solution is available in 26 languages in over 150 countries and is used by 18,000 service providers to protect over 750,000 businesses.