Acronis

Cyber Protect Cloud
Data is the lifeblood of a successful business. It enables companies, from fledgling start-ups to the world's biggest enterprises, to maintain business-as-usual and grow through data-backed strategies. The trouble is, with so much of modern business success riding on properly maintained and readily accessible business data, the consequences of data loss have never been more serious. That's where data backup services come in.
What are data backup services
Data backup services provide companies the protection they need to keep all of their data secure. With these services in place, businesses can confidently access, review, and safeguard their data – and their customers' data – from both accidental and malicious data loss events.
Third-party data backup and recovery services are delivered by independent software vendors (ISVs) or managed service providers (MSPs), who offer tools and support that make data protection efforts easy, efficient, and secure while shifting the responsibility for backup creation, management, storage, and recovery processes to experienced professionals. Put simply, data backup services help businesses focus their attention and resources elsewhere while staying confident that the data that keeps them in the black is always secure and available.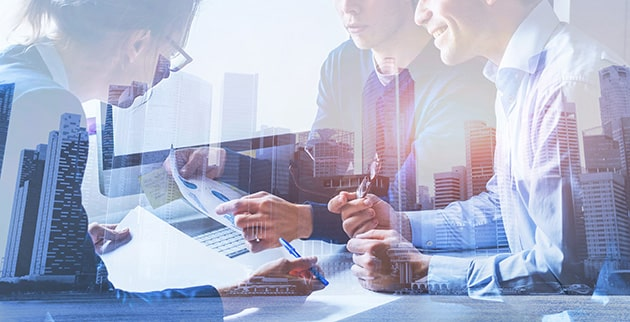 While these benefits are true for all businesses, there are major differences in how different businesses will prioritize functions and capabilities as they begin looking into data backup and recovery services. These differences can stem from company size to budget to compliance requirements and more. One of the most significant distinctions in choosing a data backup service, however, is whether your organization will be an end-user of the service or an MSP who will offer the service to a portfolio of customers.
What businesses need from data backup services
For end-users, data backup and recovery services represent an easy, reliable way to keep business moving. With them in place, companies can reduce the time, money, and resources needed to maintain backups and restores while strengthening data protection through flexible, secure cloud and on-premises storage.
Unsurprisingly, all of these data backup service benefits rank highly in ESG Research's recent survey of IT professionals. Most notably respondents named speed, flexibility, security, and cloud-restore capabilities as the most important features of data backup as a service solutions (BaaS).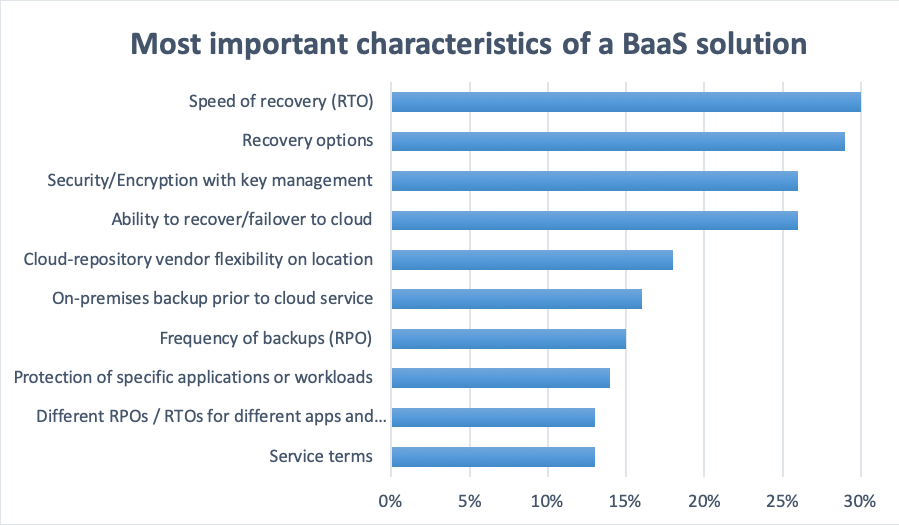 That said, these benefits are only compelling motivators as long as the data backup services they receive from their solution are reliable. In fact, in a recent Acronis survey, business users reported that safety – defined as reliable backups that keep stored data complete and recover-ready is the most sought-for feature of data backup services.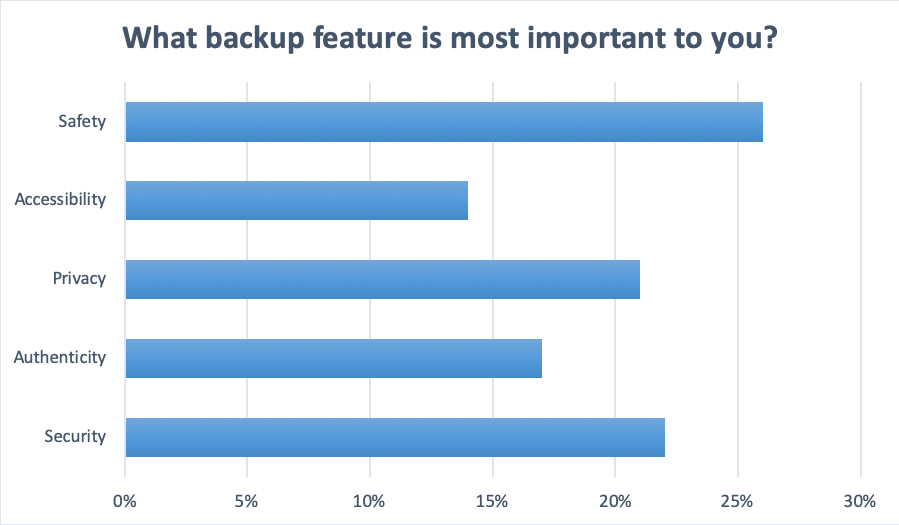 To achieve backup reliability, you need to find data backup services that protect your mission-critical data – in whatever format, volume, or storage destination you choose. By using data backup services, everything from your business' individual files and folders to entire servers are defended against data loss with backups of exactly what your business can't afford to lose ready to be recovered in a matter of minutes should the need arise.
Furthermore, by using business data backup services IT teams gain a crucial layer of protection only possible by distancing a copy of their business data away from their on-premises servers and storage. Offsite data backup services, especially cloud-based data backup services, maintain extremely high levels of security for stored data while helping to the reduce the impact of some of the most common causes of data loss (accidental deletions and hardware failures) and some of the most extreme (fires, floods, and other natural disasters).
What managed service providers (MSPs) need from data backup services
For MSPs, all of the benefits of data backup services mentioned above become even more important to business success. When your organization is responsible for managing IT services for a portfolio of business customers – all of whom depend on you to maintain their own business continuity – providing highly reliable and secure data backup and recovery services is key. In order to attract and retain customers, MSPs need to include business data backup services in their service offerings, but this isn't enough on its own.
To find the perfect data backup and recovery service for your MSP, be sure to focus on capabilities that make integration into your service offering and implementation to your customers both easy and profitable. The most important of these are:
Onsite-to-cloud backup capabilities
The best online backup services will provide efficient, secure backup and restore capabilities which support any variety of backup and restore options. That said, a recent survey of MSPs by Kaseya suggests that onsite-to-cloud data backup services are at the top of wishlists for MSPs around the globe: This specific data backup service saw as much as a 37% increase in preference year-over-year.
This makes sense, given that cloud-based, offsite data backup services represent one of the best ways to ensure both high-speed data backup and recovery services and end-to-end encryption for all your customers' data. The benefits of cloud-based data backup services have become increasingly clear to businesses in recent years. In fact, 75% of businesses now include cloud backups in their backup plans. Given how important cloud capabilities are to MSP customers, it's clear to see why these remote data backup services should be at the top of your list for consideration.
Integration with existing RMM and PSA tools
Of course once your customers are protected through a data backup service, you'll need to be able to recover this data efficiently to meet strict recovery time objectives (RTOs). And, throughout this entire process, you'll need data backup services that maintain high levels of data protection with secure encryptions for all data – both in-transit and at rest.
By far the best way to meet these needs is by incorporating data backup and recovery services that are pre-designed to integrate with your existing remote management and monitoring (RMM) tool and professional services automation (PSA) tool. This will ensure seamless implementation and connection into your existing processes. Data backup services don't, as a rule, integrate with all RMM and PSA tools, though the best online backup services will. Ensure that any you invest in will simplify your use as it comes onboard.
As with all the services included in your MSP software offerings, customers are going to be most interested in access to data backup and recovery services if they're available on a pay-as-you-go basis. Not only does this save your customers money, it also makes monthly billing easier for you through simple data backup service usage tracking.
What's more, with data backup and recovery services that enable this pricing model for your use, it's easy to maintain the same model – with price increases for your own profitability – as you offer data backup services to your customers.
Data backup service white-labeling
As your MSP grows in scale and reputation, maintaining your own brand – separate from those of the vendors you use – is key. Some remote data backup services designed for MSP customers make this easy through complete service white-labeling.
With a white-labeled data backup service, your organization gains the expertise and reliability of dedicated business data backup services while staying consistent to your own brand logo, colors, and more. This gives your MSP both a top quality service to add to your service offering and a opportunity to look and sound like yourself while you're doing it.
Full protection demands more than just data backup services
Regardless of whether you're an end-user or an MSP, data backup services are an essential part of keeping your business productive, secure, and successful through any accidental or malicious data loss events.
That said, with businesses relying on data more than ever before and cyber threats growing more sophisticated every day, business data backup services are no longer enough to ensure the protection you need. Today for an organization to thrive the IT concerns of cyber security and data protection need to be seamlessly connected into a single focus: cyber protection.
Acronis is the only solution on the market that balances the five vectors of cyber protection: safety, accessibility, privacy, authenticity, and security (SAPAS), combining the crucial goals of data protection and cyber security to deliver the most robust defense possible. As part of that effort, Acronis is constantly enhancing their data backup services to make them as comprehensive a solution as possible. To that end, they've developed a number of innovative business data backup services – designed to meet the unique needs of organizations from just-launched start-ups to globally-recognized MSPs and enterprises:
Acronis Backup with Cloud Deployment for Businesses
Acronis Backup is the world's most secure data backup service, offering businesses the ability to balance all five vectors of cyber protection and maintain business continuity through any data loss event. Today, Acronis Backup allows businesses to protect data on more than 20 platforms and recover data to anywhere, anytime they choose.
With its best-in-class cloud-based data backup service add-on: Acronis Cloud Storage, users gain even more flexibility, speed, and security by keeping any level of data from individual files to folders, applications, or entire systems to the Acronis Cloud.
All of the data stored in the Acronis Cloud is available in a matter of clicks for users while being kept safely away from cyber criminals in more than 14 Tier-IV designed and SSAE-18 compliant data centers around the world.
Acronis Cyber Backup Cloud for MSPs
Acronis Cyber Backup Cloud is the world's leading hybrid cloud backup-as-a-service solution, a data backup service that enables users to protect any environment – virtual, physical, or cloud, with zero upfront costs and a simple pay-as-you-go business model designed to help you reach ROI faster.
To support endless flexibility and scalability, Acronis Cyber Backup Cloud now features protection for any workload and backup capabilities to on-premises destinations and a variety of cloud storage destinations including Acronis Cloud Storage, Google Cloud, Microsoft Azure, AWS, and both proprietary and third-party data centers.
With these solutions in place at your organization, your IT team will be equipped with data backup and recovery services that streamline, support, and secure all of your workloads exactly as you need it to be. Moreover, you will have taken a crucial step toward the seamless IT defense: cyber protection.
Interested in learning more? Request a free trial of Acronis Backup or Acronis Cyber Backup Cloud today to see how our data backup services can benefit your organization today!
About Acronis
Acronis is a Swiss company, founded in Singapore. Celebrating two decades of innovation, Acronis has more than 1,800 employees in 45 locations. The Acronis Cyber Protect Cloud solution is available in 26 languages in over 150 countries and is used by 20,000 service providers to protect over 750,000 businesses.