Acronis

Cyber Protect Home Office
formerly Acronis True Image
Mr. Jones was away on a business trip and his son, Michael, a senior in high school, was working hard on a school project on his laptop. He had just saved his file one last time, cleaned up his desktop, deleted old files, and emptied his recycle bin. He then went to print the document but, the file wasn't there. Somehow, he had deleted it. He went to his recycle bin — empty!
A Short Story about the Best File Recovery Software – Acronis Cyber Protect Home Office
What now? The project was due by 5:00 PM and it was already 2:00 PM.
So Much File Recovery Software, So Little Time
In a panic, Michael researched online for ways to recover his file. He started learning about file recovery software. File recovery software — also called data recovery software or hard drive recovery software — is designed to scan a drive to find deleted data and piece the found data structures back together to recreate the deleted file.
Michael found an article that listed 19 free file recovery tools. Then, another article which listed five. He wasn't sure whether to go for "free" or look for a tool that cost money. After all, you get what you pay for, right?
Michael spent a few hours researching both free and paid file recovery software and finally decided to download one of the free tools and try it. He spent some time trying to recover the file but couldn't get it to work. He then went and purchased a file recovery tool and spent more time working with that. Time was ticking away and by the time Michael recovered the file, it was 6:30 PM.
Michael submitted his paper but the teacher marked it down a grade because it was late. When his dad returned from his business trip, Michael explained how he lost a grade because he accidentally deleted the file. "I spent hours researching a bunch of free tools and more time researching paid tools," explains Michael. The free tools didn't work. The paid tools worked, but by the time I recovered the file, I had missed the deadline."
You Don't Need File Recovery Software
Mr. Jones was incredulous. "Mike, you didn't need file recovery software. You only needed to recover your file from your backup, duh!"
Mike's face flushed red. He hadn't thought of that. "In fact," Mr. Jones continued, "I could have recovered the file for you or talked you through how to recover it yourself."
Mr. Jones is right, even while away from home, he can track and control the protection status of his family's devices using Acronis' web-based Online Dashboard. The dashboard is accessible from any computer connected to the Internet. With this web application, Mr. Jones can recover data, like Mike's document, from any backup located in Acronis Cloud, including backups from PCs and Macs, and iOS and Android devices. He can also:
Control backups on family devices running Windows, Mac OS X (including MacOS Sierra), iOS, and Android.

Add a new device to the list.

Manually start any backup on a remote computer.

Create new backups of any type (entire machine, file-level, disk-level) on PCs and Macs.

Change settings of existing backups.
7 Simple Steps to Recover a File Using Acronis' Online Dashboard
Mr. Jones then went on his computer to show Michael how to recover data from an online backup using the dashboard: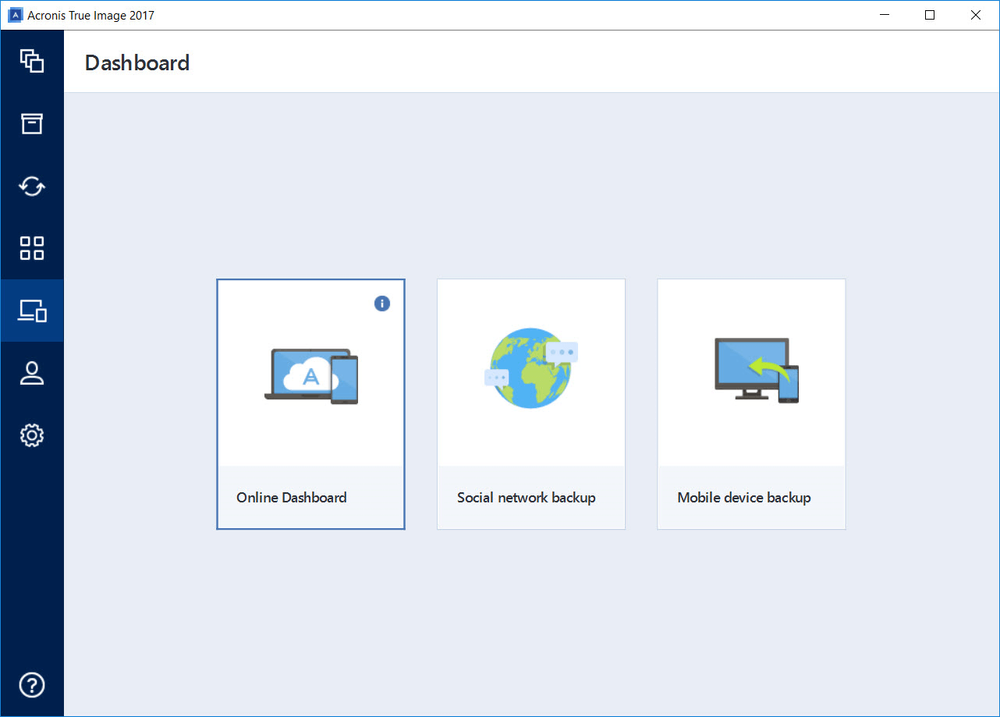 Open the Online Dashboard at: https://cloud.acronis.com and sign into our Acronis account.

On the Resources tab, identify the device where the file was located.

Click Recover.

On the left panel, select the backup version by the backup date and time.

On the right panel, select the check box next to Michael's file.

Click Download.
"Once I downloaded the file, I would have emailed it to you," Mr. Jones explains. "You would have easily made your 5:00 PM deadline with time to spare."
6 Simple Steps to Recover a File in Acronis Cyber Protect Home Office
"You could have also recovered your file yourself," Mr. Jones adds. "Let me show you."
Start Acronis Cyber Protect Home Office

On the sidebar, click Backup.

From the backup list, select the backup that contained Michael's file.

On the right panel, click Recover files.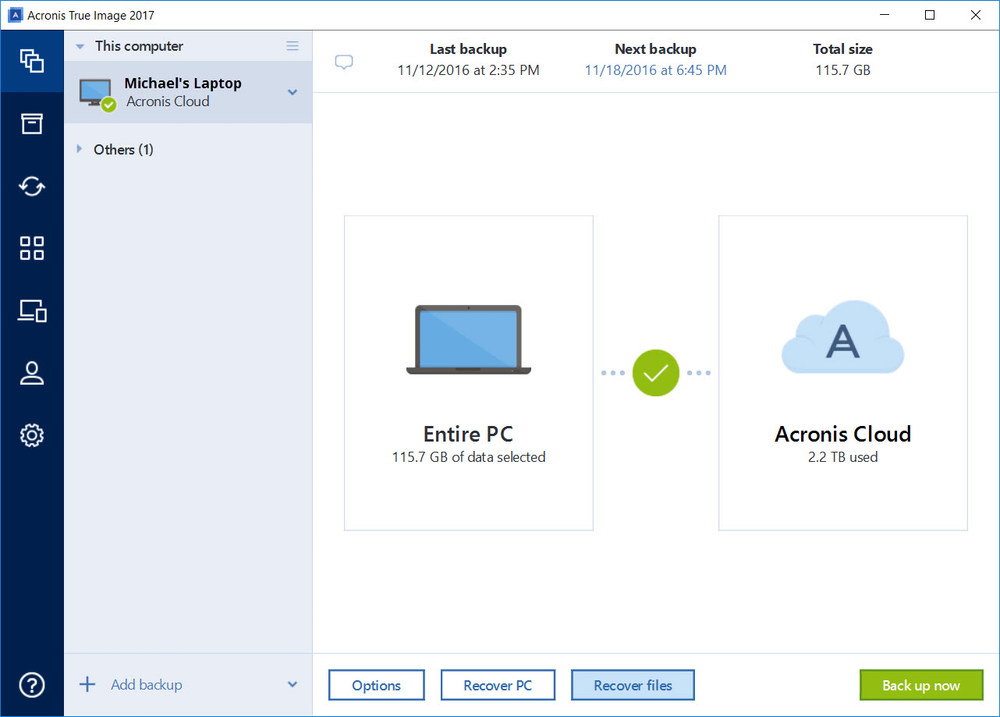 Select the backup version by the backup date and time.

Select Michael's file and then click Next.
Michael looked at his Dad and shrugged his shoulders. "I had no idea this was available to me and how easy it was to use," he said. "I didn't have to lose a grade on the paper after all!"
Back up With Acronis Cyber Protect Home Office, the Best File Recovery Software
Acronis Cyber Protect Home Office is the #1 Personal Backup Software. It backs up everything in just two clicks, delivers the fastest backup and recovery available on the market today, and protects PCs, Macs, iOS iPhones, iPads, Android devices, and Facebook — even remote data. Other key features include:
Easy full-image backup — Protect everything: the operating systems, all programs and applications, setting files, and boot information.
Dual-Protection — Back up locally to your external drives, NAS, and network shares, and the Acronis Cloud.
Mobile Backup — Back up your iPhones, Androids and tablets to your Windows PC and/or to Acronis Cloud. Manage all devices from a touch-friendly online dashboard. Migrate your data from Android to iOS and back.
Archive — Archive your files from your computer to cloud storage or an external drive to free up disk space.

Search — Find select files within backups and archives with powerful search.
Still not sure? At no cost, you can safely try Acronis Cyber Protect Home Office, the original full-image backup, and see for yourself. With 14 years of data protection experience behind it and over 5.5 million users strong, Acronis offers the #1 Personal Backup Software that protects everything with one solution!
Acronis Cyber Protect Home Office
For Home Office
Protect, Backup, and Recover - Trust Our Solutions!
About Acronis
Acronis is a Swiss company, founded in Singapore. Celebrating two decades of innovation, Acronis has more than 1,800 employees in 45 locations. The Acronis Cyber Protect Cloud solution is available in 26 languages in over 150 countries and is used by 20,000 service providers to protect over 750,000 businesses.