Acronis

Cyber Protect Home Office
formerly Acronis True Image
The announcement that Code42 Software is discontinuing its personal backup product CrashPlan Home has its customers feeling betrayed, abandoned and unsure how they will protect their data moving forward.
The fact the announcement was made on the same day we released Acronis True Image 2018 is a sign of where those customers should look next. In fact, we'd invite CrashPlan customers to try our new product free for 30 days. You can see what it's like to protect your data with the world's number one personal backup – no cost, no credit card, no strings attached.
You'll find that we deliver the same benefits of CrashPlan Home, but with more features, greater security and all for a lower price.
Flexible. Send your backup file wherever you want – to a local drive, external drive, another computer, network attached storage, or the cloud.
Accessible. Sync your files so you can access them from another computer or on your mobile device.
Constant. Continuously back up your files without affecting your system's performance.
Control. Save as many versions of your backup as you want, and decide how long you want to keep them.
Mobile. Safeguard the data on all of your family's smartphones and tablets, since one license covers an unlimited number of mobile devices.
But with Acronis True Image you'll get something that CrashPlan, Carbonite, and others don't offer – backup that's been independently proven to be the fastest, easiest to use and most secure backup available.
Put innovative technologies to work for you
Yesterday's release of Acronis True Image 2018 builds on those strengths with multiple enhancements, including:
Backup and recovery speeds that are up to three times faster

A visual dashboard that displays backup activities and statistics

The ability to clone an active Windows system disk

Continuous backups to either the cloud or a local drive
Plus Acronis True Image 2018 is the only personal backup software that actively protects your data from ransomware using artificial intelligence-based technology – a unique defense at a time ransomware attacks are on the rise and projected to cause $5 million in damage this year.
CrashPlan is steering customers to Carbonite for their future backup needs. But before you choose any backup software, we encourage you to compare them against Acronis True Image 2018. You'll quickly see why ours is considered to be the most reliable, easiest to use, and most secure personal backup available. And at just $49.99 a year, it's also the most affordable.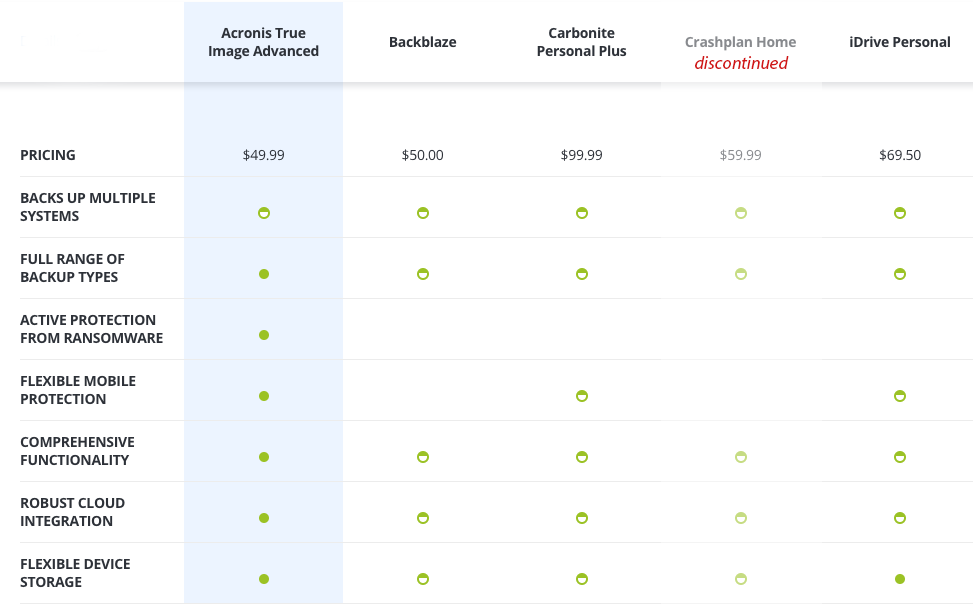 For nearly 15 years, Acronis has led the backup industry with innovative technology and proven data protection strategies. Comprehensive backup and complete data protection is our mission.
We're building personal backup for the future ... and we're not going anywhere. Download Acronis True Image 2018 Now and protect your data with the world's number one personal backup!
About Acronis
Acronis is a Swiss company, founded in Singapore. Celebrating two decades of innovation, Acronis has more than 1,800 employees in 45 locations. The Acronis Cyber Protect Cloud solution is available in 26 languages in over 150 countries and is used by 20,000 service providers to protect over 750,000 businesses.