formerly Acronis Cyber Backup
Many people are talking these days about the way cloud computing is changing our lives. Many new technologies are coming on the stage to make our lives easier, make our work more efficient, reduce expenditures and headaches. So many in fact that it is becoming harder and harder to keep your finger on the pulse and distinguish which could benefit you. I will try to simplify all this mess and explain how to arrange a backup service for your vCloud environment (be it a public cloud or an internal private cloud) by using Acronis Backup and Recovery (ABR) for vCloud. I'll also go on to briefly describe the benefits from this technology.
BaaS vs regular backup approach
Let's look at VMware vCloud –it allows us to provide IT-as-a-Service to cloud tenants or branch offices of a company, delivering centralized control and infrastructure management while also providing clients with self-service management of their resource pools. Backup is a vital part of IT, so why not use the same approach for backup? Cloud owners could control the storage and backup infrastructure centrally, saving tenants overhead costs of managing and maintaining it, and diminish their costs due to serving their recovery requests and developing different backup policies for their tenants' different needs.
ABR for vCloud allows cloud owners to deploy a backup solution on their side and give tenants the ability to log in to the web interface with their vCloud Director credentials, see the list of their vCloud resources (vApps and VMs) and set up their own backup schedules/retention rules. Tenants can also perform self-service recoveries, preserving all vCloud settings including network configuration and custom meta information. Service providers can define storage quotas for organizations and set up privileges, allowing tenants full control over backup schedules and recoveries, or limiting them to only using predetermined schedules. They can even limit tenants to only conduct recoveries. And of course, tenants will be able to monitor the status of backups and receive e-mail notifications about successful or failed backups.
Goal
The engineering Team working on this product (which I'm proud to be a part of) had a pretty challenging goal - create a solution that will give vCloud tenants a very clear and self-explanatory management console, provide a powerful set of features to cloud owners, reduce the management costs and give public clouds the ability to capitalize on it, while at the same time allow cloud administrators to deploy and configure the solution in less than an hour. We had to contemplate on the architecture multiple times, design and implement before making decisions, and validate each decision against all of the before mentioned requirements. Besides all of that the solution had to be scalable and robust to satisfy the requirements of a 24/7 service, being offered to end-users.
The screenshots below illustrate tenants' web interface: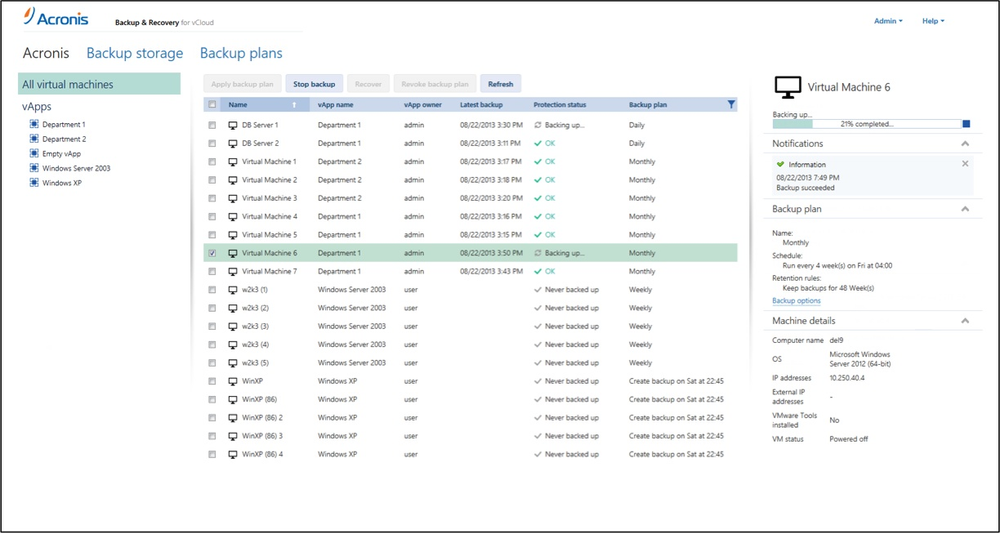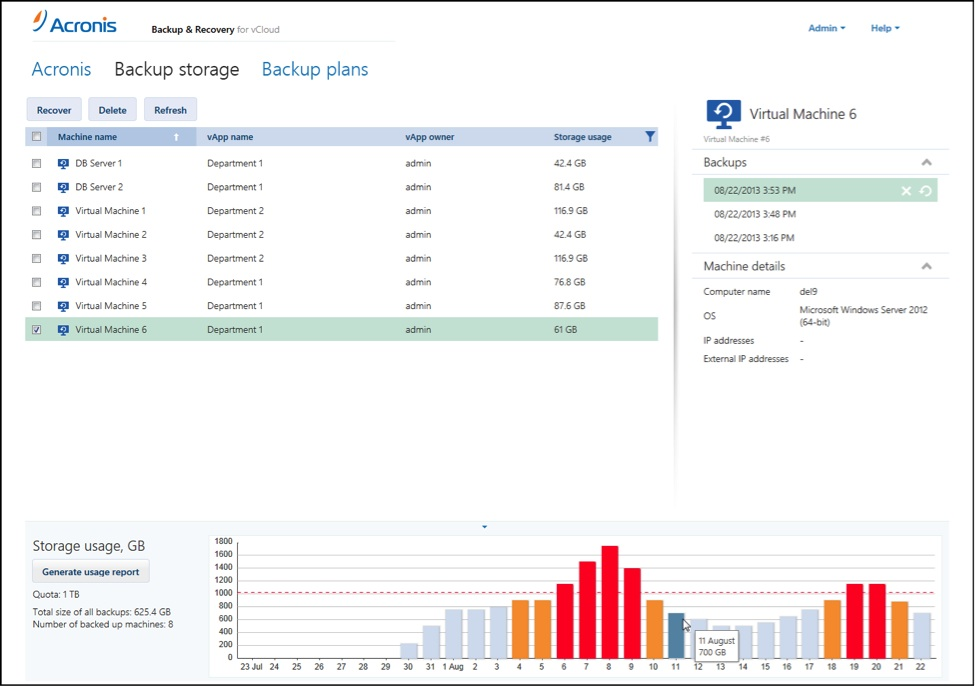 Technology
As you know, the old-school "agent-inside-guest-OS" method won't work for backup-as-a-service approach, so Acronis is leveraging vSphere APIs to back up VM's on a vSphere level and vCloud Director API to authenticate in vCloud Director. We also collect all the meta-information associated with backed up vCD objects. By leveraging VMware CBT (Change Block Tracking), we speed up incremental backups, and Acronis software deduplication component along with compression algorithm reduces the storage size utilized by backups and decreases the network traffic.
Backup Agent could be either a Linux-based virtual appliance that is deployed to an ESX(i) host, or a proxy-agent deployed on a Windows box. You can easily scale up and down by adding/removing backup agents and you will have a centralized management interface to manage/monitor these agents, configure automatic load balancing or direct bindings between these agents and backed up virtual machines.
Provided that you have VMware tools installed inside virtual machines, backing up VMs with running VSS-aware applications won't be an issue, as the backup agent will leverage VSS inside the virtual machine to create an application-consistent virtual machine snapshot.
ABR for vCloud supports any type of storage you may have in your datacenter – NFS, SMB, FTP, FC or iSCSI LUNs and even tape drives/autoloaders. You may also consider a staging scenario, replicating your backups from a primary site to a secondary one. You can arrange a LAN-free backup by attaching a LUN directly to a backup agent and omitting your production LAN with backup traffic.
According to numerous surveys, one of the main factors preventing people from moving to the cloud is data security. Although a backup solution cannot guarantee security of data inside live virtual machines (there is a bunch of other tools for this purpose), ABR for vCloud provides encryption for backed up data - both on the fly and at rest. The encryption option is available for tenants, so that they can make sure data in their backups is secured with an industry-standard AES-256 encryption algorithm.
Disaster Recovery as a service (DRaaS)
As you may have noticed, DR as a service is quite a hot topic these days, especially taking into account the more and more frequent transformation of resellers, VARs and system integrators into cloud service providers and also due to the fact that running a DR site is far too expensive for most small and medium businesses, which require business continuity and near zero downtime for their servers. Here ABR for vCloud comes in pretty handy, as it allows a service provider to organize an automated DR scenario for nearly any type of on-premise customer's resources (be it physical servers or VMware/Hyper-V/XEN/KVM/Oracle virtual machines). In fact, there are 2 scenarios that you can implement, resulting in:
End user having backups in your cloud and self-service web interface to recover these backups into virtual machines in your vCloud environment.

End user having a copy of his on-premise servers in your vCloud environment - either powered off or up and running.
Rebranding and integration
You can easily rebrand the web interface with your own logo and colors or even integrate the backup solution into your own management console or portal, using a JSON-based REST API provided by Acronis.
Licensing
There are two basic licensing schemes available for this solution – one for service providers running public clouds, the other one is probably more suitable for enterprises running a private vCloud deployment. The first one offers a pay-as-you-go licensing scheme, based on a monthly service usage. There are integrated usage reports aggregating statistics on a number of metrics, which are available both for service providers and tenants and which could be integrated into a service provider's billing system. The other option is a flat fee per host for a perpetual license.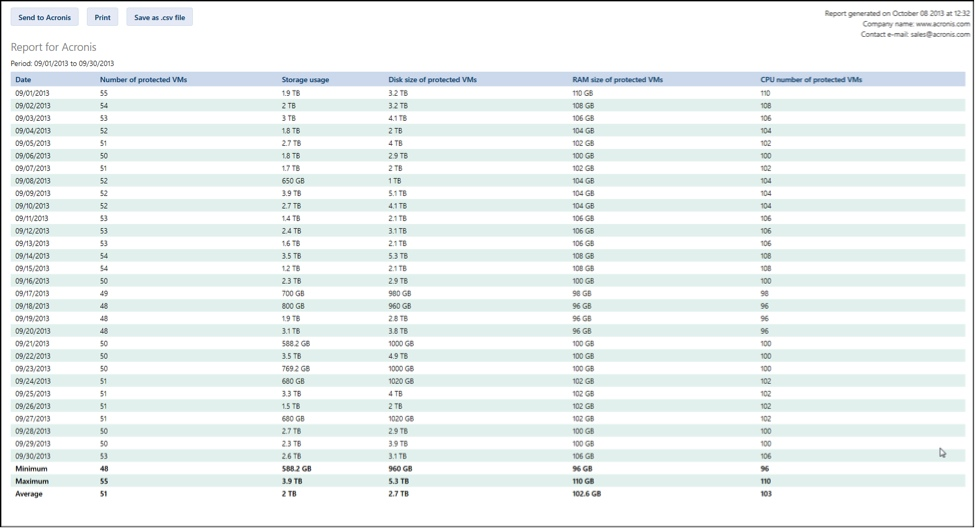 Passion
While working on this solution, Acronis engineers were not just designing and developing a piece of code to put on market, we were treating it like our own startup which we wanted to see grow, attract more and more attention, which we could show to our colleagues, friends and customers, and feel proud of what we've done. While working on its design, we've interviewed a number of service providers and private cloud owners, asking them for their requirements, demonstrating the product through its development phases and asking for feedback and - which is more important - acting upon it.
If you are interested in quickly checking what we've done, you may do a quick evaluation of a self-service part of our solution right from our web page: (registration required). You may also find some additional info about ABR for vCloud on the Acronis website.
About Acronis
Acronis is a Swiss company, founded in Singapore. Celebrating two decades of innovation, Acronis has more than 2,000 employees in 45 locations. Acronis Cyber Protect solution is available in 26 languages in over 150 countries and is used by 18,000 service providers to protect over 750,000 businesses.