Acronis

Cyber Protect Home Office
formerly Acronis True Image
According to StatCounter, TechSpot, and other sources, mobile devices are becoming more popular than computers by the day.
What will this article cover:
What Windows Native Backup is and How It Works

Windows Versions That Include Native Backup Features

Professional Alternatives to Native Windows Backup Tools

Why Acronis Cyber Protect Home Office is the Best Backup Solution for Windows
Nevertheless, for many users, PCs are still the final destination for most of their data. If you're like many who use both a Windows PC and a smartphone, you may transfer a lot of data from your phone to the computer (for safe keeping or to save space on your phone.) Add to that all the important data and files you create on your PC, and that's a lot of important data you probably want to protect. Well, a good Windows backup application can help you do just that. Therefore, in this article, we will discuss your Windows backup options to help you determine the one that's best for you.
Built-In Windows Backup Tools
If you're looking for a basic Windows 10 backup tool to store important files locally (i.e. a local hard drive or external drive,) you may not have to look too far. In fact, depending on the version of Windows you use, you may already have the native Windows backup utility installed on your computer by default. Through the years, many versions of Windows have included tools that enable users to create basic backups of important files and folders.
Native Windows Backup Tools
As Windows has evolved, so has its backup features. And, generally speaking, native backup tools included in modern versions of Windows (i.e. Windows 7, 8, and 10) are much better than legacy tools used in older versions of the operating system. In Windows Vista and 7, the backup utility is known as Backup and Restore. With Windows 8, though, Microsoft removed the Backup and Restore feature and replaced it with File History. With the Windows 8.1 update, Microsoft once again revived the Windows 7 backup app, which resulted in Windows 8.1 having two backup utilities (both File History and Backup and Restore.) When introducing Windows 10, Microsoft decided to continue to make both Windows backup tools available (as of the date of publication of this article anyway.) However, while Backup and Restore is still an option currently, it's never certain which features Microsoft will include or exclude in future updates.
How Does Native Windows 10 Backup Work?
While both File History and Backup and Restore enable users to backup files, there are some significant differences between the two utilities that are worth reviewing. Therefore, we will discuss some of these major differences in more detail.
Windows 10 Backup and Restore
Although introduced with the release of Windows Vista, the Backup and Restore utility didn't garner much attention until Microsoft rolled out Windows 7. Included with Premium, Professional, Enterprise, and Ultimate versions of Windows 7, Backup and Restore is a relatively good backup option for users wanting to backup Windows to a local or external hard drive. As mentioned above, this utility is also available for Windows 8.1 and Windows 10, and even includes the Windows 7 moniker in its main application window.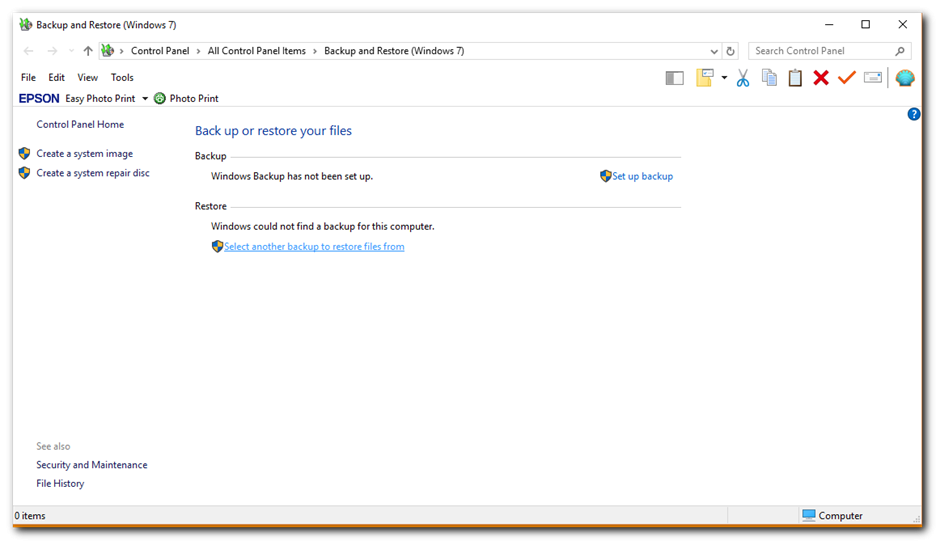 Using Windows 10 Backup and Restore
Regardless of the version of Windows you use, accessing the Backup and Restore feature is essentially the same. If the backup utility is available in your version of Windows, you can access it by clicking the "Backup and Restore" link in the main Control Panel window. Note - Although the Control Panel description states that the Backup and Restore feature enables you to "Recover copies of your files backed up in Windows 7," you can also use the utility to create or restore native backups in Windows 8.1 and Windows 10. Once you launch Backup and Restore, configuration options are rather limited. Still, you can choose which local drive you want to back up to as well the data you want to store. By default, Backup and Restore will back up all data files in your libraries, on the desktop, and in the default Windows folders. Additionally, Backup and Restore creates a system image that you can use to restore Windows if your system is not functioning properly.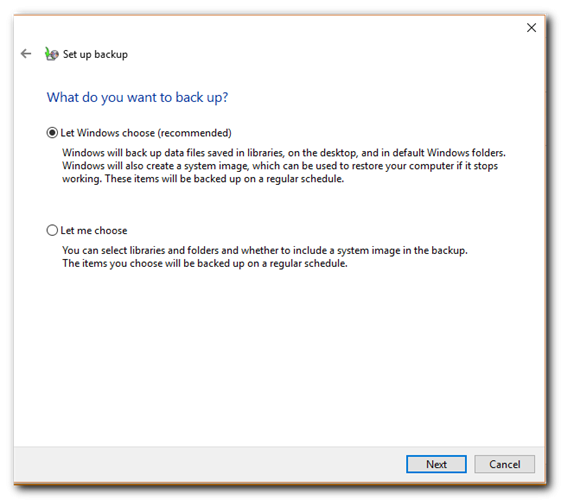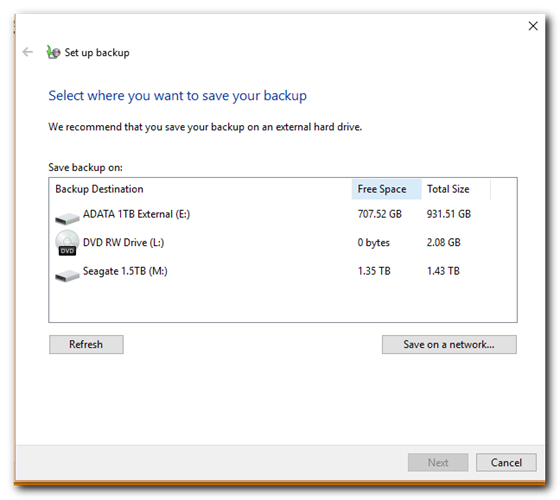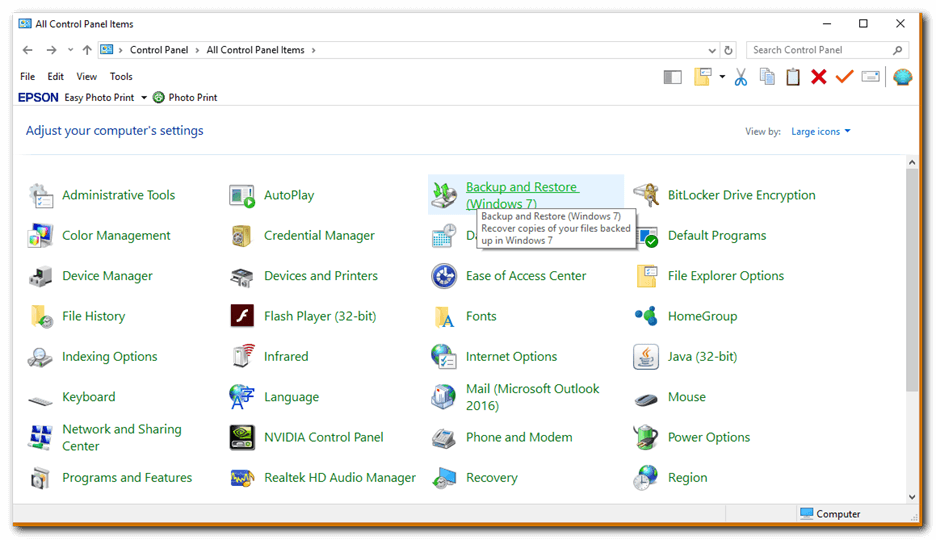 File History (Windows 10)
Introduced with the release of Windows 8, File History became the primary backup tool for the operating system. And, even though Backup and Restore is available in Windows 10, File History is still the utility Microsoft recommends for backing up files. File History is significantly different from Backup and Restore in that its primary purpose is to allow you to back up personal files rather than creating a complete system image.
While File History doesn't let you create complete system backups, it is relatively easy to use and a reasonable choice if you need only to save local copies of files you create in Windows. Once you select a drive to use for the backups, File History will store copies of the files and update them automatically as needed. In addition to simple user-file backups, File History also retains previous versions of your files so you can access or restore them if needed. As is the case with Backup and Restore, you can access File History from the Windows Control Panel.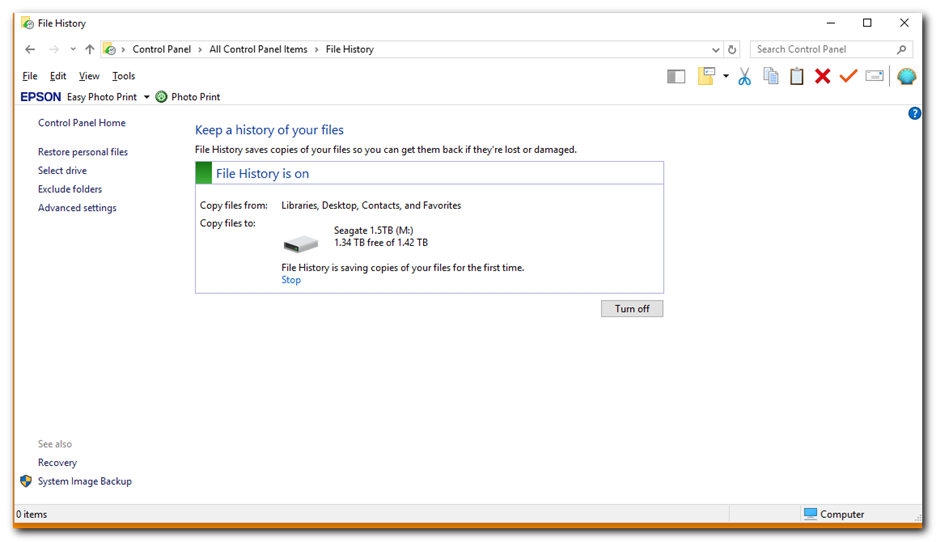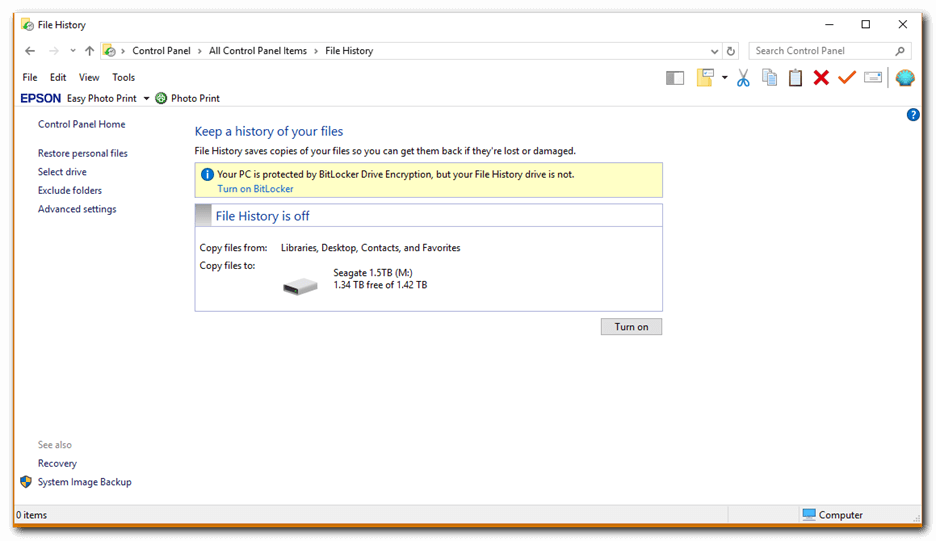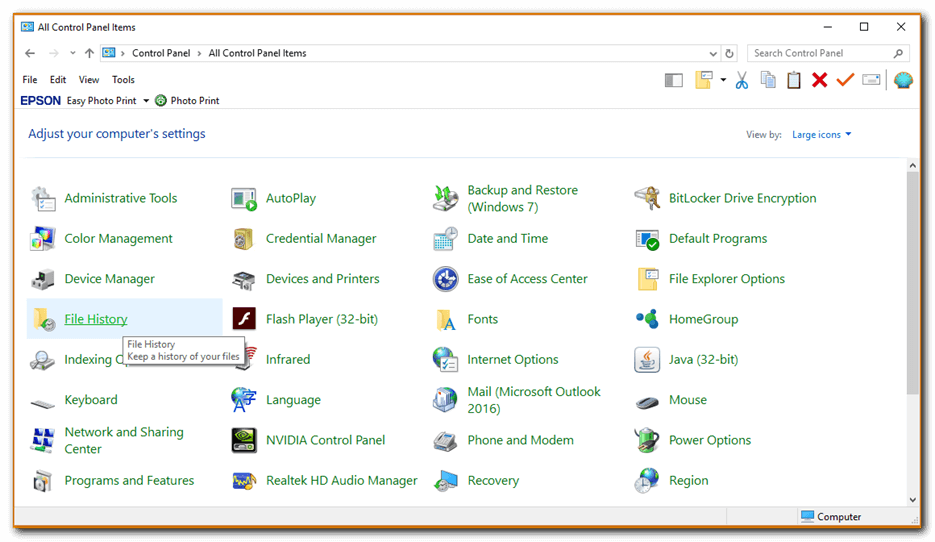 Windows 10 Native Backup Limitations
If you don't store a lot of files on your system, Windows' native File History or Backup and Restore utilities may be all you really need to store local backups of your data. Nonetheless, there are several critical limitations with the native Windows backup utilities that you should consider before trusting all your data to them. Here are a few:
Limited Custom Backup Options
As mentioned above, the Windows Backup and Restore utility has two backup options: "Let Windows Choose" or "Let Me Choose." If you opt to choose the file and folders yourself, Windows will not allow you to back up the following:
Files stored on hard drives formatted with the FAT file system;

Files in the Recycle Bin;

Temp files on drives smaller than 1GB;

Files in Windows System folders;

Disks and partitions without drive letters.
While File History allows you to restore individual files, Backup and Restore does not. Consequently, if you want to recover files from a backup file set, you must restore them all or none at all.
Limited Number of System Images
Backup and Restore lets you create a system image each time you perform a backup. However, you can only store one backup at a time on the destination drive. Therefore, if you want to store multiple system image backups, you must back up to multiple destination drives. Additionally, system images only include drives with files required for Windows to run.
Both Backup and Restore and File History allow you to store backups on local drives. However, neither one of the utilities includes a way to back up files online or to the cloud. If you want to upload backup files created with the utilities to the cloud, you must do so manually using a separate application or Web service.
A Quick Note About Windows System Restore
For many years, Windows users have used Windows System Restore to rollback changes or restore Windows system files when problems occur. With recent release and updates of Windows 10, though, Microsoft seems to have disabled the feature. Some have suggested that System Restore interferes with automatic updates. And, while you can re-enable system restore, the utility may no longer be a reliable means of protecting Windows system files. And, of course, this makes backing up Windows properly more important than ever.
Professional Windows Backup Applications
While using Backup and Restore or File History to create backups is indeed better than not using any backup tool at all, neither of the tools provides the advanced features needed to truly protect your data. Professional backup applications, on the other hand, address the limitations of native Windows backup tools by supporting various storage media types, better automation and scheduling, and direct backups to the cloud (to name a few.)
Free vs Paid Windows 10 Backup
While professional applications are not free, the best Windows backup software programs offer significant value for the price you pay. If you ever lose access to your data, the price you paid will seem trivial to the cost of recreating important files (if such recreation is even possible.) With all the threats that face your data these days (i.e. hardware failures, viruses, and ransomware) paying a modest price for top-quality backup software just makes good sense. So, in short, if your files are not worth that much to you, the built-in Windows backup solutions may be okay. On the other hand, if your data is important, spending a few bucks to protect your Windows system just might be a better deal than you could ever imagine.
Acronis Cyber Protect Home Office: The best Windows 10 backup software
Acronis Cyber Protect Home Office (formerly Acronis True Image) is a unified solution for individuals and at-home small offices (up to five computers) that delivers exceptional backup and recovery capabilities along with advanced cybersecurity protection. No matter what the cause of disruption — from hardware or software failure to a cyberattack—Acronis Cyber Protect Home Office ensures quick restores and recovery.
With Acronis Cyber Protect Home Office, you can create a full-disk image backups, but the solution also:
Enables you to back up locally and to the Acronis Cloud

Backs up your iPhone and Android devices

Supports iOS to or from Android migration

Creates direct cloud-to-cloud backups of your Microsoft 365 account, including the emails and attachments from your Outlook.com mailbox and all of the files in your OneDrive
Offers machine-intelligence (MI)-based cybersecurity to block attacks in real-time — before malware, ransomware, or cryptojackers can cause damage and keeps accidental infections and unwanted cyberattacks away from your valuable data while you're browsing online or videoconferencing with your family and friends

Backup Activity and Statistics
With Acronis Cyber Protect Home Office, recovering data is as straightforward as backing it up— a few clicks are all it takes. Additionally, APFS support and crash fixing in case of database failure is another benefit to ensure that you have all the tools for comprehensive data backu and file recovery.
We are here because of you! Protecting your most valuable assets and private information because we believe in your progress and making your dreams come true, by ensuring a peaceful path to the goal. Don't hesitate and become a member of our community of winners we will take care of the rest!
Acronis Cyber Protect Home Office
For Home Office
Backup Your Windows: Discover Our Personal Solution Now!
About Acronis
Acronis is a Swiss company, founded in Singapore. Celebrating two decades of innovation, Acronis has more than 2,000 employees in 45 locations. Acronis Cyber Protect solution is available in 26 languages in over 150 countries and is used by 20,000 service providers to protect over 750,000 businesses.