Our Channel Strong: Positive Vibes Tour keeps rolling down the road, and the Kansas City stop at Blue Tree Technology was an extremely fun event.
We got to meet our hosts, the Blue Tree team, and tour their office – with each member of the Channel Strong group visiting the office one person at a time. Blue Tree has a great business right in the heart of Kansas City servicing small- and medium-sized businesses in the greater KC area.
Matt Horning and his wife Isadora, the co-owners of Blue Tree, were amazing hosts and their team was a lot of fun. I'll post a video interview we did soon, but my main takeaway was Matt and Isadora have created a great culture. In fact, when I asked them what their one piece of advice would be to anyone starting a new MSP business, they said culture – the single best thing one could do to ensure their business' success is to build a great culture. Then make sure that anyone you hire is a great fit for your culture.
Well after hanging with their team this afternoon, it's clear that they've done that.
For most of our colleagues in the channel, the drive to help local businesses and our local community is strong. After all, as local MSPs, we live and work in the same community and we all want a great place to live. Being an engaged corporate neighbor is natural, and that commitment to all things local is playing a role on our Positive Vibes Tour.
At each stop along our tour, the price of admission to the Channel Strong event is a couple of canned goods that will be given to a local food bank. The Blue Tree team really came through in that regard. Not only did they help bring other attendees to the tailgate event, but we collected even more canned goods to be donated to those in need.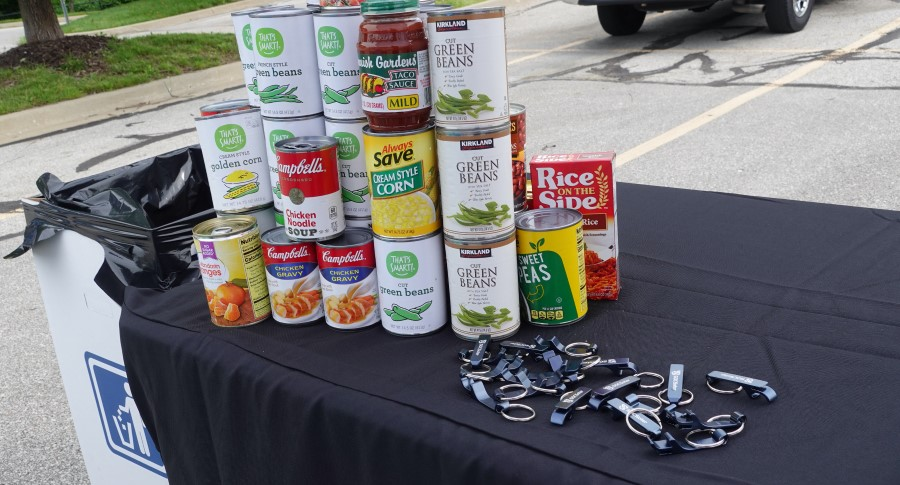 As it did in Chicago, our conversation eventually turned to delivering security services to clients and I was able to speak in-depth with Blue Tree about how they've grown and evolved over the years. Blue Tree is an Acronis partner that has built its business by focusing on security. In fact, that's what they've done for years.
Matt explained that for Blue Tree, the only difference between their MSP business and an MssP is that the MssPs tend to focus on a specific compliance vertical. Meanwhile, Matt, Isadora, and their team service organizations across all industries.
Of course, before heading down the road to our next stop, we had to stop for funnel cake. You can't go to Kansas City without eating funnel cakes. Enough said.
Our next stop is mile-high Denver...here we come! Until we get there, stay #channelstrong (and always #CyberFit).