Data rescue with Acronis Survival Kit

Easy to prepare

Build a survival kit in just a few clicks – you just need an external hard drive. You can copy your system partition or the entire system, and Acronis Cyber Protect Home Office (formerly Acronis True Image) will identify the boot media that's needed and add it for you. It's that simple.

Flexible data safety

Whether you are on a Windows machine or a Mac, everyone deserves a surefire recovery. Acronis Cyber Protect Home Office ensures that all users can create a customized survival kit.
Creating your kit
Creating your Acronis Survival Kit could not be easier. Simply follow these easy steps.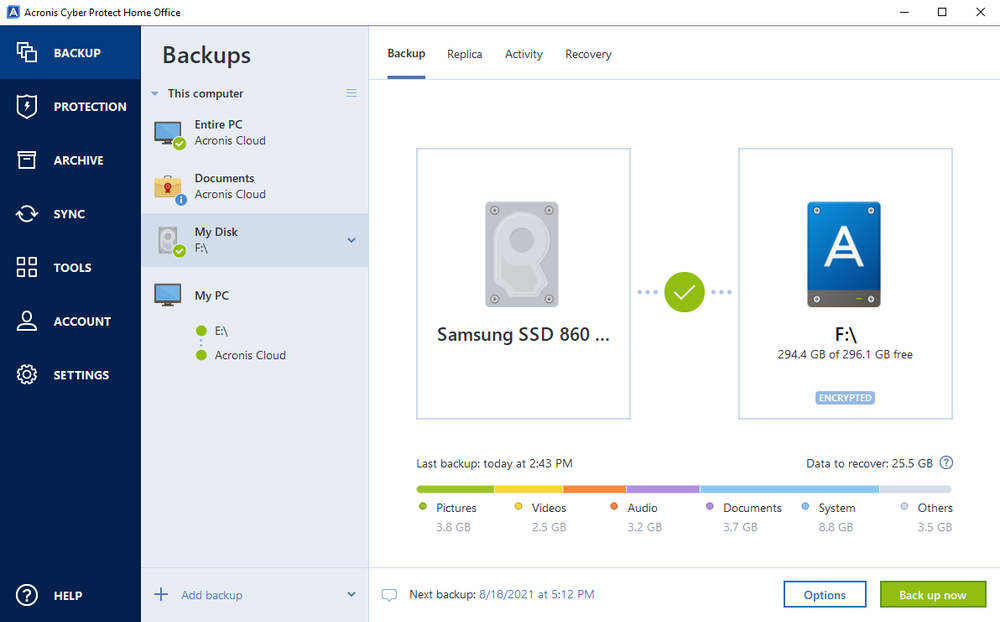 Open Acronis Cyber Protect Home Office (formerly Acronis True Image) and select Add backup
Specify source (entire PC, system HDD) and destination (external HDD)
Select the Make bootable option that appears under the destination panel
Follow the wizard instructions to create your boot media and backup.
Choose a cyber protection plan that meets your needs
Formerly Acronis True Image
Works On Multiple Platforms
Microsoft Windows
Windows 11 (all editions)
Windows 10 (all editions)
Windows 8+ (all editions)
Windows 7 SP1 (all editions)
Windows Home Server 2011
Mobile operating systems
iOS 12.0 or later
Android 7.0 or later
Windows file systems
NTFS
Ext2/Ext3/Ext4
ReiserFS(3)

Linux SWAP

HFS+/HFSX

FAT16/32/exFAT
Apple macOS
macOS Ventura 13
macOS Monterey 12
macOS Big Sur 11
macOS Catalina 10.15
macOS file system
APFS
HFS+
Core Storage
FAT32
NTFS (including Boot Camp)
Looking for help?
Frequently Asked Questions
What is a rescue disk?

A rescue disk is a CD, DVD, or USB drive that lets you boot your computer without launching the operating system from the hard drive, so you can safely analyze and troubleshoot any issues that might be affecting your system. A "factory settings" version is sometimes included on the hard drive of new computers so you can create a rescue disk, but a better option is to occasionally create a rescue disk that is designed for your current system, which captures any changes.

The Acronis Survival Kit in Acronis Cyber Protect Home Office (formerly Acronis True Image) is an all-in-one recovery drive, so you have the boot media, system partition and even backups needed to rescue your computer and recover any files needed.

Can a rescue disk help when your computer doesn't boot from the hard drive?

Absolutely, as long as you've adjusted the boot order in your computer's BIOS or UEFI to ensure your rescue disk is the first option the machine will check. When you create an Acronis Survival Kit, for example, it will be created an external hard drive. If that drive connects via USB, your BIOS' boot order needs to be set to read USB drives first.

Then if your computer won't boot from the hard drive, you simply connect the Acronis Survival Kit to the USB drive. As long as the boot order is set to check the USB first, the machine will launch from the recovery drive. Then you can safely troubleshoot the issue.

How do you use a rescue disk?

Connect your rescue disk and restart the computer. With an Acronis Survival Kit, you can analyze and troubleshoot system issues, restore the system partition or individual files from backups, or recover your system using a recent full image backup. Once you make the necessary system changes or reset the system, you can try booting from the hard drive to confirm that the machine is running properly.
Sorry, your browser is not supported.
It seems that our new website is incompatible with your current browser's version. Don't worry, this is easily fixed! To view our complete website, simply update your browser now or continue anyway.