formerly Acronis Cyber Backup
AV-TEST, the renowned independent evaluator of antivirus and security solutions, recently released the results of their June 2022 evaluation of business security products for macOS Monterey. Acronis Cyber Protect was one of the participants and showed excellent results — earning a well-deserved Approved badge for Corporate Endpoint Protection on macOS systems.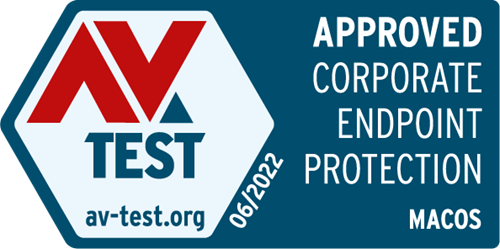 This is not the first time we've received this recognition — the same excellent result and certification were previously achieved in December 2021's evaluation. That is a clear demonstration of how these excellent results of guaranteed protection have persisted throughout a constantly evolving threat environment — which is ultimately very important when you choose security for your business.
Test methodology and results
As always, most of the products tested were current versions. Updates and cloud connectivity were enabled to replicate a normal business environment. Malware detection, false positives and performance were tested in the same manner as in all other standard tests performed by AV-TEST.
To test the detection of widespread and prevalent malware, AV-TEST specialists used 215 samples discovered in the last four months. Acronis Cyber Protect demonstrated a 100% detection rate; the industry average is 99.8%.
Tests for false positives were also flawless; this has traditionally been a strong suit of Acronis Cyber Protect. In a scan of 20,447 samples, Acronis Cyber Protect did not mistakenly identify a single piece of legitimate software as malware. An 80-sample test to measure false warnings concerning certain actions carried out while installing and using legitimate software also returned zero false positives.
Performance results were strong all around — on par with other top industry solutions. In the case of launching standard software applications, where 63 test cases were applied, Acronis Cyber Protect showed only a 3% slowdown against an industry average of 6%.
Excellent results in other evaluations as well
As you may know, Acronis Cyber Protect is also tested by other laboratories on a regular basis. In an August 2022 evaluation by U.S.-based ICSA Labs, for instance, Acronis Cyber Protect Cloud for Windows achieved a 100% detection rate. Testing was performed using the 4,103 sample set from the WildList Organization. The ICSA Labs Non-File Infector testing requires at least a 92% rate of detection to pass — Acronis Cyber Protect for Windows achieved a detection rate of 100% during On Access testing.
Learn more about the security capabilities in Acronis Cyber Protect
About Acronis
Acronis is a Swiss company, founded in Singapore. Celebrating two decades of innovation, Acronis has more than 2,000 employees in 45 locations. Acronis Cyber Protect solution is available in 26 languages in over 150 countries and is used by 18,000 service providers to protect over 750,000 businesses.