What is Acronis Security Services
As data has become the world's most valuable resource, cyberthreats are rapidly increasing in sophistication and frequency. A more holistic approach to cyber protection is needed. Acronis Security Services makes it possible by delivering access to top-tier cybersecurity services that span an organization's people, processes and technologies. Whether an SMB, enterprise, or service provider, being prepared at every level – from infrastructure to application to personnel – greatly increases an organization's cybersecurity posture.
Service providers
Acronis Security Assessment Service
Organizations are utilizing more technologies to answer today's cyber challenges. However, every change to the IT environment introduces new security gaps. Malicious attackers are able to bypass standard security solutions with newly introduced techniques and advanced threats. The Acronis Security Assessment Service helps you review your security program from every angle and aligns the cybersecurity strategy with your business goals. Having a proactive approach is paramount to meet today's complex cyberattacks.
95% of data
breaches could have been prevented. "Cyber Incident & Breach Trends Report", OTA 2018
Risk assessment

Ensure any change to your IT environment does not introduce security gaps by evaluating your security posture using industry-best standards.

Vulnerability scanning

Limit the attack surface to your corporate networks, applications, and endpoints, and ensure a secure development lifecycle (SDL).

Social engineering

Evaluate your general security controls and employees' readiness to meet cyberattacks.

Network and web application penetration testing

Ensure regulatory compliance with standards such as PCI DSS, HIPAA, and ISO, and close attack vectors to network, mobile, and web environments.

Remediation report

Gain clarity for IT investment decisions and mitigate risks with actionable recommendations from our cybersecurity analysts.
Acronis Security Awareness Service
No matter how powerful the cybersecurity technologies you use are, what often determines the safety of your data is how prepared your personnel is to meet cyberattacks and follow internal processes with security in mind. Techniques that rely on human manipulation, such as phishing, are among the biggest threats to organizations of all sizes. With the Acronis Security Awareness Service, you are able to minimize the human error and ensure all levels of your organization are prepared to face today's cyber challenges.
66% of organizations
of organizations said security awareness training has helped them reduce the number of successful attacks. "U.S. State of Cybercrime Survey", CSO, 2018
Foundational-level knowledge

Enhance people's readiness to meet cyberattacks with essential knowledge of cybersecurity, best practices, and the modern threat landscape.

Role-based security training

Promptly identify, report, and react to potential cybersecurity and privacy incidents across all levels of your organization – from general employees to IT personnel to executives.

Compliance and certification trainings

Ensure employees meet regulatory and security certification requirements.

Versatile delivery

Choose the most convenient way for your personnel – on-site training or online access to more than 700 training modules.
Acronis Incident Response Service
The average time to identify and contain a breach in 2019 was 279 days, according to Ponemon Institute. How quickly and effectively you respond to data breaches will determine the financial and reputational damage you're facing. The Acronis Incident Response Service ensures fast remediation and protection against future reoccurrence.
$1.23 million
is the amount by which an effective incident response plan reduces the average total cost of data breaches.
"Cost of a Data Breach Report", Ponemon Institute, 2019
Business continuity

Minimize system downtime and limit the damage of successful security breaches to ensure fast remediation.

Identifying damaged assets

Precisely analyze the scope of the breach to ensure the threat is isolated.

Forensics

Gather evidence for follow-up investigations and legal representation.

Remediation Report

Ensure full remediation of the breach, mitigation of the damage, and prevention of reoccurrence of similar threats in the future.
Why Acronis Security Services?
Improve your security posture and ensure your organization is prepared for cyberattack at all levels – technologies, people, and processes – with a holistic approach.
Proactively prevent threats

Eliminate security risks before they're exploited by cybercriminals, and ensure that you're able to promptly recover from incidents.

Minimize remediation costs

Act before your critical systems are penetrated or your data is leaked to mitigate the damage. Gain clarity for security investment decisions.

Tailor to your needs

Align the cybersecurity roadmap with business goals. Leverage a personalized approach aimed at delivering a service package specifically tailored to your needs.

Get action-oriented recommendations

You are provided with detailed reports, including executive summaries, that outline how to improve your security posture and mitigate risks step-by-step.
Datasheet
Security Services
Antiviruses miss 57% of attacks. Ensure you are protected from every angle
Unleash industry-proven protection for your business
Anti-Malware Testing Standards Organization member

VirusTotal member

Cloud Security Alliance member

Microsoft Virus Initiative member
Cyber Protect
Consider Acronis Cyber Protect 15 for 360-degree cyber protection
Service offerings delivered by top security experts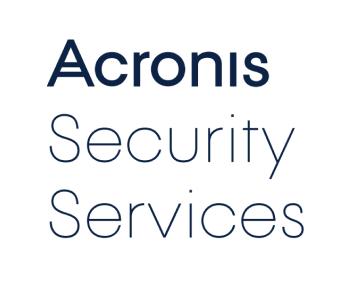 Datasheet
Acronis Security Services Datasheet
Acronis has been providing best-in-class cyber protection technologies for years. Now with the introduction of new Acronis Security Services, Acronis provides a broad set of pre-packaged service offerings delivered by top security experts.
Looking for Help?
Frequently Asked Questions
How are the security services delivered?

Acronis Security Services are delivered under the Acronis brand by leading security experts we partner with. Once a client has sent a request to Acronis or our partners, the dedicated Professional Services team will contact them to draft the SOW (scope, SKUs, and cost) and customize the service offering to the client's precise needs.

Is this a dedicated security team?

No. Acronis Security Services are a set of pre-packaged servicing offers designed to help organizations of all sizes build a more holistic approach to cyber protection.

What languages are the services available in?

The Acronis Security Assessment, Acronis Security Awareness on-site, and Acronis Incident Response Services are only available in English. The online training modules of the Acronis Security Awareness Service are available in multiple languages. For a full list of available languages, please contact an Acronis representative.

How often should a security assessment be performed?

In general, it's vital to perform security assessments whenever changes to the IT environment are introduced to ensure they do not open any attack vectors. It's a good practice to run a security assessment at least once a year, but some regulations such as PCI DSS require quarterly evaluations.

Can I contact you after a breach has happened?

Acronis Incident Response Service can help you identify the damaged assets, contain and remediate the breach, and prevent a future reoccurrence. However, to minimize financial and reputational damage, Acronis recommends adopting a proactive approach by having the service in place before a breach occurs.
Sorry, your browser is not supported.
It seems that our new website is incompatible with your current browser's version. Don't worry, this is easily fixed! To view our complete website, simply update your browser now or continue anyway.