formerly Acronis Cyber Backup
Acronis has just released a new backup service - Acronis Backup Service.
It solves business data protection challenges with a complete and easy-to-manage service that backs up any data from any source and recovers to any destination or system.
This unique new offering introduces a revolutionary approach to the backup and data protection tasks. It helps organizations:
Eliminate upfront costs with easy subscription
Provide complete hybrid protection with cloud backup and local backup
Roll out quickly and efficiently with cloud management
Manage data protection centrally and remotely with web console
Scale easily with group and account management
Protect physical, virtual and cloud systems for peace of mind
Here is how Acronis Backup Service works: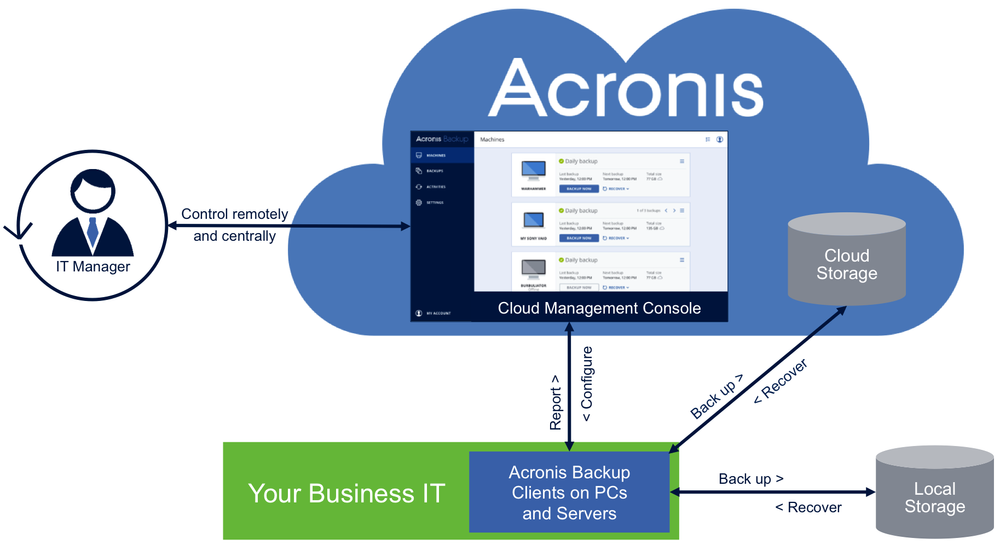 These are 5 reasons why you should consider Acronis Backup Service for your organization:
1. Start quickly with an easy-to-use and easy-to-implement backup service
Acronis Backup Service is very easy to implement into the business IT operation. After setting up the account in the management console (see screenshot below) you only need to install a lightweight client on PCs and servers you want to protect. All clients will be shown in the management console and you can immediately start adding local and cloud backup tasks on one or more machines. It's that simple!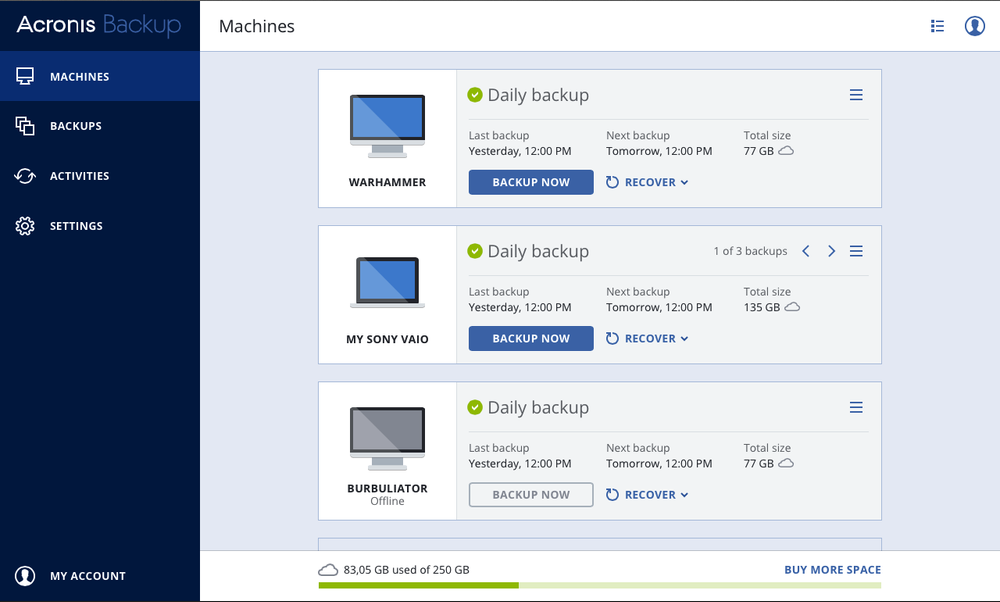 2. Improve your data protection with local and cloud backup of any data, from any source, and recover to any destination and system
Acronis Backup Service' hybrid approach combines traditional and cloud backup into an all-in-one robust solution managed from one web-based console:
Back up and recover selected files, folders, disks or an entire system

Flexible hybrid protection with local and cloud backup

Bare metal recovery from the cloud to any destination or system
3. Scale easily with a cloud web-based management console
As you can see in the "how-it-works" diagram above, the IT Manager has complete remote and central control from the web-based cloud management console. The IT Manager has the ability to:
Create groups and backup accounts to easily scale the backup service for the business
Keep track of the protection strategy and create policies for every office, department or project
Control access based on the role and responsibilities of employees
Manage data centrally and remotely with web-based cloud management console
4. Maximize your protection with broad physical and virtual platform support
Acronis Backup Service supports a broad variety of physical and virtual platforms:
Windows, Mac (coming soon) and Linux PCs

Windows and Linux servers

All major hypervisors: VMware, Hyper-V, RHEV, Linux KVM, Citrix XenServer, and Oracle VM
Only Acronis offers the power to protect your entire environment!
5. Reduce your IT team workload so they can focus on the core business of your company
Acronis Backup Service is designed to save you time and money. It is easy to implement, easy to manage and will reduce your IT team workload so they can focus on the core IT business systems of your company –the ones that earn you money. Acronis Backup Service will take care of your backup and business continuity, and most importantly, give you peace of mind.
The 5 reasons mentioned above prove why you should start using this revolutionary approach to backup and data protection.
Try Acronis Backup Service for free and experience first-hand why you need to get this complete hybrid backup solution, or learn more
During the trial you will get full access to all features and unlimited cloud storage!
About Acronis
Acronis is a Swiss company, founded in Singapore. Celebrating two decades of innovation, Acronis has more than 1,800 employees in 45 locations. The Acronis Cyber Protect Cloud solution is available in 26 languages in over 150 countries and is used by 20,000 service providers to protect over 750,000 businesses.