Acronis True Image 2017 is changing the way we think about personal backup. New features like wireless mobile backup to local computers, incremental Facebook backup, and remote backup management meet the growing protection needs for personal and family data protection.
"I've used Acronis for over a decade, and Acronis True Image 2017 is the most fully featured, consumer-oriented imaging release yet. I love it, use it frequently, and would be lost without it. It's a great time saver when a restore is necessary, and a source of great comfort. I know the backup is there even if I don't need it at the moment. Kudos to the teams who developed this superior software." – Gerald W. B., Beta User
To see what's new in Acronis True Image 2017, see the new product video here!
Computer Backup Is No Longer Enough
According to a U.S survey conducted by Google on behalf of Acronis, more than half of those surveyed suffered from personal data loss—loss that was permanent. The survey found that most users stored their data—things like photos, videos, and personal documents—across multiple devices and platforms—including desktop computers (22%), laptops (21%), and mobile devices (18%). The same survey also found that 70% of respondents didn't back up their social media content. Facebook was the #1 social media channel that was backed up, but only 12% of respondents kept a backup copy of their content.
With more devices and data needing protection—there needs to me a more complete backup solution, and Acronis True Image 2017 is that solution.
It's A Mobile World
Most households these days have multiple smartphones, tablets, and computers. However, not many people protect their data, considering it too complicated or expensive. Smartphones and tablets offer backup solutions, but they usually require multiple cloud storage accounts. For people with limited amounts of cellular data or poor internet connections, backup to the Cloud might be both expensive and slow. On top of that, default solutions rarely allow users to recover select files, instead forcing users to restore entire backups—this takes time and cellular data.
Acronis True Image 2017 offers choice. Users can back up an unlimited number of mobile devices to the same Cloud account, access their data from anywhere using a touch-friendly online portal, and recover select files with ease. Similarly, users can back up to a local Windows computer with the same benefits. Acronis True Image 2017 makes the migration process easier too, allowing users to migrate from an iOS to an Android device, and back.
Backup configuration is simple, easy, and fast—there is no reason not to backup.
"I am impressed with how easy it is to back up my iPad and iPhone. I have done several backups while on vacation, and it worked great for me." – Mario M., Beta User
It's A Social World Too
Social media data loss comes as an unfortunate surprise to many unlucky users, and this loss comes from a variety of places like cyberattacks, service errors, and accidental deletions. Limited storage space on devices also causes users to erase important data.
One customer told us a story about the loss of his precious photos. He used a public computer to log into his social media account to show personal photos and videos to a friend. Little did he know, the computer was infected by a keylogger, which resulted in hackers stealing his password and hijacking his account. In the end, a few of his albums—full of valuable photos and memories—were destroyed. And he never got those images back.
It's always a good idea to have a copy of your data, no matter how much you trust Facebook. Digital disasters are a part of everyday life.
With Acronis True Image 2017, you can back up your Facebook feed ensuring all of your posts, pictures and videos are safe and easily accessible. The backup of your Facebook account is automatic and incremental—that makes it fast and space-efficient. And you can browse and search your backups from anywhere.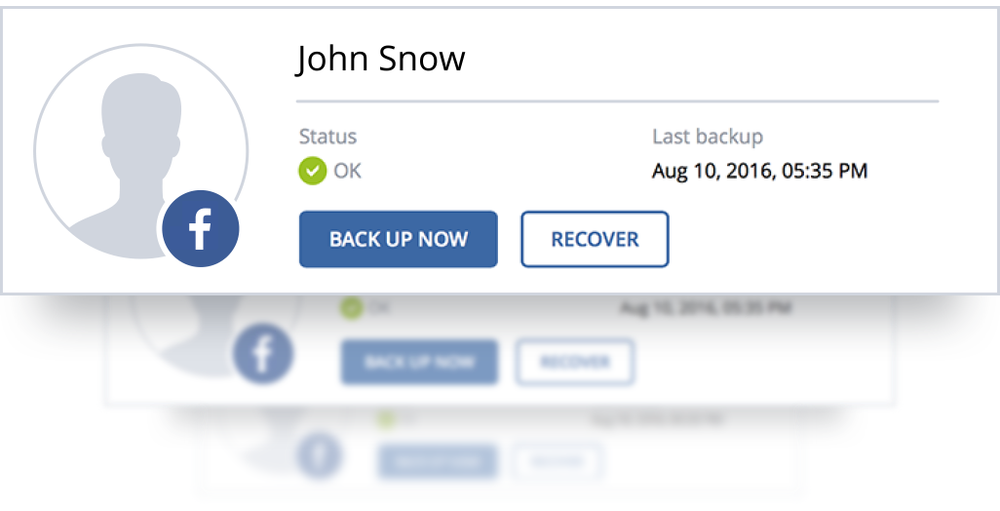 Family Isn't Always At Home With You
Another key feature of Acronis True Image 2017 is remote backup management. Never worry about the protection of your daughter's digital files while's she's away at college. Don't stress about taking a two-hour trip to your parent's house to help your father set up a backup plan. You can even back up your son's basement PC without ever leaving your office. Acronis True Image 2017 lets you set up and manage backups across your devices remotely from the couch, your office—or your vacation villa.
Create backup plans, configure email notifications and see protection status in real time with ease once Acronis True Image is installed onto your device. If you choose to backup to the Cloud, you can always access backup data via the online dashboard and, if a disaster strikes, download lost files and share it with family members.
It's Fast, Too!
Internal tests show that Acronis True Image 2017 is faster than ever—60% faster than last year's version in the most popular scenarios, and three times faster than the closest competitor. It's up to six times faster on Windows computers than the competition when backing up and recovering with an external USB 3.0 drive, and it's 30% faster than Apple Time Machine on Apple computers.
"…What's more, the speed is astounding compared to last year's build." –Todd G., Beta user
And One More Thing…
We recently partnered with the Scuderia Toro Rosso Formula 1 Racing Team, putting our technology to the test in the most technologically demanding sport. Scuderia Toro Rosso is a data-driven business, much like Acronis—their results depend on the data they collect during a race. For Scuderia Toro Rosso, losing data means losing a race, so they put their trust in Acronis technology to make sure this doesn't happen. This partnership pushes us towards technological innovation—and future engineering research will ensure major leaps in the advancement of Acronis True Image for years to come. We are constantly working to improve performance, as well as deliver innovations in the personal backup space.
Try Acronis True Image 2017 Today!
These are just a handful of this year's exciting features! Others include archiving to local storage, searching through backups, and setting up notifications to alert you when a backup is complete.
Try Acronis True Image 2017 now for yourself, click here for a FREE trial.