Acronis

Cyber Protect Cloud
Our Channel Strong: Positive Vibes Tour rolled up to Dynamic Network Solutions – our fantastic hosts in Maryland – earlier today for a great lunchtime tailgate, complete with a catered menu of both breakfast and lunch items, drinks, and games.
The Dynamic Network Solutions team was super busy inside at their help desk and network operations center (NOC), but they managed to come join us for a while, enjoy a bite, and whet their whistle quickly before getting back to work supporting their clients.
Clearly business is good here in Maryland!
The channel serves the business community...lunch
An awesome highlight from our visit was that several of the businesses in the surrounding office park were a little curious about the big tour bus. They came out and asked if they could join in the fun. Of course we accepted!
If there's anything that's been clearly demonstrated along our journey it's that everyone we've encountered on the tour is looking to connect. They are looking for something positive to see, hear, and interact with. They want to take a break from social media, the news, and the economic downturn that's affected so many. Instead, they just connect for a while and see that there is some hope.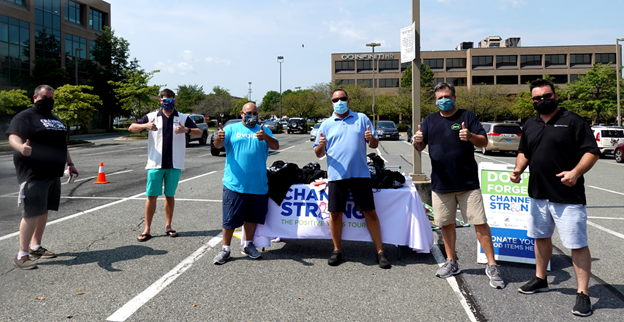 The fact is, there are a lot of positives to talk about and focus on. Our MSP Channel has stepped up in a BIG way during the last few months and every MSP has proven just how essential the channel is.
And that's not "essential because the government said so", but essential because the MSP Channel was there when it was needed. The channel was perfectly poised to react to the pandemic and move their small business clients to the cloud (if they weren't there already). MSPs were ready, willing, and able to enable a safe, secure, and productive work from home environment.
From what I've seen and heard on this interstate roadshow, MSPs were better prepared to react and more essential than any other segment of the IT Channel.
As we come to the end of our three-week journey, I've got to say it's been an absolute pleasure to be involved in this Channel Strong: Positive Vibes Tour. A big "thank you" must go out to George Bardissi of BVOIP who spearheaded this initiative and worked double-time to make it happen.
Will there be another tour? I believe so and I hope so. And if you ask a Magic 8 Ball, it would be saying "Signs point to yes"...so stay tuned!
About Acronis
Acronis is a Swiss company, founded in Singapore. Celebrating two decades of innovation, Acronis has more than 1,800 employees in 45 locations. The Acronis Cyber Protect Cloud solution is available in 26 languages in over 150 countries and is used by 20,000 service providers to protect over 750,000 businesses.