Acronis

Cyber Protect Cloud
When disaster strikes, you will want to quickly restore your (or your clients') most valuable data, systems, and applications. Backup will only get you so far; sometimes recovery from backup can take days or weeks to be fully operational. Cloud recovery goes beyond traditional backup or data center storage to reduce the time it takes to resume normal business operations.
Cloud technologies mean access to highly-scalable, highly-automated, and self-driven data backup and recovery, without the need to purchase, install, and maintain on-premises tools.
Cloud computing, based on virtualization, takes a very different approach to disaster recovery. With virtualization, the entire server, including the operating system, applications, patches, and data, is encapsulated into a single software bundle or virtual server. Seamless and rapid failover and failback have a significantly shorter recovery time to get users up and running in mere seconds or minutes. Interdependent processes are recovered in the correct order, restored to the correct recovery point, and within the right time.
Acronis Cyber Disaster Recovery Cloud - Cloud Recovery Solution
Acronis Cyber Disaster Recovery Cloud is an easy to use, turnkey, self-service solution that is built on top of Acronis Cyber Backup Cloud. You can add disaster recovery to your backup system in minutes and protect workloads by instantly spinning up IT systems in the managed cloud recovery site and recovering them to any similar or dissimilar hardware.
On top of the cost-effective DRaaS, Acronis Cyber Disaster Recovery Cloud offers critical service-provider-related capabilities, such as scalable management of clients' accounts, integration with popular PSA/RMM systems, custom integration with your systems via RESTful management API, comprehensive white-labeling, as well as pay-as-you-go pricing.
Flip-of-a-switch disaster recovery
Acronis Cyber Disaster Recovery Cloud and Disaster Recovery Add-on provide an unprecedented level of ease. Because disaster recovery is built on Acronis Cyber Backup Cloud, you just need to turn it on.
Configure server lists, orchestration, and runbooks, test connectivity settings, and recover on multiple networks. Address interdependencies between applications on different machines, ensure systems are recovered in the correct sequence, and drive efficient operations with automated failovers and testing.
Disaster recovery is enabled quickly with an existing Acronis Cyber Backup Cloud deployment, without additional hardware requirements.
Simplified management and customization
There's no need for an additional data center or machines. The intuitive and user-friendly web interface requires no need to learn, add, or manage another platform.
Save yourself significant time by eliminating the need to acquire, configure, test, and deploy servers that would typically sit idle with a disaster recovery solution that's easy to use, agile, provides rapid recovery, and peace of mind.
Customize your cloud recovery program to your specific business requirements.
Backup-based replication of production machines – Combines short recovery times and much lower costs when compared with sophisticated replication technologies
Easy extension of local networks to the cloud recovery site – Transparent remote access of extended networks to recovery servers in failover mode
Encrypted backups support – Secured data with advanced ransomware protection of backups and endpoints, data encryption, network-based login restrictions, and more
VPN-less deployment – Quick and easy user onboarding and proof of concept (POC) testing
Cloud servers for application-level replication – Templated addition of virtual machines to host replications of the applications
One solution for any workload
Protect workloads when disaster strikes by instantly spinning up systems in the Acronis Cyber Disaster Recovery Cloud and restoring them anywhere.
Access an efficient, highly-available system – one that combines universal storage and high-performance virtualization, and integrates proven hardware and software into one solution. Acronis' infrastructure safeguards data and systems in any environment, physical or virtual, on-premises, or in the cloud. Troubleshoot problems before they impact end-users or third-party systems.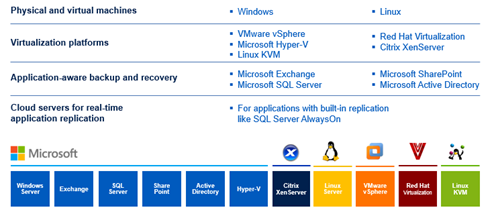 Orchestration is easy – simplify and speed up failover of multiple machines to the cloud recovery site with the runbooks feature.
The intuitive Acronis disaster recovery runbook includes a drag-and-drop editor to define devices (or groups of machines) and the sequence of actions to efficiently set your cloud recovery plans. By executing your runbook in test mode, you can verify the integrity of your plans outside of production environments, while gaining visibility into a real-time view and execution history.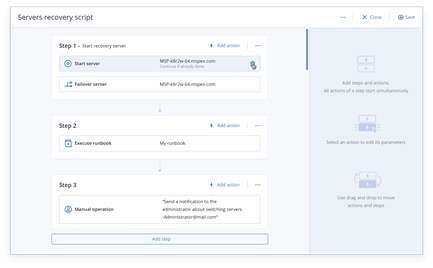 Your runbook becomes a living document, unique to your organization, and provides an outlined instruction set for both infrastructure and process to recover from a service disruption or disaster quickly.
Disaster Recovery Committee
Consider formalizing a Disaster Recovery Committee that shares a responsibility to create and execute policies, detailed work plans, and recovery awareness. This committee should include stakeholders and representatives from different departments that have a role in the recovery process. This typically includes Finance, IT, Security, Human Resources, Legal, and others from the C-Suite to encompass all systems and business process interdependencies.
The committee should be authorized to:
Detect and announce disaster events within your organization

Create and maintain a disaster recovery plan

Activate and execute the plan

Monitor and restore operations

Continuously improve the plan through testing
Your Disaster Recovery Committee will take your business operations through these five best practices for a successful cloud recovery.
Vulnerability assessment – The Disaster Recovery Committee will first begin by identifying the types of events that could be potentially harmful to business continuity, the probability and severity, and prioritizing them in terms of the business. Start with a list of business-critical functions and set priorities – based on their importance to overall business operations or how they result in potential financial loss. The committee needs to consider any tiered applications, servers, and applications with interdependencies, define recovery time objectives (RTO) and recovery point objectives (RPO), and weigh the costs against the risks.
Plan development – The vulnerability assessment will be used to define the approach and develop the plan. This framework includes test use cases for each business unit, with a schedule of deliverables for each. Best practices in a plan framework take into account regulatory compliance, remote users, and external data centers.
Testing – It is always a best practice to test cloud recovery before implementation. Make sure to test goals, strategies, and every procedure. Revisit and revise any roadblocks to smooth cloud recovery.
Implementation – Implement your new cloud recovery procedures only after the first three practices are achieved without incident.
Maintenance – A recovery program will need support and management to set up alerts and monitoring, update policies, manage change, and review SLAs. Growth in the volume of data, additional policies, applications, or added servers and systems, must be considered when reevaluating cloud recovery procedures. Review and make change recommendations quarterly, or at minimum once per year.
Cloud disaster recovery won't work without backup. It will include the most recent copies of data and processing capabilities, in a platform that delivers automated availability of the most critical data, systems, and applications. In the event of a business outage, that same data and those applications can be failed over to a secondary cloud site to be available anywhere and at any time.
Developing an effective cloud data backup and recovery plan could mean the difference between success and failure following a business disruption. Safeguard your most valuable data, systems, and applications by planning your cloud recovery.
About Acronis
Acronis is a Swiss company, founded in Singapore. Celebrating two decades of innovation, Acronis has more than 1,800 employees in 45 locations. The Acronis Cyber Protect Cloud solution is available in 26 languages in over 150 countries and is used by 20,000 service providers to protect over 750,000 businesses.