Given our role as a global leader in cyber protection, the Acronis team is often tapped for our expertise and insights. Such contributions are why Acronis is a member of the World Economic Forum (WEF) Centre for Cybersecurity – and why we were part of a working group that contributed to a new report released by the WEF that warns that cybersecurity failure is a "clear and present danger" and critical global threat.
The WEF's new Principles for Board Governance of Cyber Risk Report notes that while cybersecurity failures are a major threat, the responses from board directors have been fragmented, risks not fully understood, and collaboration between industries limited.
Boards of directors need to play a more active role in protecting their organization from cyber risks. The new WEF report that we contributed to provides a solution to this fragmentation.
Cybersecurity guide for board members
The WEF, the Internet Security Alliance, the National Association of Corporate Directors, and PwC created the report, with Acronis and members of the working group contributed our respective expertise. The final document is the result of a year-long initiative to find a cohesive, global and cross-border approach to cyber risk.
"Without a principled foundation for understanding and governing cyber risk at the board level, risk responses have been piecemeal and security gaps have risen," said Daniel Dobrygowski, Head of Governance and Trust at the World Economic Forum Centre for Cybersecurity. "These principles provide much-needed foundations for directors in any industry or geography. Cybersecurity is not just a technology problem; it is an economic and strategy issue crucial for boards to address given the current environment."
Around the world, organizations face a monumental increase in cyber risk. As we've documented, 31% of companies now experience a cyberattack at least once a day and our analysts predict this trend will continue to accelerate as cybercriminals employ AI and automation to increase the sophistication and effectiveness of their attacks.
In addition, Acronis also found evidence that more than 1,000 companies globally had their data leaked following a ransomware attack last year, which we expect will continue as data exfiltration surpasses encryption as the primary attack tactic for cybercriminals.
Having a game plan for addressing that risk is vital for everyone in an organization, especially the leadership.
Six principles to address cyber risk
In the Principles for Board Governance of Cyber Risk Report, directors are shown how they can expand their understanding of cybersecurity risks in a way that enables them to incorporate cyber-risk planning into the overall strategy of their organization.
Drawing on insights from Acronis and other leaders in digital risk and cybersecurity, the report's authors identified six principles that apply to a wider audience of boards and management teams. Those six principles are:
Cybersecurity is a strategic business enabler

Understand the economic drivers and impact of cyber risk

Align cyber-risk management with business needs

Ensure organizational design supports cybersecurity

Incorporate cybersecurity expertise into board governance

Encourage systemic resilience and collaboration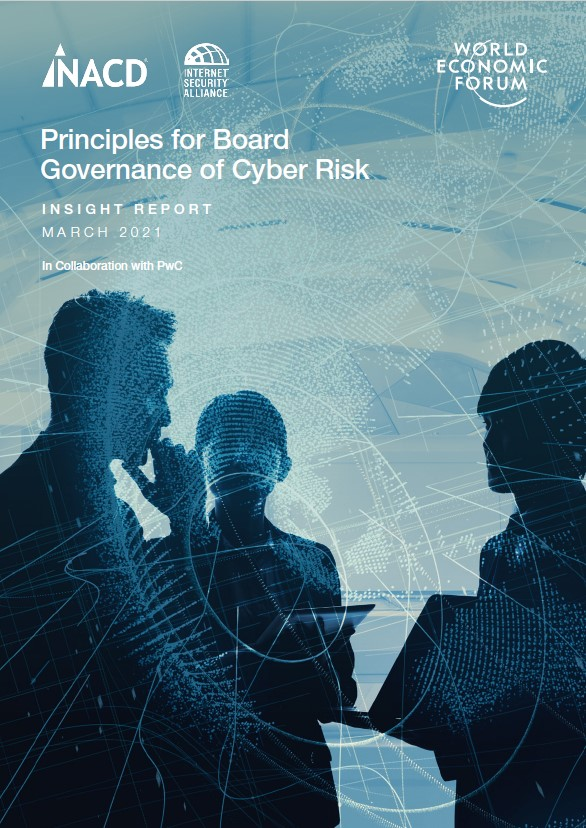 The kind of practical thought leadership is central to our approach, as well as the WEF, which is committed to improving the state of the world. That shared value is why Acronis joined the WEF's Centre for Cybersecurity in 2020, to add our expertise to the private-public network's response to the world's growing cybersecurity threats.
"The Forum provides insights for leaders around the world and, in the modern digital world, no issue deserves more attention than cyber risk management," said SB Serg Bell, Acronis CEO and Founder. "As a leader in cyber protection, Acronis contributes expertise and research to the Forum's projects and implements the Forum's guidance on risk management in our products."
Acronis is driven to protect all data, applications, and systems wherever they are. That mission is why we empower our service provider partners with solutions like Acronis Cyber Protect Cloud, upon which they can build comprehensive cyber protection services. It is why we deliver the same integrated protection to businesses with Acronis Cyber Protect 15 and to individuals and home office users with Acronis True Image.
Keeping the goal of protecting every workload in mind, we would encourage everyone in the Acronis community to read the WEF's new Principles for Board Governance of Cyber Risk Report.
About Acronis
Acronis is a Swiss company, founded in Singapore. Celebrating two decades of innovation, Acronis has more than 2,000 employees in 45 locations. Acronis Cyber Protect solution is available in 26 languages in over 150 countries and is used by 18,000 service providers to protect over 750,000 businesses.