Acronis

Cyber Protect Cloud
As the old saying goes, "time is money." Using traditional methods, provisioning a new PC could take hours. If you need to get 10 machines going, your IT manager could spend an entire week just on this one project.
To optimize your limited IT resources, being able to provision all the machines you need at once – as quickly as you can provision one – is a much better approach.
Many of our users rely on Acronis Snap Deploy to solve that problem, since it's an easy-to-use and flexible solution that enables them to deploy and provision all of their servers and workstations at once – with the speed and ease of one.
Today, however, we are introducing new capabilities in an update of Acronis Snap Deploy that will improve your IT team's productivity and efficiency even more. Let's take a look at these enhancements.
How Acronis Snap Deploy helps IT productivity
The beauty of Аcronis Snap Deploy is it lets you take an exact disk image of any standard configuration – including the operating system, settings, files, and applications – and simultaneously deploy that image to multiple machines in one easy step. As a result, your productivity improves since it makes your deployments easy, efficient, and secure:
Easy – Manage deployments with ease through a simple and intuitive management portal. Acronis Snap Deploy is ideal for rapid bare-metal initial deployment and provides effortless ongoing redeployment to existing live machines.

Efficient – Increase operational efficiency and get more time back in your day to focus on business-critical tasks. Automatically provision new operating systems and software to a large number of systems, including servers, desktops, PCs, laptops, and tablets.

Secure – Minimize configuration errors. Provide complete, consistent, and secure environments that are safe, malware-free, and up-to-date.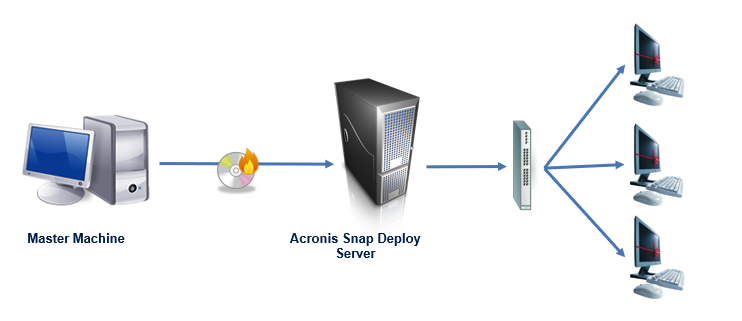 And because you can provision the same image to dissimilar hardware, it saves you from configuring a new master system for each hardware you need to perform deployment to.
All of that has been the case before the new enhancements we've just added!
What's new in Acronis Snap Deploy?
With the update to Acronis Snap Deploy, we're improving productivity and adding greater flexibility.
Improved IT productivity:
Flexible deployment offers a choice between manual, automatic, user-initiated, standalone, and scheduled deployment to machines and servers running either Linux or Windows – with an option to insert a Windows license key in the machine settings.

Deployment to live machines eliminates the need to boot individual machines from the network or boot media manually. Preserve the original machine name after deployment, even when deploying multiple machines from the same master image.

Linux-based bootable media components provide an option to configure the VLAN tags in the bootable media UI.
Improved flexibility:
High-speed dispatch deploys a single image to multiple machines – connected to LAN or WiFi networks – via unicast or multi-cast from a centralized management console.

Machine-specific configurations allow settings for individual machines. Monitor the status and preconfigure new devices identified by their MAC address and sort the machines quickly and easily by their name, IP address, MAC address, or last deployment finish time.

Different image formats permit flexible deployment. Use Acronis Snap Deploy's image format (TIB) or deploy from virtual hard disk files: VHD files created in Windows 7 and Windows Server 2008, and VHDX files created in Windows 8 or later. These files can store the contents of one or more disks.
View the Acronis Snap Deploy 6 release notes for a complete list of additions and enhancements.
With Acronis Snap Deploy, organizations get a deployment solution that's easy, efficient, and secure. Their IT teams can save time with automation, eliminating the need to configure individual machines with each deployment manually.
With the latest enhancements to Acronis Snap Deploy, you'll ensure even greater productivity of your team when provisioning new operating systems and software. To learn more about the changes, you can explore Acronis Snap Deploy here, where you can sign-up for a free trial as well.
About Acronis
Acronis is a Swiss company, founded in Singapore. Celebrating two decades of innovation, Acronis has more than 2,000 employees in 45 locations. Acronis Cyber Protect solution is available in 26 languages in over 150 countries and is used by 20,000 service providers to protect over 750,000 businesses.