formerly Acronis Cyber Backup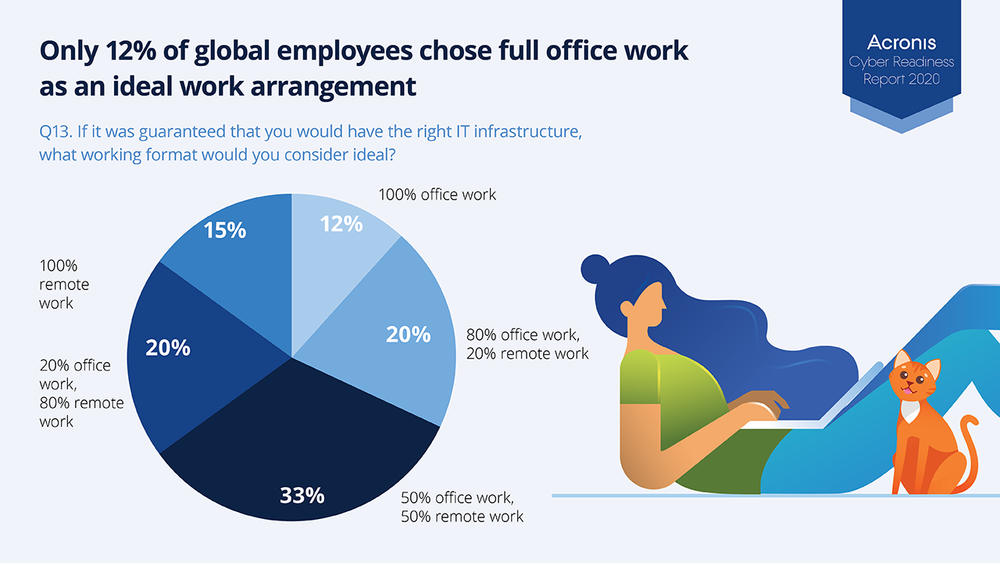 Half a year has passed since the majority of the world went into lockdown in response to the COVID-19 pandemic. In that time, the way people connect, communicate, and do business has changed dramatically. For employees across the globe, this change began with a sudden shift from working in an office environment to arranging remote work environments at home offices, dining room tables, and more.
To assess how new remote workers fared through this migration, Acronis surveyed 3,400 companies and remote workers from around the world in June and July 2020 to create the Acronis Cyber Readiness Report. In this report, we take a close look at how prepared organizations were to adapt their IT operations and cybersecurity posture in response to the pandemic from the perspective of IT managers and remote workers.
Today, we'll be taking a deep-dive into the experiences of remote workers. For an overview of the full report, read the report release blog here.
Key Takeaways for Remote Workers
Nearly half of all global remote workers weren't given adequate guidance from their IT departments when switching to remote work. 16% received no guidance at all.

The top tech challenges remote workers faced included: Wi-Fi connectivity, using a VPN and other security measures, and the inability to use internal networks and applications.

88% of employees would like to continue working remotely to some extent, even after the pandemic ends.

92% of employees expect their companies to invest more in digital transformation tools to adapt to new business realities.
Remote worker support was lacking
Shifting an entire organization to remote working environments was a herculean task for the world's IT teams. Unfortunately, guiding employees through this process was often ignored or deprioritized.
47% of remote workers around the globe report that the guidance they received from their IT teams was lacking. Even worse, 16% of respondents saw no guidance at all regarding their switch to remote work environments.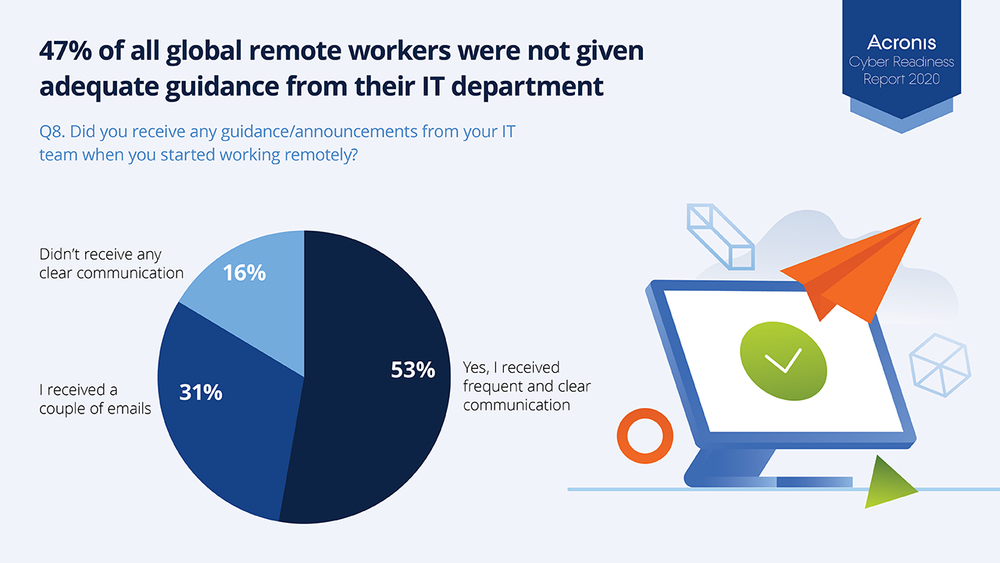 In today's IT landscape, where remaining accessible, productive, and protected is vital to a business's success, this failure to guide and support employees represents a major problem. Employees that were left unguided and unsupported through this dramatic shift are far more likely to make mistakes and potentially expose the organization's networks to undue threats. After all, any IT professional knows and as this year's Cyber Readiness Report confirms, employees left to perform their own ad-hoc tech support will quickly stray from best practice procedures and processes.
Connectivity, privacy, and security challenges
Despite this lack of guidance, however, only 17% of remote workers labeled IT support as their largest technical challenge since migrating away from office work. More common challenges around the world include Wi-Fi connectivity (37%), using a VPN and other security measures (31%), and the inability to use internal networks and applications (25%).
Aside from Wi-Fi issues that stem from suddenly over-taxed home networks, these challenges suggest a widespread unfamiliarity with the cybersecurity solutions needed to defend remote environments from increasingly sophisticated cyberthreats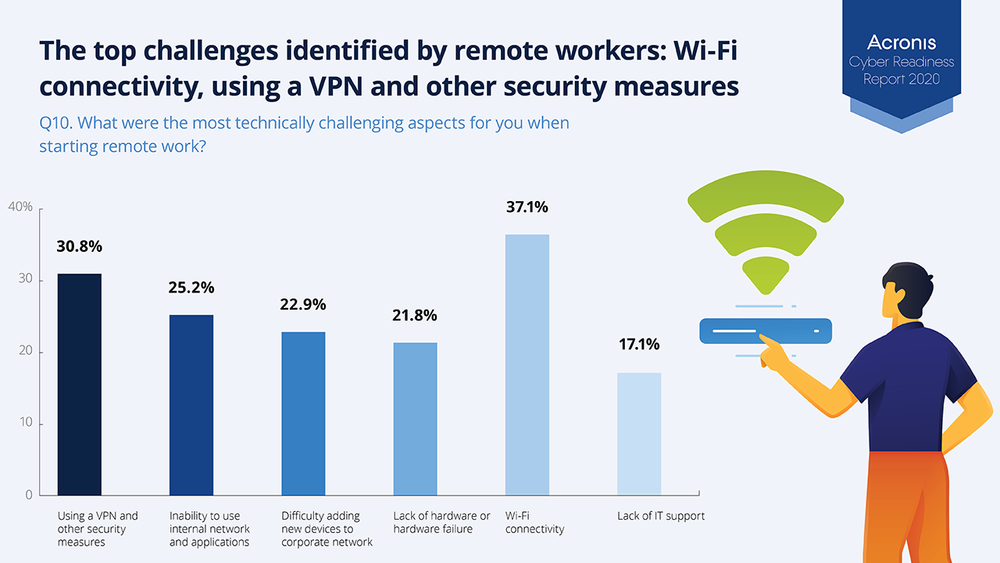 Fortunately, our report suggests that remote workers have been vocal about these challenges. Almost 100% of the global organizations we surveyed reported that they had adopted new technologies in response to the shift to remote working. These solutions predominantly consisted of privacy solutions (VPN, encryption), endpoint cybersecurity solutions (2FA, antivirus, vulnerability assessment, patch management), and collaboration tools (Zoom, Webex, etc.).
The future of remote work
Despite these challenges, three months into the pandemic lockdown a majority of remote workers reported feeling better equipped to work in their new environment. Nearly 60% of workers feel that with the tools organizations have recently adopted, they're now more comfortable working from home and better able to get work done in that environment.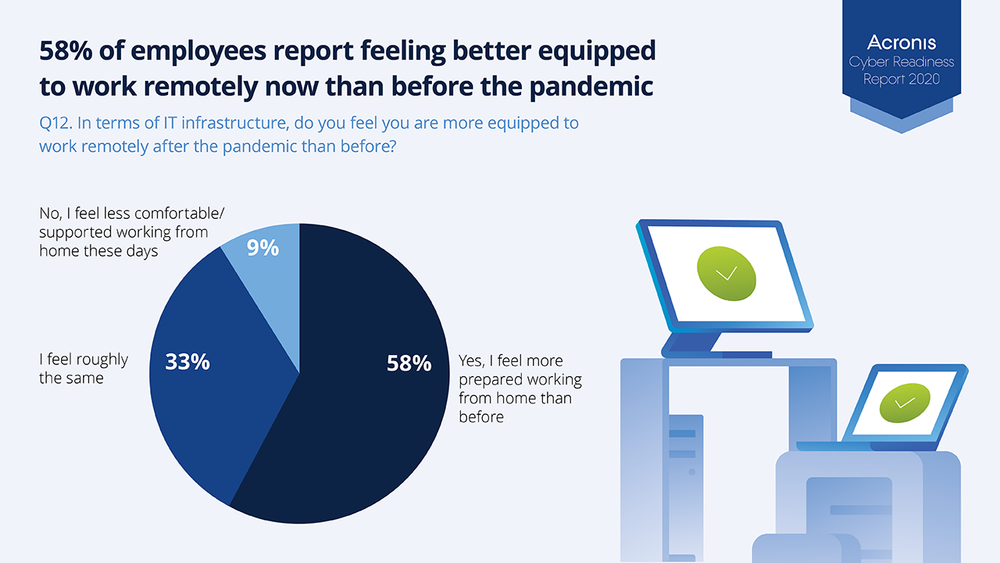 In fact, 88% of employees around the globe indicated that they would like to continue working remotely to some extent after the pandemic ends. How much time should be spent remote, however, was a much closer contest:
35% of employees would prefer to do at least 80% of their work remotely

32% of employees would prefer to do at least 80% of their work in an office

33% of employees would prefer a clean 50/50 split between the two environments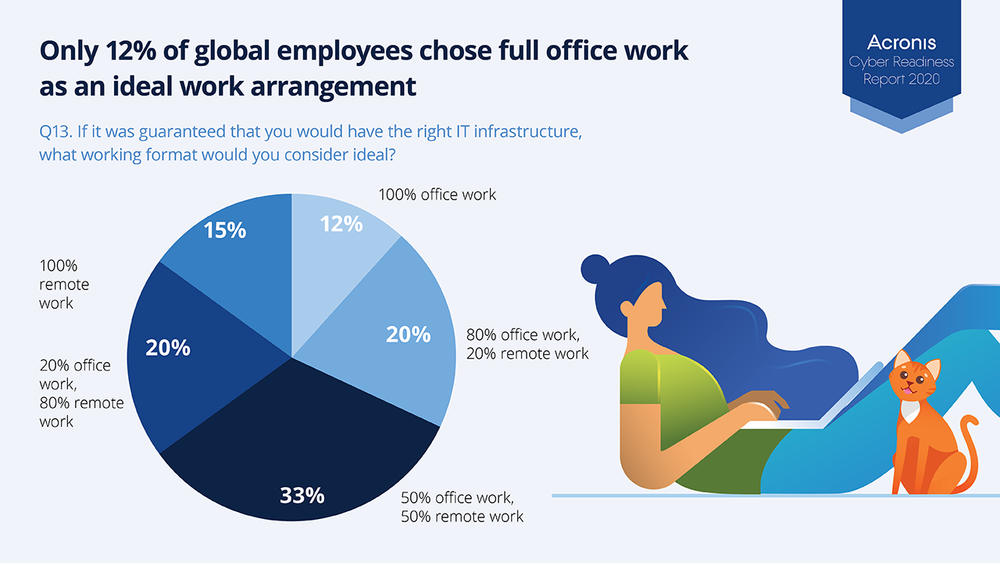 Regardless of how organizations choose to divide their time between office and remote environments, this outpouring of support for remote work shouldn't be ignored. The pandemic provided employees with the opportunity to experience working from home and while the transition was far from seamless, it's clear that the vast majority of employees found the benefits that remote work offers enticing.
What employees expect from organizations moving forward
Our survey revealed that 92% of remote workers expect their employers to have seen the same benefits. Acronis the globe, nearly all employees anticipate that their organizations will invest more in digital transformation tools to help adapt to new business realities like expanded remote working.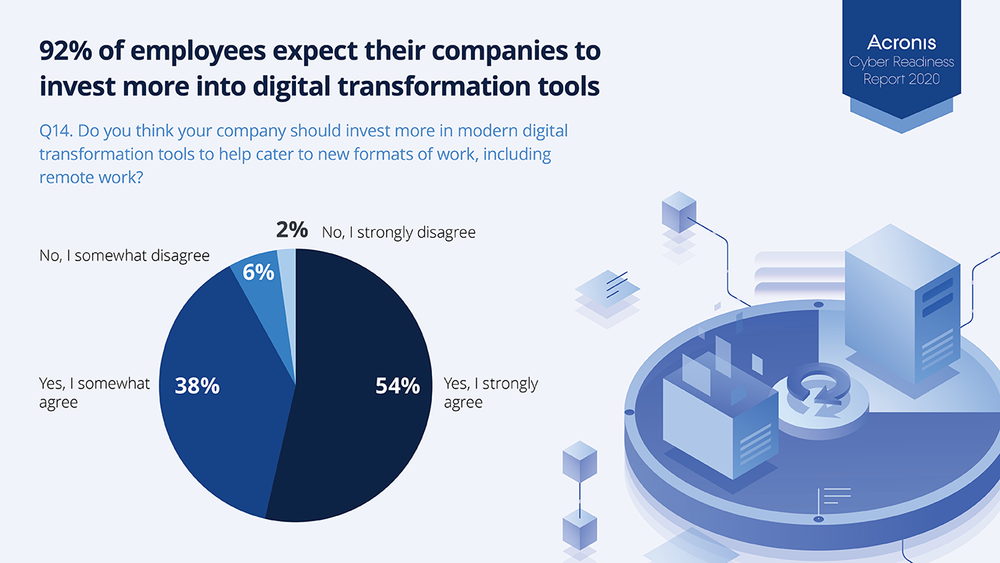 Based on the mass migration that these employees experienced in the past six months and the growing preference for remote work environments, this expectation suggests a reasonable assumption that remote work will continue to be a major part of employment in the future. It also highlights a widespread awareness that maintaining this new work structure will demand new solutions that are better designed to support and secure it.
Introducing Acronis Cyber Protect
Acronis Cyber Protect 15, the newly-released cyber protection solution, offers a comprehensive suite of capabilities engineered to do just that. By integrating data protection and next-generation cybersecurity capabilities – including AI-based behavioral detection that stops zero-day attacks, URL filtering, vulnerability assessments, videoconference protection, and automated patch management – organizations protect against modern cyberthreats while ensuring they can recover their data and systems faster than any other solution.
The single solution approach of Acronis Cyber Protect removes the complexity and risks associated with non-integrated solutions. There is one agent, which improves systems performance, eliminates conflicts, and increases stability; one management interface, which streamlines administration and reporting tasks; and one license to manage.
The ability to unify multiple protection technologies into one solution also decreases the time an IT team needs to learn, deploy, and maintain the solution. With Acronis Cyber Protect, everything is managed via a single pane of glass, which enables the organization to streamline management, cut unnecessary administrative time, and lower the total cost of ownership (TCO) – all of which enables organizations in the post-pandemic to stay agile and enhance both productivity and security in remote work environments.
This year's Acronis Cyber Readiness Report reveals a globally shared employee experience that began as tumultuously as one would expect from any sudden, dramatic shift. However, it also shows a level of acceptance on the part of new remote workers as new tools and policies were adopted and new routines established. Today, the vast majority of remote workers want to stay that way – at least to some degree – and understand that to do that, a greater investment in tech built for the ever-evolving needs of a modern organization will be essential.
For a look at the full Acronis Cyber Readiness Report, download your copy here. For a look at the cyber protection solution designed to defend modern organizations like yours, learn more about Acronis Cyber Protect 15 here.
About Acronis
Acronis is a Swiss company, founded in Singapore. Celebrating two decades of innovation, Acronis has more than 2,000 employees in 45 locations. Acronis Cyber Protect solution is available in 26 languages in over 150 countries and is used by 18,000 service providers to protect over 750,000 businesses.