formerly Acronis Cyber Backup
It's a fact that Macs have gained a lot of traction in SMBs and enterprises over the past few years. You cannot deny it: Employees love their Macs. Why? Macs are especially good at certain tasks like design, creative services, and production. They are easy to use and reliable with more and more employees that use Apple devices in their personal lives asking to use them at work. And of course, they are cool.
As the survey below shows, employee preference is the top reason why companies support Macs. While employee satisfaction is no doubt a key driver, there are many other factors that need to be taken into account by IT to support the "Mac invasion" as some people refer to it.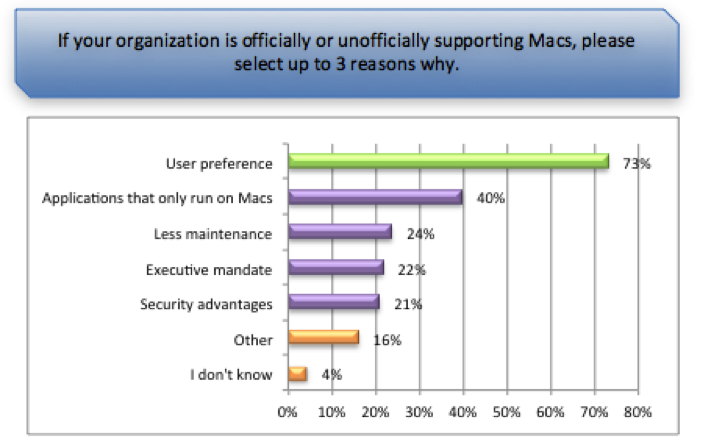 But, what are the real challenges that IT faces with Macs and how do they overcome them?
When it comes to bringing Mac users and devices into your IT environment, we've all heard the complaints around integration challenges, the need for more IT resources, and Apple's often radical changes from release to release. In fact, Macs have evolved quite a bit, and there are some truth to these statements.
So, what can today's IT Managers and System Administrators do?
For starters, when Macs users begin to come into the business, IT needs to keep things working in a new hybrid PC and Mac environment. This means managing different devices, applications and OS versions. Then, IT needs to ensure that Mac users can integrate with policies and permissions frequently provisioned by Active Directory, while accessing the resources they need, as well as things like file server shares and printers.
Of course, Macs need to be backed up too and this is increasingly extending to mobile devices. And then there's the user experience issue: Mac users set the bar really high. They expect more than their colleagues that use PCs. For instance, when they search for content, they want the same Mac speed and experience they get when finding content at home and in their personal lives – not a slow and fragmented one. They expect stable and fast connections to file servers and print queues – and they don't care if it's a Windows file server.
And when things don't quite work that way, they are noisy and they flood the helpdesk with support calls and tickets.
Now, many of these user issues are related to the Mac's use of the Apple Filing Protocol (AFP) for file sharing, while Windows uses the Server Message Block (SMB) protocol. In recent times, beginning with Apple's Mavericks OS release, Macs actually started using the Windows SMB file sharing protocol as the default protocol for communication between Macs, as well as between Macs and Windows PCs. This was positioned as a step forward in improving Mac interoperability in Windows file sharing environments. The truth is that it does not go far enough and does not support the most popular functions in AFP. With each OS X update, Apple has tried to improve Mac and SMB compatibility. But even with its SMB3 support in OS X Yosemite, Mac users continue to report frustrating experiences, especially with key applications like MS Office and Adobe Creative Suite. These include delays, slow Spotlight searches, locked and missing files, and lack of Time Machine backup support.
So, that's the bad news.
Here's the good news: there are solutions for most if not all of these issues. When executed in the right way and using the right product, deploying AFP in Windows file and print server environments is simple – and your Mac users will love it.
When looking for a solution, make sure it does the following:
Runs and implements AFP on Windows servers

Eliminates the need for client software running on Macs

Integrates with Active Directory, so Mac users get the same credentials and permissions

Provides an extremely fast Spotlight search experience Mac users demand

Supports Time Machine backups
And then, for more advanced needs, you may want it to support DFS / Network Reshare, home directories, clustering, quotas, file name policies, and domain password changes.
If you'd like to learn more about integrating Macs into your environments, check out this case study from Phoenix Printing Plates and see how they made Mac integration into the business easy for everyone!
About Acronis
Acronis is a Swiss company, founded in Singapore. Celebrating two decades of innovation, Acronis has more than 2,000 employees in 45 locations. Acronis Cyber Protect solution is available in 26 languages in over 150 countries and is used by 18,000 service providers to protect over 750,000 businesses.