Acronis

Cyber Protect Home Office
formerly Acronis True Image
We live in a digital world, and most of our daily activities are online. Posting that new selfie, sharing thoughts, or video calling with your family. In fact, you're probably reading this article on your computer, tablet, or mobile. This digital world brings much flexibility but unfortunately also threats.
The risk of having your data leaked or stolen has rapidly increased in recent years. Identity thieves stole around $52 billion from Americans last year. And you think, "It won't happen to me." Don't be fooled — you can lose personal data while doing typical everyday online activities like ordering food, shopping or booking a flight. Almost half (47%) of Americans have had their personal information exposed by cybercriminals.
That is why we added the right defense by adding identity protection to the #1 personal cyber protection solution ― Acronis Cyber Protect Home Office. It will help you to protect yourself and your family online and is available for all our Acronis Cyber Protect Home Office Advanced and Premium subscribers on Windows in the US. Be protected from the (un)expected.
If you are not careful or don't have the proper protection, you can lose personal data. This can happen through phishing scams, hacking, fraud, email theft, and data breaches. When you become a victim of identity theft, thieves use your personal data to open new accounts, take over existing ones, they can end up on the dark web and be sold, to file tax returns, commit insurance fraud, and acquire additional identity-related documents such as health insurance. Traditional identity fraud losses totaled $20 billion in 2022, with 51% of fraudulent activity worldwide being identity fraud.
Booking your holiday or ordering food online is mainstream nowadays. But think about what can happen when you enter your payment information and one of those bad guys steals it! They can use it for anything, and once you know it's stolen, it's usually too late.
Sleep well at night with Acronis Identity Protection
Identity protection* is the security feature that aims to prevent the stealing of a user's personal information such as your social security number, address, and financial details in an easy-to-use, intuitive way: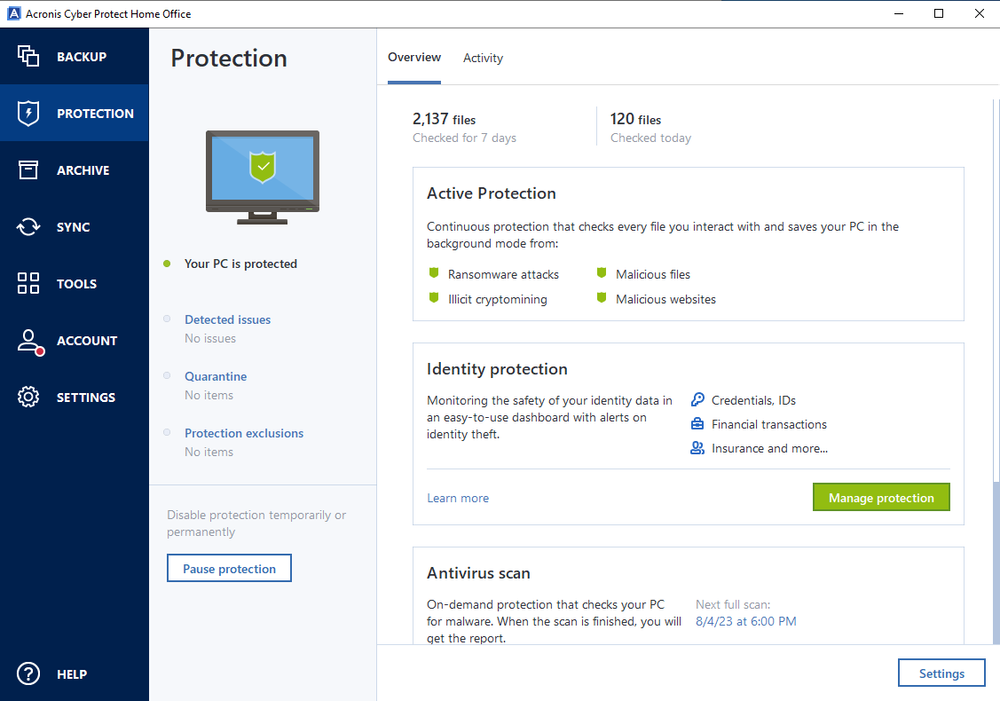 Monitoring and portal
Resolution services
Cyber insurance
Safeguard your personal information to prevent identity theft with an easy-to-use portal that warns you of suspicious activity.
Available 24 hours a day, 365 days a year, to help you restore identity or losses from a breach or theft.
With identity protection, you have up to $1 million identity fraud insurance**.

Simple and superior cyber protection for your digital life ― only a click away
Identity Protection* will help monitor the safety of your digital life. The dashboard, lets you check for exposure to financial and insurance fraud. If any issues with your personal data are detected, you will receive an email or text message alert. It also includes a cyber insurance component, an added layer of financial security in the event of a cyber incident. This will mitigate potential losses, offering a comprehensive solution for digital threats with certified expertise and covering and up to $1 million of identity fraud insurance**
This new security functionality is integrated into Acronis Cyber Protect Home Office, giving you access to a dedicated dashboard for configuration and monitoring.
In addition, you receive 24/7/365 dedicated support to help restore your identity in the event of data exposure. A case manager will take care of the following:
1. Affidavit submission
2. Creditor notification and follow up
3. Emergency cash advance and travel arrangements
4. Three bureau credit freeze assistance
5. Communications with law enforcement
6. Lost wallet assistance
7. Three bureau credit fraud alert placement assistance
8. Medical identity theft assistance
Acronis Cyber Protect Home Office (formerly Acronis True Image) is the most reliable, efficient and easy way to protect and manage your computers, mobile devices, and digital life. Enjoy peace of mind and complete protection that delivers AI-based cybersecurity, secure backup and recovery, identity theft protection and remote management to stay ahead of modern cyberattacks, threats and identity theft with one simple tool. PCMag described it as "an all-encompassing tragedy prevention solution" in their "Editor's Choice" review.
With Acronis Cyber Protect Home Office, individuals and small businesses can back up their data — including operating systems, applications, settings, files, and folders to local drives, external hard drives, NAS, and the Acronis Cloud. Our users can also protect their Microsoft Outlook mailboxes and Microsoft OneDrive data by backing them up to secure Acronis Cloud. In case of a disaster, data can be easily recovered. In addition, Acronis Cyber Protect Home Office stops cyberattacks — including attacks resulting from zero-day vulnerabilities — from harming both backup and device data with real-time protection, vulnerability assessment, on-demand antivirus scans, web-filtering, ransomware protection and a cryptomining blocker.
Subscribe now to protect your family and yourself!
* Only available in the U.S. for Advanced and Premium subscriptions.
** The Identity Expense Reimbursement and the Unauthorized Electronic Fund Transfer Reimbursement benefits are underwritten and administered by American Bankers Insurance Company of Florida, an Assurant company, under group or blanket policies issued to Generali Global Assistance, Inc., dba Iris® Powered by Generali for the benefit of its Members. Please refer to the actual policies for terms, conditions and exclusions of coverage. Coverage may not be available in all jurisdictions. Review the Summary of Benefits at https://www.irisidentityprotection.com/terms-conditions.
About Acronis
Acronis is a Swiss company, founded in Singapore. Celebrating two decades of innovation, Acronis has more than 1,800 employees in 45 locations. The Acronis Cyber Protect Cloud solution is available in 26 languages in over 150 countries and is used by 20,000 service providers to protect over 750,000 businesses.