Cyber Protect Home Office
formerly Acronis True Image
Notarization is a critical process to ensure the integrity and authenticity of essential documents. Traditional, paper-based notarization has been the go-to for businesses in the past. Still, today's continuously evolving work environment requires a quicker approach to deliver a better notary public experience for the signers and reduce cost and the risk of identity fraud. This is where remote online notarization (RON) enters the scene.
Online notary services enable a business to notarize a document electronically via secure identity verification, comprehensive electronic notarial journal, record-keeping tools, and other security features. Properly procured online notarization is legally valid, like in-person and paper-based notarization. However, RON is often more efficient and convenient than a live notary service.
What is an online notary?
Online notary services allow participants to notarize documents online without being physically present in the same location. In "traditional" RON, a company and the notary service will complete the notarization process via an audio/video conference on a computer or a mobile device.
RON services have spiked in popularity during COVID-19 but remain a critical option for companies and clients even after the Pandemic travel restrictions. Even more so, RON services have evolved to offer blockchain-based file notarization, e-signing, and verification for businesses of all sizes. Documents notarized via such services easily comply with regulatory transparency guidelines with reduced security risks.
Online notary service comparison with a traditional notary
RON is more secure and efficient and offers a more comprehensive notarization record than traditional approaches.
Traditional notarization requires individuals to appear physically before a legally commissioned Notary Public. They also need to:
Provide proof of identity (e.g., government-issued ID)

Sign or acknowledge their signature on a document

Be placed under oath if the document notarized requires a sworn statement
Online notary services follow a similar process to traditional notarization. However, they add significant benefits to digital work environments.
Person-to-person online notarizations
Commissioned notaries performing notarizations online conduct business via a video camera, so their client base can get a document notarized without physically visiting a notary office.
Companies and individuals can electronically sign the required portions of the notarized document. Then, the notary attaches an electronic notary seal (or "eNotary seal") and a digital certificate to the document. Upon completion, clients can print the notarized document or share it electronically. Moreover, you can access the video conference recording of the transaction to satisfy audit trail requirements and transparency regulations.
Blockchain-based online notary services
Blockchain notarization streamlines the document notarization process regarding business negotiations, contracts, certificates, and more to protect their contents. It also enables entirely paperless workflows and applies secure SSL encryption to digital certification to provide full legal titles to electronically notarized documents.
Advantages of remote online notarization and the role of technology
RON is not just another method for document notarization. It offers numerous advantages to organizations and individuals. Let's explore the primary ones below.
With online notarization, signers can schedule online sessions to notarize a single document or use a RON solution to streamline the notarization for all critical documents.
Advanced safety and security features
RON relies on completely protected audio-visual sessions. All personal and document information is kept confidential. Many services also use tamper-proofing to counter cyber fraud.
As for blockchain-based notarization, clients can notarize documents via trusted, independent verification. (e.g., the Ethereum blockchain's architecture ensures that verification is always available with zero possibility of interference or fraud)
Traditional notarization typically involves piles of paperwork done by a notary for the signer. Moreover, signers must complete several notarial procedures and bring all necessary documentation to the notary public office.
On the other hand, remote notarization bypasses all the abovementioned procedures. You can quickly and easily connect to a RON platform to notarize documents from different locations, anytime, via only a few steps. In addition, custom solutions have an easy-to-use interface to enable quick onboarding and top-level usability for users.
Easy access for all operating systems
Online notaries can utilize a website platform to enable easy access for different client devices. Whether Windows, iOS, or Android, users can pass through ID verification and credential analysis and notarize documents online, regardless of their chosen OS.
Via RON, users don't need to schedule multiple appointments with a live notary. This saves time and effort for individual users and reduces costs for large companies and organizations reliant on blockchain-based notarization, as they can notarize documents from multiple users and platforms simultaneously.
How does Remote Online Notary work?
Typically, RON comprises three steps. Let's explore them below.
Senders must connect to the platform and either upload a custom agreement or use a template for frequently notarized agreements. Then, they must add the signers and the notary public to the agreement. Lastly, they can drag and drop fields into the agreement to ensure accurate signer and notary information at the exact time of signing.
Senders must connect to the platform and either upload a custom agreement or use a template for frequently notarized agreements. Then, they must add the signers and the notary public to the agreement. Lastly, they can drag and drop fields into the agreement to ensure accurate signer and notary information at the exact time of signing.
2. Verifying signers' identity
Each signer will receive an email containing a personalized link - this is done to ensure that only identified parties have access to the live notarial session. Each participant must pass a quick tech check to enable a properly-conducted video conference. (ensuring camera and microphone access and a stable internet connection)
After the check, each participant will be prompted to verify their identity via identity-proofing tools. Typically, each signer will be instructed to take a picture of their government-issued ID to check for authenticity. They can also be asked to answer questions regarding their backgrounds to be verified against a third-party, independent database.
In the last step, the participants and notary will sign the agreement to notarize it during the live, two-way audio-visual conference. The process occurs within the participants' browsers - no plug-ins or downloads are required.
During the video session, the signer can request to review the agreement with the notary, ask and answer questions, and confirm the agreement is appropriately filled out. The notary will then complete their electronic journal to capture essential notarial transaction information. Then, they will witness the signers e-Sign the agreement in real time. Lastly, the notary confirms the document's validity and applies their notary seal to finalize the session.
Legal and regulatory framework for remote online notary
Remote online notary services are legal in the United States, Canada, the UK, Australia, and several members of the European Union.
The adoption of remote online notarization is monitored and managed by legislation allowing notaries to conduct notarial acts remotely via audio-visual technologies.
Compliance with regulations and laws
Below is a list of the primary laws that have played a significant role in adopting RON in the U.S.:
Electronic Signatures in Global and National Commerce (ESIGN)
Recognizes electronic signatures as legally binding and provides a legal framework for electronic records used in commerce; it also establishes that e-signatures are equivalent to traditional signatures.
Revised Uniform Law on Notarial Acts (RULONA)
Provides guidelines for notaries to perform remote notarization and allows different states to adopt RON legislation.
Uniform Electronic Transactions Act (UETA)
Sets regulations and guidelines for electronic signatures and transactions. (including RON)
Securing and Enabling Commerce Using Remote and Electronic (SECURE) Notaziration Act
Aims to establish a federal code of standards regarding interstate notary acts.
Ensuring compliance for a notarized document
Someone might worry that documents notarized remotely will pose a compliance issue for their company. However, if you notarize critical documents via a government- and legislation-approved platform, your files should comply with all notarization laws and guidelines in the U.S.
Is a notary the same as an apostille?
Both terms refer to the legal validity of a signed document. However, they focus on different aspects of document validity. The primary difference between the two is as follows:
Notarization ensures that a notarized document will go through a proper notarization session according to state guidelines to be accepted as legally binding.

On the other hand, an apostille ensures that signed and notarized documents within the U.S. will be valid (and accepted) in any of the countries participating in the Hague Convention of 1961.
How to find the best online notary service?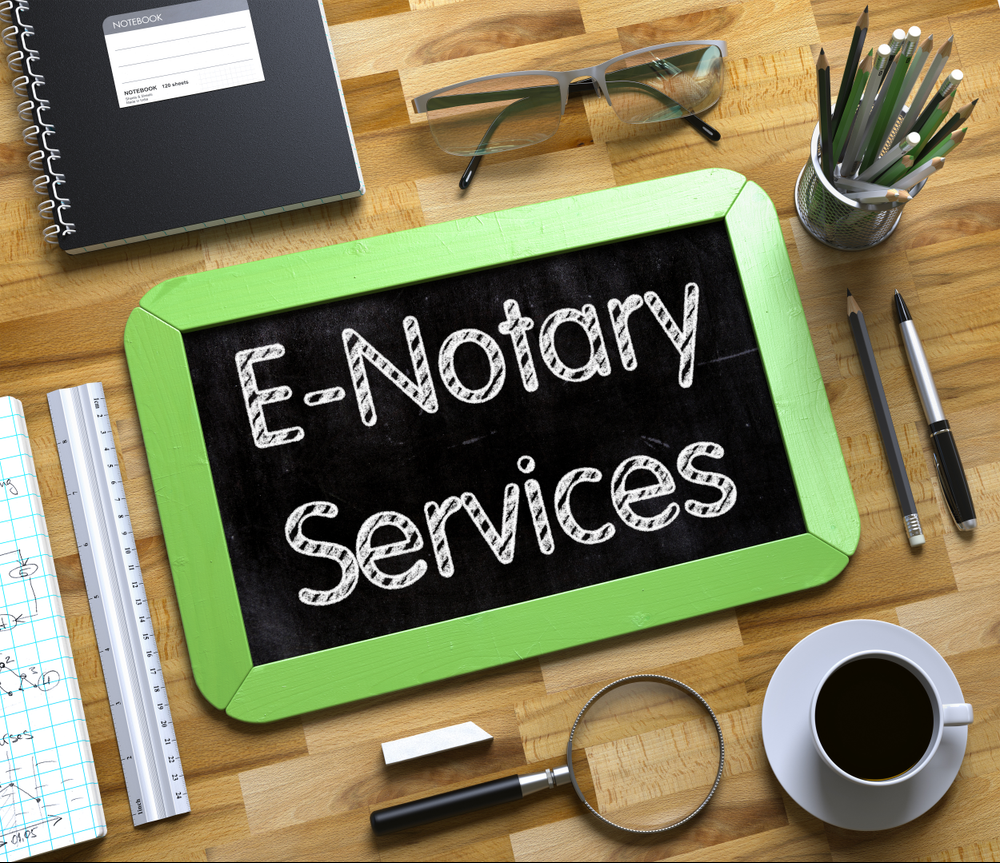 Notarized documents typically represent major milestones for individuals and companies. For example, you can notarize title company research documents to satisfy a deal between yourself and mortgage lenders when buying a home. Individuals would also need to notarize documents when marrying, adopting a child, or preparing their will. As for companies, they might need to notarize documents regarding critical projects or deals to satisfy compliance and ensure transparency.
This is why selecting the most efficient and trusted online notary services is crucial so you can easily schedule appointments, connect to the platform's website, and notarize documents as quickly and cost-efficiently as possible. Below, we will explore the most significant features of robust online notary services.
What to look for in an online notary service provider
When choosing a RON platform for your business, it's imperative to consider several factors to ensure a secure, efficient, and reliable service.
The platform must use military-grade encryption and security features to safeguard sensitive personal data.
The platform must comply with relevant state and federal laws and regulations. (ESIGN, UETA)
The platform must be easy to use, with a simplified user interface and a step-by-step guide to streamline the notarization.
The platform must show a strong reliability track record and be available 24/7. Your company should consider the platform's response times, availability, and customer support features.
Comprehensive integration
Your company should be able to integrate the platform's service with other systems and tools you use. (document management systems, digital signature tools)
The platform must offer a competitive pricing structure that satisfies your budget plan.
The platform must have a stellar reputation regarding top-tier, secure, and reliable RON services.
Device and OS compatibility
Your company will likely benefit from a platform that supports mobile compatibility for various devices and operating systems to ensure a seamless experience.
Acronis Cyber Protect Home Office - Online Notary Solution
Acronis Cyber Notary Cloud is part of the robust Acronis Cyber Cloud platform, used by MSPs to deliver comprehensive backup, file sync and share, disaster recovery, notarization, and e-signature services to clients.
Acronis Cyber Notary Cloud leverages the distributed Ethereum blockchain architecture to allow your company to notarize documents anytime, without the risk of fraud or unauthorized party interference. With it, your company can notarize and e-sign files of any type and format - documents, images, videos, music, and more.
With Acronis Cyber Notary Cloud, you can manage the entire document workflow - from creation and sending it to multiple users to simple and quick online signing via embeddable e-signatures. This adds an additional seal of approval for notarized documents while reducing costs, increasing transparency, and satisfying compliance.
Moreover, the Acronis Cyber Notary API enables efficient integration with any app utilizing the Acronis Cyber Notary Cloud service backend. The solution is ready-to-use via a convenient web interface providing top-tier usability for end users. Try it out today to experience the future of remote online notarization!
About Acronis
Acronis is a Swiss company, founded in Singapore. Celebrating two decades of innovation, Acronis has more than 2,000 employees in 45 locations. Acronis Cyber Protect solution is available in 26 languages in over 150 countries and is used by 18,000 service providers to protect over 750,000 businesses.