An overwhelming majority of companies are implementing cloud solutions such as Microsoft Azure®. But, a whopping 80 percent of these organizations have lost data in the cloud. In fact, Salesforce customers using the NA14 instance experienced a database failure last May, which introduced a file integrity issue. Fortunately, Salesforce was able to recover most of the data by by restoring NA14 from a prior backup, which was not impacted by the file integrity issues.
While Salesforce may back up, you cannot assume all of your IaaS vendors do the same. Relying on your IaaS vendor to back up your data without your involvement and control is like relying on your operating system to back up your Microsoft Exchange® server when you have not configured it. This is why you must protect your cloud solutions following the same strict data governance standards, corporate regulations, and business continuity policies that you apply to on-premise backups.
Many IT administrators do not include cloud backup in their data protection strategies because many vendors do not support it. This leaves one option: back up your cloud data using the limited functionality offered in complex built-in tools that typically provide only partial protection and put a strain on IT resources, which are scarce.
The Easy Microsoft Azure Backup Solution
But now, there is an easy solution — Acronis Backup 12. In addition to protecting your physical servers, virtual hypervisors and hosts, desktops, laptops, and mobile devices, Acronis Backup 12 also protects your Microsoft Azure virtual machines (VMs).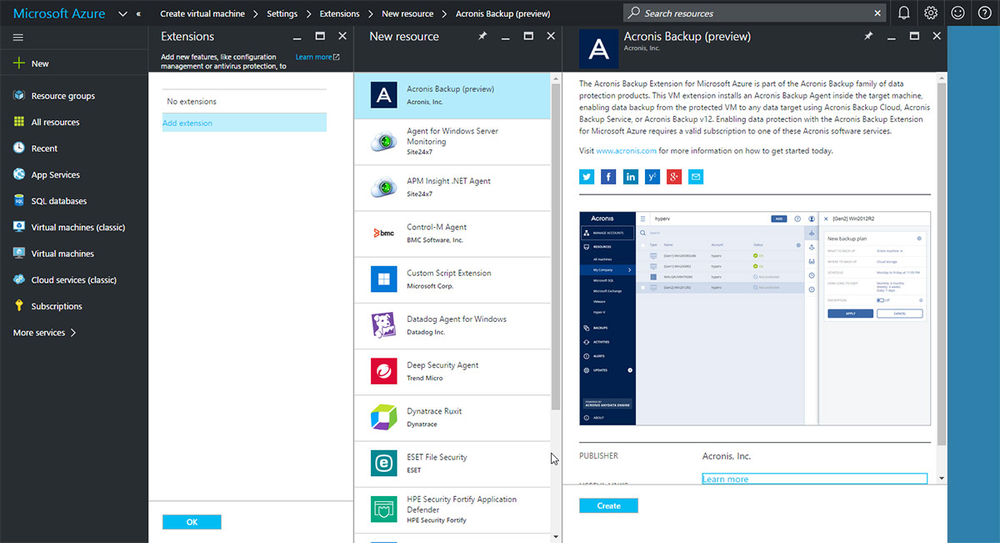 Microsoft Azure VMs can be easily protected with Acronis Backup 12
Simply add your Microsoft Azure VM into the Acronis touch-friendly web console, install the agent, and schedule your backups as you would with any other Windows® or Linux® machine. You can use any available storage — Microsoft Azure File Storage, shared folders on any of your Azure VMs, your on-premise storage (if you have connectivity back to your data center), and reliable and secure Acronis Cloud Storage.
You can recover files, folders, documents, and databases from your applications. You can even restore your entire VMs. If necessary, you can increase disk capacity during recovery. And, you can restore a Azure VM backup to dissimilar hardware, such as a physical server or virtual machine in your company data center!
This means you are not locked into the cloud; you can migrate your systems to the cloud as well as from the cloud. This is yet another example how the industry's easiest and fastest backup solution delivers control to you — the IT administrator!
Try it for yourself. Check out Acronis Backup 12 today and experience the industry's best Microsoft Azure VM backup and data protection.