Acronis

Cyber Protect Cloud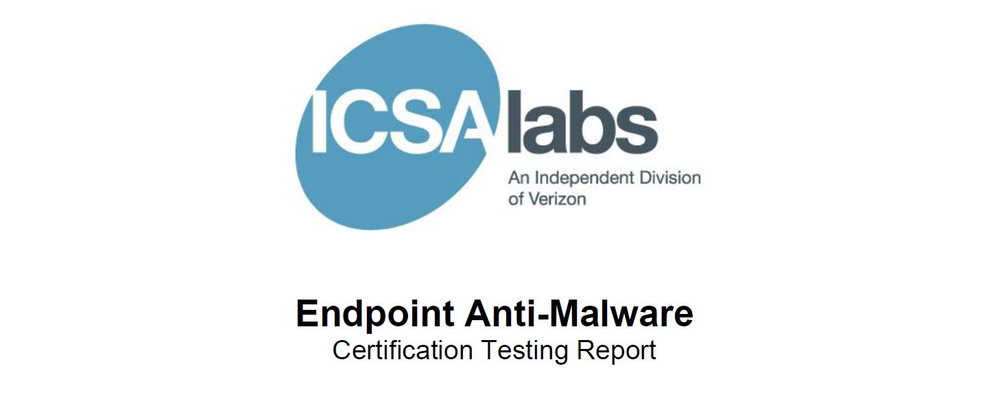 This year, Acronis successfully took part in ICSA Labs' assessment for Endpoint Product for Business, Anti-malware certification. Acronis Cyber Protect Cloud passed all of the tests to be certified and achieved the same excellent result it did with AV-Comparatives and VB100 – earning certification after its first test. As in evaluations by other testing laboratories, Acronis Cyber Protect Cloud showed zero false-positive reactions, a close to perfect (99.9%) on-demand detection rate, and a 98.2% real-world detection of new and unknown malware threats!
These tests were performed in June and represent the real-world threat situation of that month. The report was published in July.
What is ICSA Labs' Endpoint Anti-Malware Certification
ICSA Labs formed in 1989 to lessen uncertainty and bring clarity to organizations searching for the best possible cybersecurity products. ICSA Labs is a leader in the USA market of independent security product evaluation and currently focuses on product detection effectiveness when confronted with many kinds of insidious malware.
In ICSA Labs' Anti-Malware Testing Program, ICSA Labs tests how well endpoint anti-malware solutions like Acronis Cyber Protect Cloud detect known malicious threats in its Mainstream test set. The malware that's used in testing is confirmed each month through a two-step verification consisting of internal code-level analysis and cross-check by antimalware industry experts.
ICSA Labs performs antimalware testing each month with its Mainstream test set and posts the results on its website. This frequent testing is essential to keep pace with the ever-increasing, ever-evolving nature of modern malware.
In addition to its Mainstream test set of malware, ICSA Labs also tests how well antimalware products detect thousands of other threats from its Collection test set and how products perform in terms of false positives with thousands of innocuous test cases. Through its false-positive testing, ICSA Labs offers organizations who rely on its judgment reassurance that the tested anti-malware product will have no false positives on the known clean files tested.
To earn certification from ICSA Labs, the security product being tested must:
Be at least 92% effective at detecting malicious, non-file infectors known to exist in systems worldwide. Acronis' result is 98.2%.

Be at least 90% effective at detecting malicious threats in ICSA Labs' collection of known malware from recent years. Acronis result is 99.9%.

False positives and results of on-demand scanning are also taken into account.
Analyst praise for Acronis Cyber Protect Cloud
Following the test of Acronis Cyber Protect Cloud, specialists at ICSA Labs made a point to note the excellent detection rates and quality of the solution:
"Acronis' endpoint anti-malware product provided very good real-time protection against malware known to exist on systems worldwide. Acronis Cyber Protect Cloud had no false positives on any of the thousands of innocuous files used in testing. The real-time protection provided by Acronis Cyber Protect Cloud was almost equally effective compared to the already very effective on-demand scanning provided by the product."
Regarding the collection on-demand scanning, testers specifically noted: "During testing, Acronis Cyber Protect Cloud was nearly perfect, having scored much higher than the percentage required by the test criteria."
You can read their full report on the ICSA Labs website here.
Acronis specialists continuously work to make Acronis Cyber Protect Cloud and other cybersecurity-enabled Acronis products better, focusing particularly on eliminating false positives that can disrupt business and cause problems for busy organizations. At the same time, we continuously improve the already excellent detection rate delivered in our products, which shows in these positive results from ICSA Labs.
Learn more about the detection and defense capabilities of Acronis Cyber Protect Cloud here.
About Acronis
Acronis is a Swiss company, founded in Singapore. Celebrating two decades of innovation, Acronis has more than 2,000 employees in 45 locations. Acronis Cyber Protect solution is available in 26 languages in over 150 countries and is used by 20,000 service providers to protect over 750,000 businesses.