The best and brightest thought leaders in the IT channel are coming together at the upcoming Acronis #Cyberfit Summit – in person in Miami and virtually for attendees around the world. This array of speakers, detailed here, features all-star guest appearances in keynote addresses from author and former host of CNN Newsroom Brooke Baldwin, CEO and founder of The Black Swan Group Chris Voss, internet entrepreneur, investor, and co-founder of Reddit Alexis Ohanian, and two of Acronis' visionary leaders: Patrick Pulvermueller and Serg "SB" Bell.
Whether you're attending virtually or in-person at the Fontainebleau Miami Beach hotel in Florida, here's a sneak peek at the line-up of keynotes you can look forward to hearing from October 25-27.
Alexis Ohanian, an internet entrepreneur and investor has seen – and helped create enormous digital business success stories. Best known for co-founding the social online community Reddit, Ohanian has also authored a bestselling book Without Their Permission, chronicling his experience as an entrepreneur building, selling, and chairing the organization.
In addition to his role at the head of the Front Page of the Internet, Ohanian has dedicated much of his career to funding the success of countless other online ventures.
In 2016, Ohanian co-founded Initialized Capital—a seed-stage venture fund with over $770M under management and a portfolio with $100B in market value, which invested in companies like Hubspot, Instacart, and Coinbase. He has also been instrumental in other successful online ventures, including HipMunk and BreadPig. He's invested in and advised over two hundred tech startups and was a partner at Y Combinator.
With his passion for inclusion and a fervent commitment to Founders, Ohanian left Initialized Capital to establish the venture firm, Seven Seven Six, which recently closed its first fund with $150M. And, in whatever free time he manages to have, Ohanian launched the Business Dad podcast in 2020, interviewing fellow fathers about what it means to be a dad in today's world and how they balance their careers and families.
At the Acronis #CyberFit Summit in Miami Ohanian will share this wealth of experience to our community, offering guidance on how your IT business can continue to grow and succeed based on the many modern success stories he's helped to create.
Chris Voss is the CEO and Founder of The Black Swan Group Ltd., a former FBI hostage negotiator, and the author of Never Split The Difference: Negotiating As If Your Life Depended On It. Previously, Voss was the lead international kidnapping negotiator for the Federal Bureau of Investigation, as well as the FBI's hostage negotiation representative for the National Security Council's Hostage Working Group.
Working to share his skills in the art of negotiation, Voss has taught business negotiation in the MBA program as an adjunct professor at the University of Southern California's Marshall School of Business, and at Georgetown University's McDonough School of Business. He has taught business negotiation at Harvard University, guest lectured at The Kellogg School of Management at Northwestern University, and The Goethe School of Business in Frankfurt, Germany.
Voss has leveraged all of these experiences – gathered over a storied career responding to international crises and managing high-stakes negotiations – to develop a unique program that applies globally proven negotiation and leadership training techniques to the business world.
As a guest keynote speaker for the Acronis #CyberFit Summit, Voss will share these techniques with MSPs, resellers, and hosting service providers from around the world. Through his keynote address, attendees will learn proven methods for achieving better business outcomes – including better client relationships and more profitability.
A fierce advocate for women's strength, solidarity, and empowerment, Brooke Baldwin is an award-winning journalist and author. For 13 years she reported on some of the biggest stories in the world at CNN, covering natural disasters, mass shootings, and terror attacks and interviewing former first ladies, astronauts, actors, activists, rock stars, and ordinary Americans in extraordinary circumstances.
In addition to hosting CNN Newsroom with Brooke Baldwin, Baldwin created and hosted the inspiring CNN Digital series American Woman. This interview series extended Baldwin's passion for female empowerment to a global audience as she sat down with eight trailblazing and glass-ceiling-shattering women from the worlds of music, fashion, and film to explore their experiences and inspire women around the world to continue to strive for fairness and equality in their careers, lives, and society.
This inspirational work continued for Baldwin in 2021, when she left her position at CNN to focus on her new book Huddle: How Women Unlock Their Collective Power. Now a Wall Street Journal Bestseller, Huddle offers an exploration of the support, empowerment, inspiration, and strength that women facing adversity from modern and systemic challenges can find by coming together in "huddles".
At the Acronis #CyberFit Summit in Miami this October, Baldwin will bring all of this passion and experience to hosting Acronis' dedicated Women in Tech Breakfast. A favorite event of the Acronis community, this panel gathers fearless female leaders from the historically male-dominated IT industry to share their stories, celebrate their triumphs, and offer support and guidance for all attendees looking to create a more diverse and equitable future for IT professionals.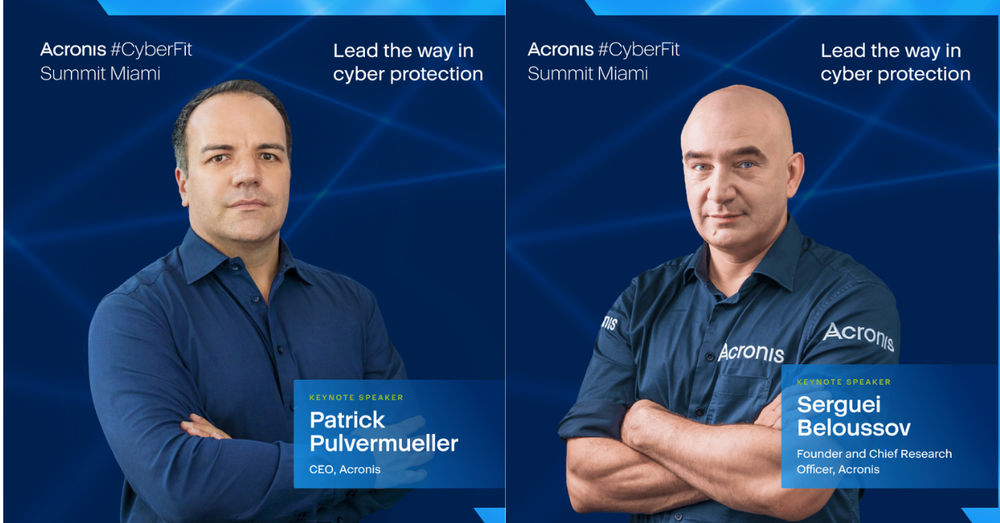 Patrick Pulvermueller and SB (Serg Bell)
This year's Acronis #CyberFit Summit kicks off virtually and in Miami with a can't-miss keynote address from Acronis' Founder and Chairman, SB, and its new Chief Executive Officer, Patrick Pulvermueller.
Pulvermueller, taking part in his first Acronis #CyberFit Summit since being named CEO, joined Acronis from hosting leader GoDaddy. In this role, he has committed himself to applying his passion and expertise in channel-centric business development to create expanded opportunities for the existing Acronis partner community, supporting and accelerating the growth and success of the thousands of businesses in the IT channel today who rely on Acronis Cyber Protection Solutions. The Acronis #CyberFit Summit World Tour represents a global opportunity to do just that.
Pulvermueller will be joined on-stage by Acronis' previous CEO and current Chief Research Officer and Chairman of the Board, SB.
SB served as Acronis' Chief Executive Officer from 2013-2021. SB was also Acronis' first Chairman of the Board from 2003-2007 and again from 2019 to present-day. Before founding Acronis, SB served as Parallels' CEO until 2011, a company that operates as a global leader in virtualization and automation software. SB still provides leadership to Parallels today as the company's Executive Chairman. SB is also the co-founder and Executive Chairman of Acumatica, and a Senior Partner at Runa Capital, a global technology-focused venture capital firm he co-founded with university colleagues in 2010.
The two will deliver this year's Acronis #CyberFit Summit opening keynote address, exploring the current state of cyber protection for the Acronis partner community and the IT channel, at large before offering a look ahead at their vision for the growing cyber protection movement in the year to come.
Whether you're joining the Summit live and in-person in Miami or you'll be attending virtually from your home, office, or home office anywhere in the world, these three events are essential viewing for IT professionals looking to grow and succeed in the modern age.
Stay tuned for more exciting announcements about the Acronis #Cyberfit Summit in Miami, and remember – if you haven't registered yet, sign up now!