formerly Acronis Cyber Backup
Acronis is honored to be featured in this year's Gartner 2019 Magic Quadrant for Enterprise Datacenter Backup and Recovery Solutions. (Get complimentary access to the full report here.) Admittedly, we're disappointed to see our position on the quadrant – especially given our unique vision and successful practical execution of fusing cybersecurity with backup in order to establish a new standard of comprehensive protection: Cyber Protection.
Then again, visionaries and innovators rarely fit existing metrics – instead we influence the standards that drive the future of their industries. This is also the strategy behind the Acronis Cyber Platform, which is further increasing our leadership when it comes to the edge. The fact is that our dominance at the edge has opened the door into the enterprise data center arena – where we are currently witnessing rapid growth – so earning a spot as a Niche Player in the Enterprise Datacenter Backup and Recovery space may be understandable for now.
Five Vectors of Cyber Protection
In reality, Acronis was the only vendor featured in the Magic Quadrant whose solutions address all Five Vectors of Cyber Protection within the Enterprise Backup and Recovery category. Those Five Vectors are also known by their acronym, SAPAS:
Safety – Ensure that a reliable copy of your data is always available
Accessibility – Make data easily available from anywhere at any time
Privacy – Control who has visibility of and access to your data
Authenticity – Create undeniable proof a copy is an exact replica of the original data
Security – Protect your data, apps, and systems against malicious threats
Let's take a moment to provide some additional perspective on Acronis' position in the Enterprise Backup and Recovery sector.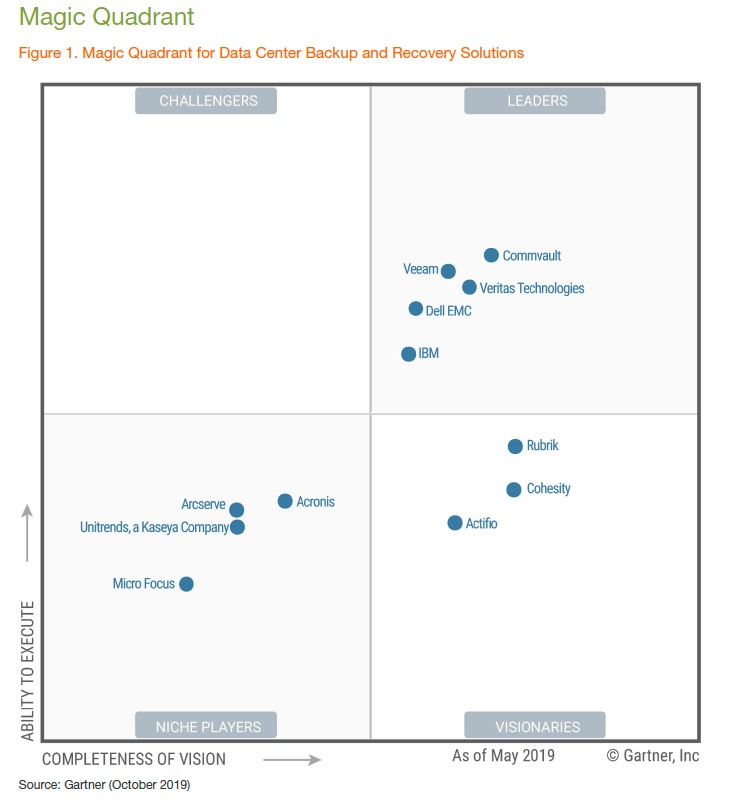 Our core value proposition can be summarized along the following three pillars: easy, efficient, and secure.
1. Easy, with a single-pane of glass. All Acronis on-premises and cloud solutions have an intuitive user-experience with a web-based, touch-friendly user interface, a common approach to management, instant restore capabilities and pre-integrated configuration of 23 platforms and workloads including VMware, Microsoft (Azure, Windows Server and PC, Exchange, SQL Server, Share Point, Active Directory, Hyper-V, Office 365), Google G Suite, Amazon EC2, Linux, Apple (Mac, iPhone, iPad), Android, SAP HANA, Oracle, Red Hat, Linux KVM, Citrix XenServer, Virtuozzo, and Nutanix. Customers praise our architecture and approach, with peer reviews on Gartner's website including "great experience, easy to set up, easy to manage."
Acronis also provides maximum flexibility and control to customers and partners through our hybrid-cloud architecture, enabling a wide variety of deployment options (local, hybrid, cloud) across more than 19 data destination types including local folders, SMB shares, CIFS shares, NFS folders, Secure Zone, DFS shares, Acronis Cyber Infrastructure, Acronis Cyber Infrastructure Appliance, External NFS shares, Amazon S3, IBM Cloud, Alibaba Cloud, IIJ, Cleversafe, Microsoft Azure, Swift object storage, Softlayer, Google Cloud Platform, ExaGrid and Scale Computing.
Furthermore, we provide a variety of purchasing options (classic channel distribution, service providers, OEM, ISV, and online) and a flexible licensing model (perpetual licenses with maintenance subscription, subscription licenses, pay-as-you-go model for cloud services).
2. Efficient, with a low total cost of ownership (TCO). It is important to note that the Gartner Magic Quadrant scoring methodology does not address TCO. Frankly, this put Acronis at a distinct disadvantage considering our offerings are upwards of 50% less costly than our primary competitors. This is a key selling point for us, particularly in the enterprise market where controlling costs is always top of mind for a CIO.
Acronis has deliberately focused solutions on workloads for which TCO is of the utmost importance (edge-like workloads in enterprise data centers and edge workloads), configuring frequent backups for low RTO, and using Instant Restore with a 15 second RPO. This measurable impact on TCO is illustrated by Williams Racing, who brought their backup window and recovery time from days down to minutes.
3. Secure, with integrated anti-malware and blockchain notarization technologies. According to Gartner, worldwide spending on information security (excluding emerging markets like IoT) will reach more than $114 billion in 2018 and is forecast to grow 8.7% to $124 billion this year. Acronis has differentiated ourselves in the market by integrating unique security capabilities into our backup and storage offerings.
For example, Acronis Notary is a blockchain-based service that certifies the authenticity of files being backup up, countering the threats posed by unauthorized alterations and malicious encryption. In addition, our built-in, AI-based defense stops ransomware and cryptojacking attacks in real-time. A case study about how Johnson Electric uses this innovative cyber protection feature explores this benefit.
The challenges that enterprises must face when protecting their data, data centers, and edge are always changing. Gartner's Magic Quadrant sets a high standard and earning a place on their grid is a great affirmation that Acronis is delivering on our mission to protect all data, apps and systems.
It is also worth mentioning that Gartner was delayed in publishing this report by over four months, and ultimately the cutoff for features and functionality was February 2019 for a report being published in October 2019. During this time, we announced our vision behind the Acronis Cyber Platform as well as support for SAP HANA workloads – a factor Gartner specifically called out as absent when determining our ranking, but which is now a moot point.
Over time, we fully expect to improve our position in the Magic Quadrant as we continue to share, reinforce and refine our visionary approach to cyber protection.
About Acronis
Acronis is a Swiss company, founded in Singapore. Celebrating two decades of innovation, Acronis has more than 2,000 employees in 45 locations. Acronis Cyber Protect solution is available in 26 languages in over 150 countries and is used by 20,000 service providers to protect over 750,000 businesses.