In today's digital world, you can lose data in any number of ways. You can accidentally delete something you need. Your hard drive can fail. And now there's a never-ending array of malware threats that usually start their attacks by targeting your backups so you have no way to recover. And, until now, there hasn't been a single solution that addressed it all.
With today's release of Acronis True Image 2021, that all changes. That's because the new Acronis True Image integrates advanced cybersecurity capabilities with our best-of-breed personal backup.
The result is the world's first complete personal cyber protection solution – purpose-built to make protection easier to manage and more affordable, while greatly improving the security of data and devices.
Why integrate backup and cybersecurity?
When you think about how much we rely on computers, smartphones, and tablets every day, there's clearly value in the data they hold. Unfortunately, cybercriminals are constantly trying to profit from that data, so they constantly change their attacks and make them more sophisticated, which is why security researchers like AV-Test report more than 350,000 new malware threats every day.
Historically, you could use a backup to recover from an attack, but these new cyberthreats often target backup files and software – which means backup alone no longer provides suitable protection. Similarly, conventional cybersecurity solutions don't provide you the data protection and recovery capabilities you need following an attack.
In the words of Acronis founder and CEO Serguei "SB" Beloussov, that means, "Backup without cybersecurity is an incomplete option in that situation, as is cybersecurity without backup. Only Acronis True Image 2021 delivers the easy, efficient, and secure cyber protection needed today."
Recent releases of Acronis True Image have included an antiransomware defense to protect against the fastest-growing cyberthreat – but with the launch of Acronis True Image 2021, we expand those capabilities to include a full range of advanced antimalware capabilities, including:
Real-time protection, driven by AI-enhanced behavioral heuristics, which stops all malware – including zero-day attacks by never-before-seen threats

On-demand antivirus scans of the full system or quick scans of at-risk files, either of which can be scheduled in advance or run instantly

Web filtering that automatically blocks Windows users from accessing malicious websites that harbor malware, disinformation, scams, and phishing attacks

Videoconference protection prevents hackers and malware injection attacks from exploiting popular apps like Zoom, Cisco Webex, and Microsoft Teams
Already used in our business solutions, our next-gen antimalware has been thoroughly tested by independent security labs such as Virus Bulletin and AV-Test. With a 100% detection rate and zero false-positives, it equals or outperforms big-name antimalware solutions – yet those solutions still can't help you recover after an attack.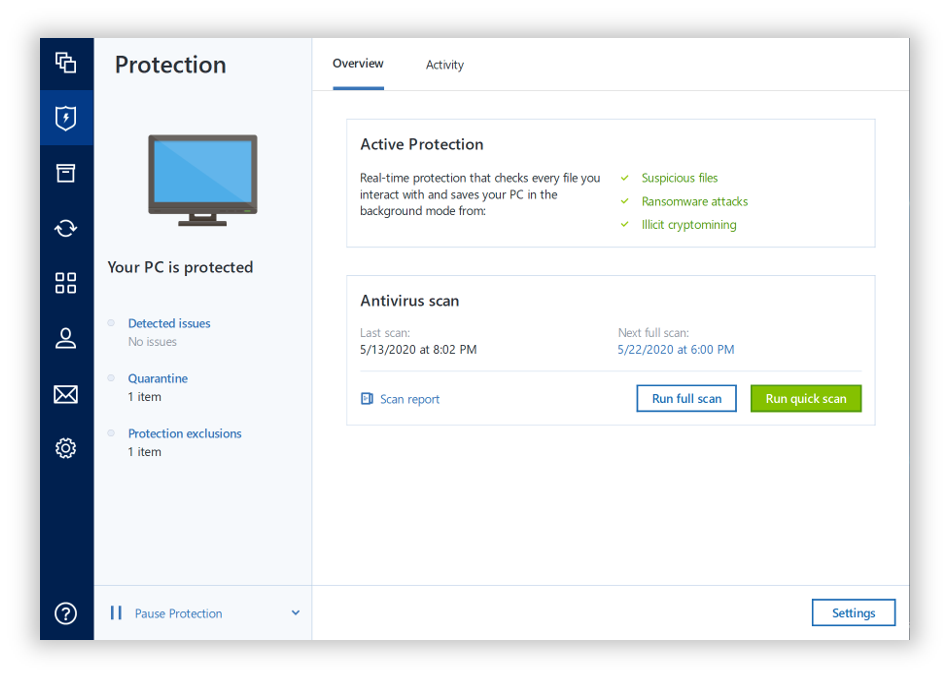 Some people might try using multiple products to cover it all, but that causes problems. Since those solutions are not designed to work together, gaps are created in your defenses. Juggling multiple interfaces makes managing your protection more complex. And buying separate backup and antimalware solutions costs more.
As a single, integrated solution, Acronis True Image 2021 closes those gaps, making protection and security more effective, easier to manage, and more affordable.
As a result, you gain authentic, unaltered data that's free of malware for safe recoveries. You can proactively stop any malware attack and then quickly restore affected files. The single, intuitive interface reduces the complexity of managing your security and backups.
Backups as reliable as ever
The expansion of the built-in antimalware does not come at the expense of Acronis True Image's backup capabilities, since risks such as disk failures, accidental deletions, and lost or stolen devices continue.
The new release features several enhancements, including:
Resumable replication of backups. If a disconnection happens while data is being replicated in the cloud, the process resumes from the point of the interruption to avoid duplicating previously replicated data.
Quicker backup validation. You can now choose to validate the latest version for your backup, which significantly speeds up the standard process for validating the effectiveness of backups.
Greater VM options. You now have the ability for .tibx archives to be mounted, moved, renamed, and converted to the .vhd format – enabling them to be run as virtual machines.
Solution for today's challenges
Delivery of this comprehensive solution comes as the COVID-19 pandemic exposes gaps in traditional solutions and strategies. As hackers target remote workers in the wake of the pandemic, because home systems are less secure than office networks, the FBI reported a 400% increase in cyberattack. Securing home machines has never been more important. Yet a recent Acronis survey found nearly half (47%) of remote workers never received clear guidance on working from home.
By integrating our advanced antimalware technology into our award-winning personal backup software, Acronis is uniquely able to deliver the one solution that tackles the complete range of modern data loss threats facing individuals, prosumers, and small businesses.
To learn more or to download the free 30-day trial, visit Acronis True Image 2021.