Acronis

Cyber Protect Home Office
formerly Acronis True Image
The Acronis Global Cyber Summit 2020 Training Day is in the books! We rolled out our virtual Summit this year with a day dedicated to training partners on how to deliver cyber protection solutions to their clients, develop their next innovation with the Acronis Cyber Platform, and achieve more by following the example of some of the world's top athletes.
Simply put, the year's biggest cyber protection event is off to an amazing start.
If you weren't able to make it to the Acronis Global Cyber Summit 2020 Training Day, or you missed out on any of the sessions, here are the top highlights and takeaways.
Acronis Academy Certification
More than a thousand Acronis partners from APAC, EMEA, and the Americas joined Righter Kunkel, Jon McCarrick, and the entire Acronis Academy team for in-depth training sessions on Acronis' newest solutions. In these courses, unveiled for the first time at the Acronis Global Cyber Summit, partners experienced a completely revamped approach to enabling cyber protection sales and support.
The new Acronis Academy was designed to be able to provide a highly scalable way of training huge numbers of partners – as demonstrated at the Summit's first day – while at the same time providing a highly customizable and engaging learning experience. The goal is to be able to train one million people on the platform by the end of 2022.
"We now have a massive partner base – 50,000 partners and growing rapidly," Acronis Chief Operating Officer Gaidar Magdanurov said. "Things also change rapidly in technology. We have to be able to educate our partners about all these things. We need to provide what they need when they need it."
At this debut of the new training and certification courses, Acronis partners proved that they were ready for this new approach, completing courses all day and becoming better equipped to position, sell, and deploy cyber protection solutions.
Developers exploring automation through integration
In an engaging, interactive workshop Acronis' Principal Technical Evangelist Stanislav Pavlov led 100 professional developers and ISVs through an inside look at the Acronis Cyber Platform. Through this guided discussion, attendees on the Summit's Developer and ISV track learned how to use Acronis Cyber Automation API calls to automate numerous use cases of a popular platform that MSPs use to automate portions of their business.
That new knowledge was explored even further after the workshop as developers, ISVs, and sysadmins joined in the Summit's dedicated Developer Hub to share their experiences, feedback, and success stories using the Acronis Cyber Platform to automate processes and integrate solutions that allow for expanded opportunities with less manual effort and management.
For developers, ISVs, sysadmins, and architects that weren't able to join today, be sure to visit the Developer Hub during the Summit and learn what your peers are achieving together.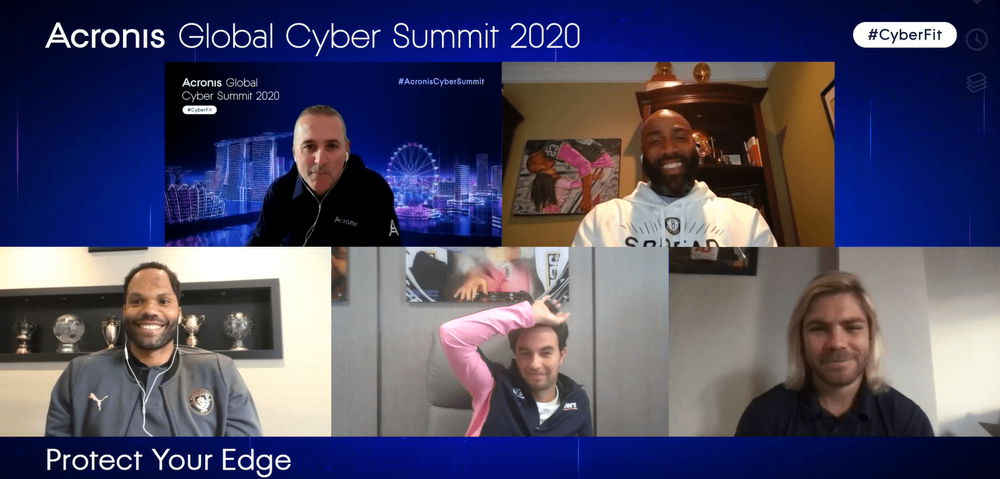 Athletes share how they protect their edge
The Acronis Global Cyber Summit 2020 closed its day of training with a candid conversation from some of the world's foremost professional athletes. Acronis VP of Sales for Northern Europe Ronan McCurtin sat down with superstars from four of Acronis' sport partners:
Deangelo Hall, former cornerback for the NFL Washington Football Team

Faf De Klerk, scrum-half for the Sales Sharks rugby team

Joleon Lescott, former defender for the Manchester City Football Club

Sergio 'Checo' Perez, F1 driver for the BWT Racing Point F1 Team
The star-studded panel shared their personal journeys to achieving their positions as some of the best in their fields, focusing primarily on the discipline, work ethic, and focus that enabled them to overcome the odds. As Hall said, "There are a lot of kids that are super talented. What separates the really great, transcendent players is their willingness to put in more work: mentally and physically."
Part of that work, all our stars reported, is an increased focus on research and the data that in recent years has become integral to a sports team's success. Learn how they approach this new data-driven approach to becoming champions with the panel recording available on-demand here.
The cyber protection era is here
There's still time to reserve your spot at this year's Acronis Global Cyber Summit! With two days left of expert insights, expansive networking opportunities, and once-in-a-lifetime experiences, there's still plenty to see, but capacity is limited — register now. View the full agenda to discover more sessions, and be sure to follow the #CyberFit and #AcronisCyberSummit tags on social media for live updates, reactions, and surprises.
About Acronis
Acronis is a Swiss company, founded in Singapore. Celebrating two decades of innovation, Acronis has more than 1,800 employees in 45 locations. The Acronis Cyber Protect Cloud solution is available in 26 languages in over 150 countries and is used by 20,000 service providers to protect over 750,000 businesses.