Cyber Protect Home Office
formerly Acronis True Image
Acronis True Image 2017 New Generation received the Gold Self-Protection Award from Anti-Malware Testing Lab, being recognized for its capacity to protect itself and its backups from ransomware (Acronis Active Protection™).
The threat of ransomware (a type of malware that hijacks computer systems and demands ransom) is so great that it became paramount for backup vendors to introduce technology to protect backups from such attacks.
Reliable backup is the only sure way to recover data from ransomware without paying the ransom and subsequently supporting the crime. Because of this, cyber criminals got busy with advancing technology and adopting new techniques to disable data protection software and encrypt backups to prevent easy recovery.
The situation is very similar to what was observed about ten years ago with the advent of computer viruses and other malware. Using similar tactics, malicious malware tried to disable software programs in order to complicate the task of computer clean up.
In their search, Anti-Malware Testing Lab tested seven of the most popular consumer data protection products, suggesting that in the consumer market space users are at much higher risk of losing data because of the ad-hoc nature of running backups the relaxed attitude towards data protection.
Anti-Malware Testing Lab conducted a thorough test of the following backup products:
Acronis True Image 2017 New Generation 20.0.0.6106

Carbonite Home 6.2.16804

CrashPlan Free 4.8.0.331

EaseUS ToDo Backup Free 10.0.0.0 build 20161212

iDrive 6.5.1.22

Macrium Reflect Home Edition 6.3 build 1665

NovaBackup PC 18.5 build 926
Each product was tested in equal environment against 35 different attacks in the following groups:
Modification/deletion of files

Modification/deletion of registry keys

Process termination

Modification of processes/code

Protection of backup data stored in the cloud

Recovering of backup data from the cloud

Acronis True Image 2017 New Generation took first place in being able to withstand 83 percent of the attacks.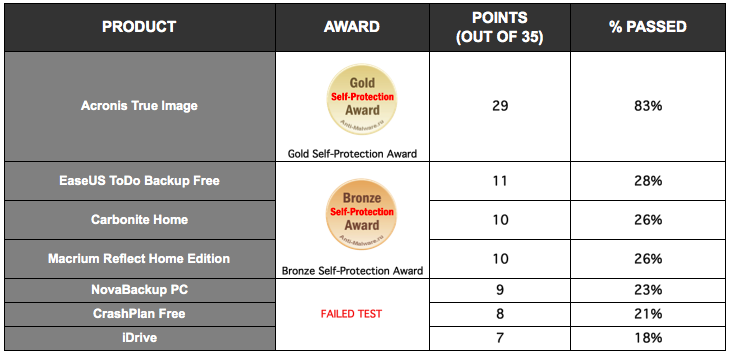 Acronis True Image 2017 New Generation received the Gold Self-Protection Award, collecting 29 out of the 35 possible points.
Acronis True Image 2017 New Generation — #1 Personal Backup Software
Commenting the results of this test, Nikolay Grebennikov, Vice President Engineering at Acronis stressed the importance of anti-ransomware protection in backup software: "Acronis True Image 2017 New Generation is all about data management and data protection — something that users expect from such a solution. Self-protection is an important part of data protection, because cyber criminals can simply attack the backup software and compromise the protected data even if it's stored in the cloud. We work hard to protect user data, regardless where it's stored and we are pleased that the test results confirm our leadership in this market segment."
READ MORE: