Today we announced that we're opening the Acronis Cyber Platform to give developers, ISVs, OEMs, service providers, and others access to our core platform. This early access is designed to encourage expanded functionality and application integrations by developers while giving them access to Acronis' large ecosystem.
The Acronis Cyber Platform, which is the foundation of the company's existing services, features a series of APIs supported by software development kits (SDK) and sample code. With today's early access, developers can have the kind of access was previously available only to Acronis and select integration partners such as ConnectWise, Microsoft and Google.
Cyber protection's unlocked potential
With the Acronis Cyber Platform, developers can create new data sources, new data storage destinations, leverage new data management functionality, and integrate their applications with Acronis cyber protection solutions. Developers can also integrate Acronis into their applications, systems or marketplace.
By doing so, ISVs, OEMs, service providers, resellers, and customers can drive new revenue and solve a greater number of use cases for themselves and the Acronis ecosystem. Acronis currently serves a community of 50,000 channel partners, 500,000 businesses and 5,000,000 end-users.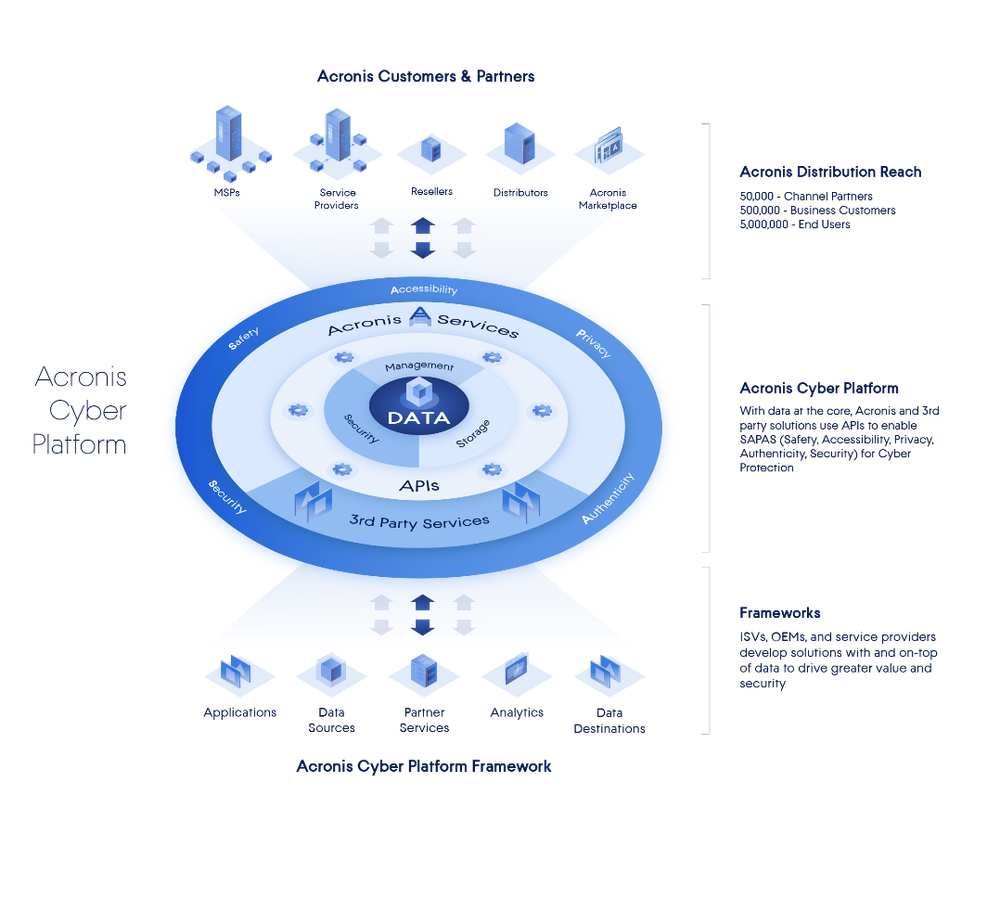 Launching the Acronis Cyber Platform brings to life Acronis' vision that modern cyber protection should incorporate data protection, cybersecurity, and privacy. Data is at the center of every digital transformation project, driving more and more value for businesses of all sizes.
As a result, modern data needs are growing daily from the amount of data to its different uses to the number of data sources and locations. The only way to fully manage and safeguard that data is to address all Five Vectors of Cyber Protection: namely the safety, accessibility, privacy, authenticity, and security of data (SAPAS).
The APIs and SDKs of the Acronis Cyber Platform provide the control, efficiency, security, and reliability that developers are seeking.
Management API: This is the master API for the automation, management, and billing of customer and partner services and accounts.
Services API: Provides for the management of core services for third-party integrations and portals.
Data Sources SDK: Supports the protection of any data source like SaaS application data sets, server applications, IoT or any other data source into the platform.
Data Destination SDK: Permits data storage in a wide variety of destinations and locations, such as the Acronis Cyber Cloud, private clouds, public clouds, on-premises storage, software-defined storage or hardware appliances.
Data Management SDK: Allows data in the platform to be processed and analyzed, and then be transformed, searched, compressed, scanned, etc.
Integration SDK: Enables the integration of third-party services into the Acronis Cyber Cloud.
Acronis Cyber Platform Availability
The Acronis Cyber Platform is currently available for early access. During this early access period, developer support is available – developers can access our engineering, product management, business development, and marketing teams.
The first projects on the Acronis Cyber Platform will be invited to join us for the GA launch, formal training sessions, and certifications that will be offered at the Acronis Cyber Platform official launch, which will happen at the Acronis Global Cyber Summit 2019 in Miami, FL, October 13-16.
The Summit is our first partner and customer event, and will feature a world-class line-up of industry and cybersecurity speakers, including Robert Herjavec and Eric O'Neill. Similar regional summits will be hosted in Singapore in September and Abu Dhabi in December.
ISVs, OEMs and service providers can request early access to the Acronis Cyber Platform APIs by visiting our early-access registration page.