Organizations and service providers looking to improve the performance, manageability, and availability to their data center may be interested to learn that Acronis Cyber Infrastructure version 3.5 is now generally available (GA).
If you aren't already familiar with it, Acronis Cyber Infrastructure is our easy-to-use, reliable, scalable, and cost-efficient software-defined universal storage solution. I know that feels like a long description, but the product offers so many great benefits that it's challenging to provide a short description.
Acronis Cyber Infrastructure explained
Acronis Cyber Infrastructure is an extremely flexible software-defined infrastructure solution that makes a great foundation for building out a data center. Because it is software-defined – all features and functionalities are provided by the software rather than tied to a specific piece of hardware – organizations can save money by using industry-standard hardware for their infrastructure. Because it is scalable, organizations can start small and easily grow their infrastructure over time, as needed, paying only for the resources they're actually using.
This combination of low cost and scalability, plus its ease-of-use make Acronis Cyber Infrastructure an optimal solution for edge data centers. With no hard limits on how large it can scale, Acronis Cyber Infrastructure works very well in core data centers, too.
Lastly, it's a great solution for managed service providers (MSPs) whether they offer hosting in their own data centers, install or manage any on-premises customer infrastructure, or want to provide hybrid cloud solutions. Acronis Cyber Infrastructure can be purchased as software-only, or – for those who want more of a turn-key deployment – pre-configured on our hardware appliance.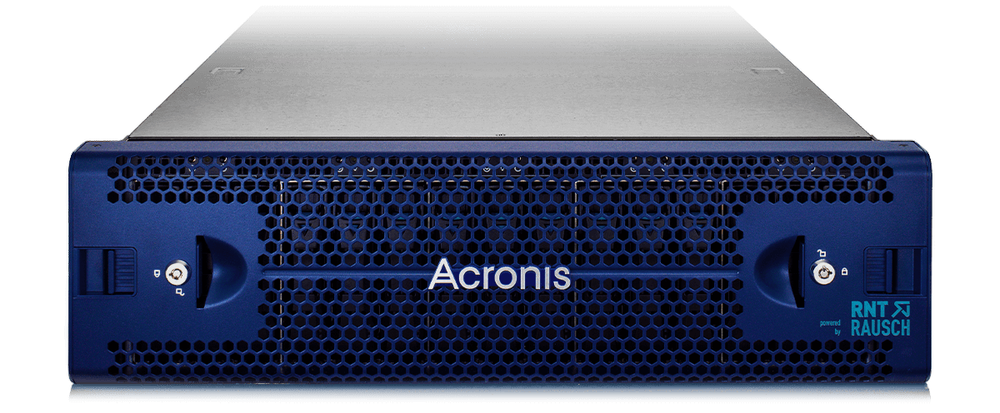 Improvements in Acronis Cyber Infrastructure 3.5
The release of Acronis Cyber Infrastructure 3.5 adds some enhancements, specifically in the areas of performance, manageability, and availability.
New internal drivers have increased the performance of Acronis Cyber Infrastructure over version 3.0. Benchmark testing shows an increase in performance by anywhere from 15 to 300% depending on the specific workload. For anyone requiring even more performance, version 3.5 adds support for both Remote direct memory access (RDMA) and InfiniBand networks.

Manageability has been improved with new ease-of-use features like a new pre-configured dashboard for block storage. Other improvements include the ability to migrate virtual machines from VMware vSphere version 5.0 or later to Acronis Cyber Infrastructure, and API support for object locking, making it easier for customers to archive data.
New capabilities to perform non-disruptive rolling updates and upgrades allow customers to every node in an Acronis Cyber Infrastructure cluster with zero downtime for applications and users making use of data stored on the cluster.
If you're like me, you need to get hands-on and see things for yourself before you're convinced of anything. We get it, which is why we make the software-only Acronis Cyber Infrastructure available for free trials. This isn't a limited-functionality or 30-days-only trial: Our trial version is full-function and licensed forever. The only limitation of our trial version is that it can't be used to store, manage, and protect more than 1TB of data. That should be big enough to allow for testing of most workloads.
Acronis Cyber Infrastructure is generally available (GA) worldwide now. If you'd like to learn more about Acronis Cyber Infrastructure, you can read about it here, or jump straight to downloading the trial version.