Cyber Protect Home Office
formerly Acronis True Image
The mobile phone is an integral part of today's human life. We all keep a lot of useful and valuable data on our phones, such as: contacts, photos, messages, and documents. All of us obviously care of this data, which is why nowadays many smartphone vendors provide some kind of backup out of the box.
The problem is that it is often not so good and reliable. And what is more important, it's simply not convenient for the user.
Automatic backup without a single cable
While in most cases you should back up all of your mobile devices to the vendor's or another third-party cloud, many users still want to have a local backup. It's faster and people feel safer when their data is on their desktop or laptop. Acronis True Image backup software covers all these gaps and gives users what they really need.
First, it's very easy to set up a backup plan by just using a phone camera and a provided QR code. When it's done and the user has an Acronis Cloud account, chosen data will be automatically backed up to the cloud. If the mobile device is using the same Wi-Fi network as a desktop version of an Acronis product, you can easily (automatically) backup your mobile data to a local PC.
A small example here: iCloud requires the user to manually start a backup when not connected to a power source. Acronis lets you set things up so that backups happen automatically, and in near real-time, if you want to.
How does mobile device backup work?
How does that work, technically? Let me give you some insight. The mobile Acronis agent is activated (either by schedule, in the case of IOS, or from a background process, in the case of Android) and checks if it can connect to a PC in a local network. The mobile searches the main host in order to establish a secure SSL connection (we do not want your data leaked accidentally, right?). When the connection is established, an iterative incremental backup starts: all changes (new) for the chosen period are split into chunks of data and uploaded, based on user activity and the mobile device load. Contacts, for example, will go first, more than that in the online backup dashboard and these changes are shown immediately; you do not have to wait until all data is backed up.
Talking about security, we let our mobile users encrypt their backups by using industry-standard, bulletproof AES-256. So, you can be sure that even if your backup file falls into the wrong hands, the bad guys won't be able to make any sense out of it.
And this will be done faster than with native mobile options out of the box, plus users won't notice any slowdown because we monitor the load and do not push all data into the cloud or to the local PC at once, as was previously mentioned.
Not every backup solution is able to grab files to back up from an external micro SD card. Acronis mobile agent lets you back up pictures and videos stored on SD cards.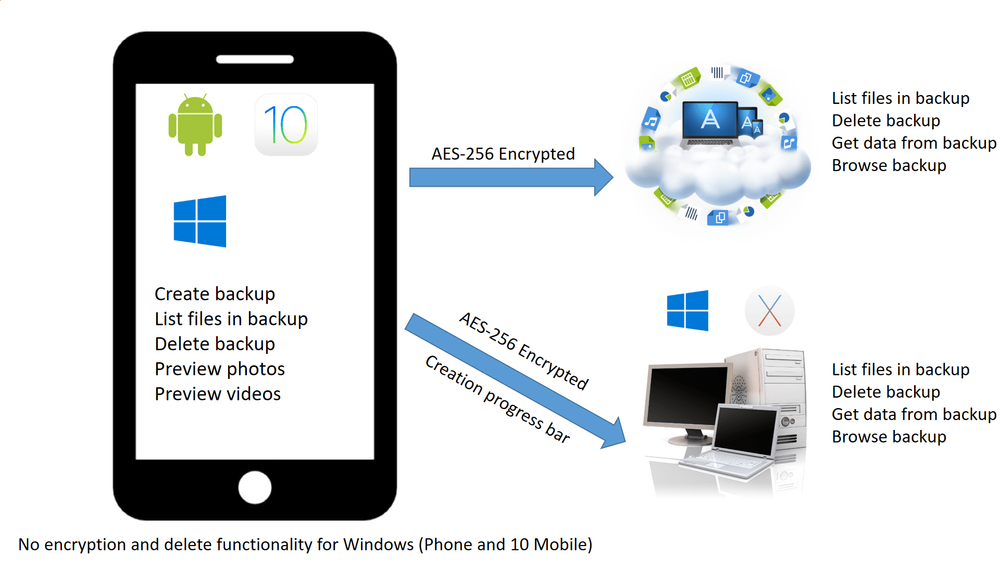 Backing up any kind of mobile device (Android, iOS, or Windows)
Another point is that nowadays, any given user has multiple devices, not to mention that in a family, a more tech-minded person is helping to manage the backups for other family members' devices. So, we are talking about backup of multiple devices. As you can imagine, if family members have phones from different manufacturers, they have no easy way to see all these backups in one place and manage them. Again, Acronis True Image solves this. Let's say the father controls all the backups in one Acronis Cloud Management Dashboard for his children's devices. And we not only talking about same operating system devices, you can have a whole variety of tablets and smartphones, based on either IOS or Android or Windows.
To make a backup is one thing, but obviously, each user wants to see what is inside from time to time – for example, to find an old photo or contact. Acronis True Image gives you the way to access mobile backups from a Windows PC or Mac, with the convenience you obviously can't expect on your mobile device. You will also be able to browse, view, and restore specific files, directly from your current phone, but also from another mobile device linked to the same Acronis account.
Restore files with the same ease
Some backups let you restore all your files only and return your mobile device to a previous state in time. This is not so convenient, right? That is why we let you quickly restore photos and contacts one at a time, without having to restore everything. This saves time when you delete something by mistake. With iCloud or Google Drive, if you delete a file, you'll still have a backup via Acronis True Image.
If you prefer to keep your backup on-premises, you obviously can restore your files without a public internet or cellular connection.
Finally, we do change phones and devices, right? Are you tired of the iPhone and want to try something new, or vice versa? With vendor-only solutions and services, you're stuck; but not with Acronis True Image. We help you to migrate to another operating system easily.
All for the user's convenience
When we talk about a complete and usable mobile backup, we actually provide functionality that users were asking for and what totally makes sense in an everyday protection approach for mobile data.
Backup is fast and automatic across all popular mobile platforms

The process is secure, plus you can encrypt your data

You see all data in one place (either in the cloud or on a local machine)

You can browse this data on any device, including desktops

Restore exactly the file you want

Migrate all your data to another device that uses another operating system.
Download pdf version of A proper mobile backup: the Acronis way