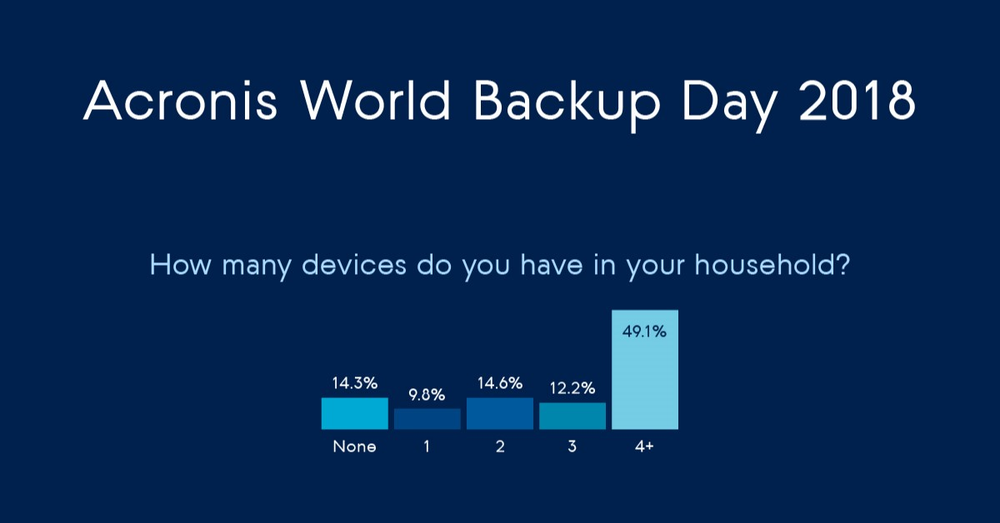 As the end of March approaches, it means World Backup Day is near – the annual reminder that if we don't want to look the fool after data loss, we need to create secure backups.
Acronis conducts a global consumer survey each year leading up to the World Backup Day celebration, to gauge the attitudes, habits and knowledge of the general public. This year, we surveyed the internet population in the U.S., U.K., Australia, Germany, Spain, France and Japan between March 15 and 16 on Google Surveys.
The findings were both eye-opening and contradictory. Compared with last year's survey, for example, more respondents were informed about online threats posed by ransomware, yet fewer of them were backing up ... and more people reported losing data.
Who could have seen that coming?
There were two general areas the survey looked at: general backup topics and specific questions about ransomware awareness.
The overall findings about backup showed:
31.4 percent acknowledged they do not back up their personal data

35.7 percent of respondents said that they or a family member had lost data

47.2 percent reported when they do back up, they use the cloud as a backup destination
When it came to ransomware, the fastest growing online threat to data:
41.8 percent of respondents said they have never heard of ransomware – and while that is a huge number, that is a more than 20 percent improvement from last year

56 percent understand that ransomware can hijack your system and destroy files

6.9 percent are willing to pay more than $140 to recover their lost data
After reviewing the results, Acronis' President John Zanni said: "The good news about this year's survey is that fewer people reported losing data last year. As a data protection company, we are always glad to hear that. But the fact that fewer respondents are backing up – despite being more aware of threats like ransomware – shows a tremendous disconnect. Secure backup is still the most effective way to ensure data is never lost, and it becomes even more vital as online threats continue to grow. Efforts to educate the public about the risks they face clearly need to continue throughout 2018."
Details of the survey findings are below.