formerly Acronis Cyber Backup
The start of 2021 has made it clear that the protection challenges facing organizations continue to evolve. Existing systems now require greater protection flexibility, new operating systems add complexity and compatibility concerns, and cybercriminals are unleashing ever more sophisticated attacks.
To meet those evolving IT and security requirements, we've just rolled out the first update release to Acronis Cyber Protect – our unique integration of data protection, cybersecurity, and endpoint protection management for organizations of all sizes.
This new update enhances the comprehensive set of existing capabilities with greater flexibility, support, and control – empowering system administrators to ensure the systems their organization relies on are protected and immune from costly downtime.
Acronis Cyber Protect's support and flexibility
Today's IT and cybersecurity pros need support for all of the systems they must safeguard, and the new Acronis Cyber Protect update includes enhancements that deliver. Among those new capabilities are:
Multistreaming support for tapes: Backup of a single client can occur simultaneously to multiple tape drives, which is useful when a fast client can push data to a tape drive faster than a slower tape drive can handle – allowing the tape drive to keep spinning and avoiding writing interruptions.

Multiplexing support for tapes: Allows multiple clients to back up to a single tape drive simultaneously. This is useful if the data stream from a source is slower than a tape drive can write.

Support for macOS 11 Big Sur: Last autumn's launch of macOS 11 BigSur was highly anticipated by users, but sysadmins have to make sure those machines are still protected at all times. With the new update, Big Sur is fully supported by Acronis Cyber Protect.

VMware ESXi 6.7 host configuration restore: Backing up VMs alone does not provide full protection of those systems, which is why the new update of Acronis Cyber Protect enables you to secure the ESXi host configuration as well. Now, backups of ESXi host configurations can be sent to local storage or to Acronis Cloud. You can restore a saved ESXi host configuration to the same or different hardware – including bare-metal recovery – and it supports 4.1+ ESXi hosts, including ESXi 6.7.

vSphere 7.0 support: Agentless backup and recovery of VMs running on VMware vSphere vSphere 7.0 and VSAN 7.0 are now fully supported.
Enhanced control and protection
While the integration and automation of Acronis Cyber Protect streamlines the tasks for sysadmins, they still need to retain control. This update ensures they have the ability to find critical information fast, can modify their anti-malware as needed, and assign roles to their team members as appropriate. These include:
Improved UX and UI: Protection solutions need to be intuitive, displaying critical information where it can be quickly found. The new update enhances Acronis Cyber Protect's UX and UI with an improved Cyber Protect Monitor. Users can now instantly see information such as the date and time the machine was last backed up, the name of the protection plan that's in place, and which current backup process is running, including the time remaining.

Quick and full anti-malware scans: Administrators now can define full and quick anti-malware scans on the same protection plan in order to reduce the load on the machine.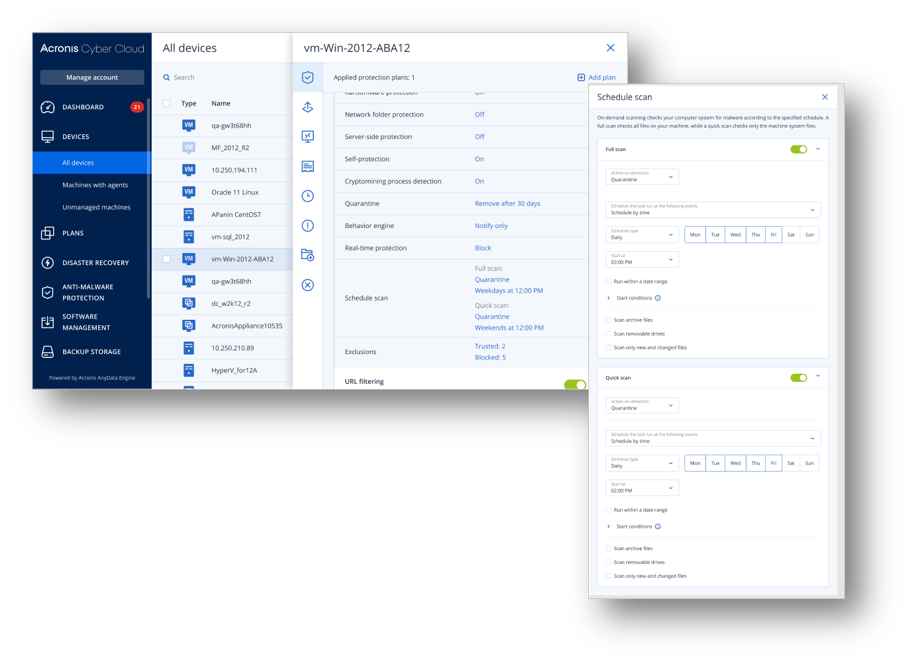 Auditor role: Get expanded options for delegating tasks with the new Auditor role. The new role provides access to the entire list of activities performed by users or system processes, without the possibility to drop or edit any entries or settings.
Regardless of an organization's size, ensuring the safety and security of its workloads – from data to applications to systems – has never been more important. Having a single solution that makes that easy to do while improving your security and minimizing risk is critical.
This update to Acronis Cyber Protect enhances the already comprehensive solution to provide even greater flexibility, support, and control so you can keep your organization protected. If you're interested in learning more, we invite you to join one of our solution engineers as they lead our next live demo of Acronis Cyber Protect.