Other languages available:
日本語
For service providers, ensuring the reliability of your client's IT infrastructure, safeguarding data, and beating back the constant barrage of cyberattacks is complicated enough without having to juggle multiple solutions. In launching Acronis Cyber Protect Cloud last year, our goal was to eliminate that complexity while ensuring MSPs had a cyber protection solution that they could build world-class services on.
The response was amazing, as partners embraced Acronis Cyber Protect Cloud's unique integration of data protection, cybersecurity, and protection management. Installing one agent and managing all of those capabilities through one console – while dealing with (and paying) a single vendor – simplified things tremendously while strengthening their clients' security posture.
As CEO, Roy Adir of Reline IT Solutions, an MSP based in Israel said, "To give our customers the cybersecurity support they need – and to control everything from one point – it's amazing."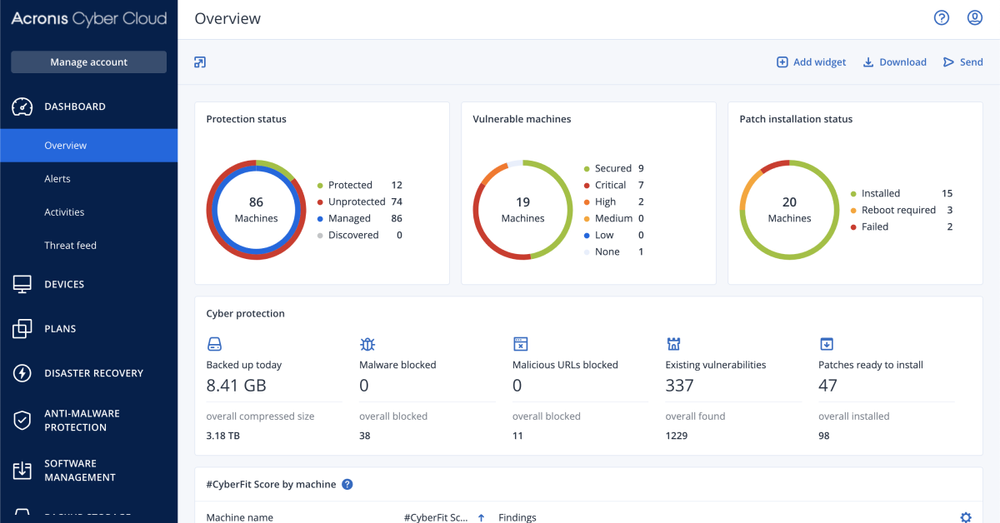 Since launching Acronis Cyber Protect Cloud nearly a year ago, we've also listened to our partners' feedback on the kinds of changes that would help them succeed even more.
We heard you. You asked for the flexibility to add cyber protection to every device at an affordable price, while having the flexibility to add advanced services to the most critical workloads.
Based on that input, we're introducing an exciting new licensing model that's taking things to a whole new level for our partners.
MSPs benefit from a single solution
As of March 31, we're incorporating all of our service provider solutions into one, unified solution – Acronis Cyber Protect Cloud.
With this new licensing model, service providers using Acronis Cyber Protect Cloud get access to a set of essential cyber protection tools at no cost or in a pay-as-you-go model. These essential capabilities include:
Our award-winning full-image and file-level backup and recovery capabilities, which protects more than 20 workload types

An advanced AI-based behavioral detection engine that stops malware, ransomware, and zero-day attacks in real-time enhancing and augmenting your existing anti-malware protection

Centralized management that's integrated with popular RMM and PSA systems, so you can run everything on the system you already rely on

Vulnerability assessments, secure file sync and share, blockchain-based notarization, and several other capabilities are built-in as well
With this combination of capabilities included, your MSP business can create a world-class service portfolio with little to no upfront costs.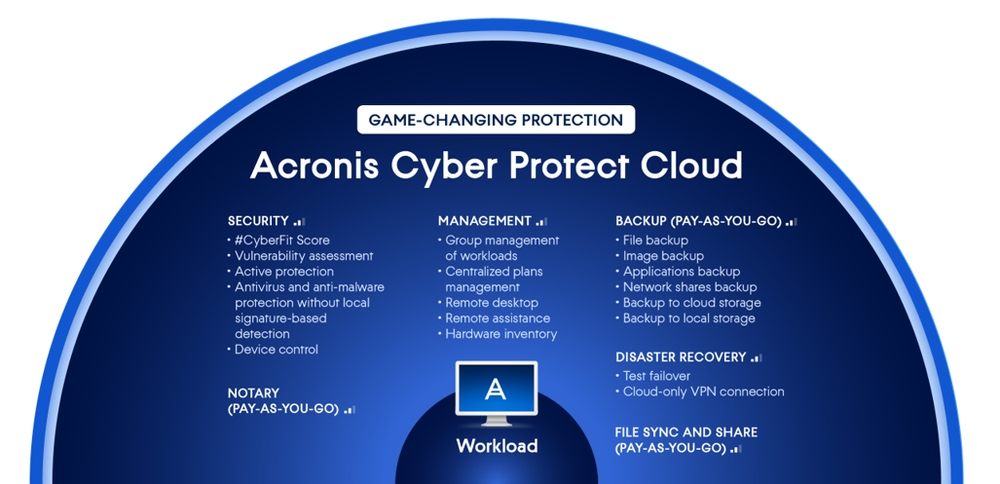 Expanding your MSP services
When you want to expand your services for clients with additional requirements, Acronis Cyber Protect Cloud's new licensing model makes it easy. Additional advanced packs give you the flexibility to expand your services based on client or workload needs so you can deliver the optimum level of cyber protection for every workload.
Four advanced packs are available now:
Advanced Backup extends the backup and recovery capabilities so you can deliver near-zero RTOs and RPOs, as well as great SLAs. Its Continuous Data Protection feature captures changes to data in real-time to ensure nothing is lost. Data mapping and compliance reporting also enable you to scan a client's environment to ensure that every file on every workload for every user is protected. Plus, it expands support to additional workload types, including Microsoft SQL Clusters, Exchange Clusters, Oracle DB, and SAP HANA.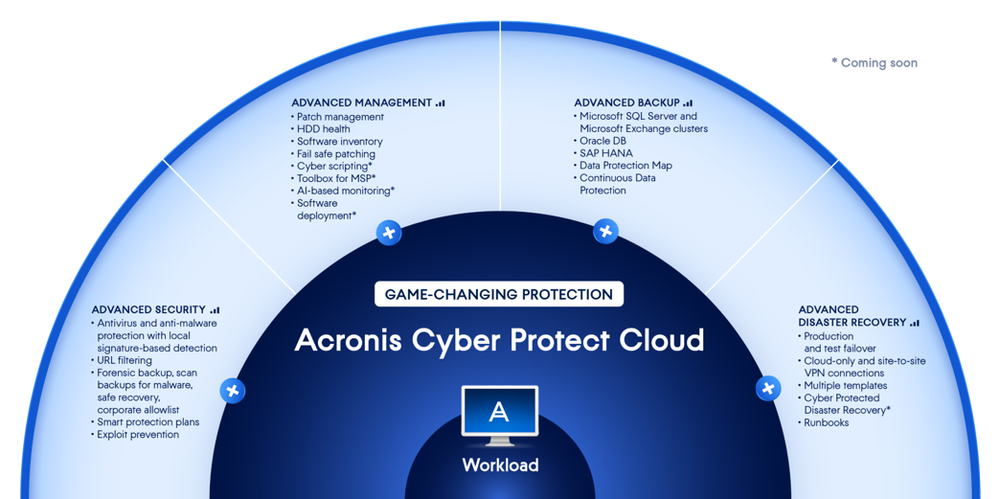 With these and future advanced protection packs, you have the ability to expand your services quickly and easily without having to add another vendor relationship, pay for another expensive solution, or learn a new management console. Everything is seamlessly integrated and managed through Acronis Cyber Protect Cloud.
Generate more recurring revenue
In addition to the convenience, simplicity, and superior cyber protection, this new licensing model enables you to cut your operating costs, deliver more value, and reduce churn – while increasing your monthly recurring revenue.
Simply by consolidating vendors, you'll see significant savings. You can cut your cyber protection costs by up to 50% because you won't need to purchase multiple solutions from multiple vendors. Rather than deal with the management complexity, costs, and security risks caused by using a patchwork of solutions, the integrated nature of Acronis Cyber Protect Cloud means you can harness "the power of one" – one license, one agent, controlled and deployed through one intuitive console.
Fewer solutions, more capabilities
As a result of this new structure, our previous service provider solutions such as Acronis Cyber Backup Cloud, Acronis Cyber Disaster Recovery Cloud, Acronis Cyber Files Cloud, and Acronis Cyber Notary Cloud will no longer exist. The trusted technologies and features of these products are not being eliminated, though – they're now incorporated into Acronis Cyber Protect Cloud and the Advanced Packs.
This transition also means partners who are using Acronis Cyber Backup Cloud Standard, for example, can switch to Acronis Cyber Protect Cloud and continue using the same backup functionalities while gaining security capabilities for the selected workloads without any price increase. If you have questions about your specific migration situation, please contact your partner account manager.
While some may be concerned that we no longer offer a backup-only solution, Acronis firmly believes that standalone backup is no longer enough to effectively protect clients against today's cyberthreats. The modern threat landscape requires strategies and solutions that integrate backup, cybersecurity, and management capabilities.
The new structure also means that we'll no longer offer preset editions of Acronis Cyber Protect, but rather enable partners with the flexibility to select the capabilities they want through the Advanced Packs. (The prior licensing model will be available for current partners until June 30, but we expect partners to finish migrations by that date.)
Current Acronis partners are encouraged to watch the licensing training available at the partner portal for the complete details.
For the past year, Acronis Cyber Protect Cloud has redefined the standard of how service providers can deliver a wide range of cyber protection services to clients. Its unique integration of AI-enhanced anti-malware, best-in-breed backup, and protection management capabilities – all installed with one agent and managed via one console – has reduced complexity while increasing security.
With the new licensing model, you'll have the ability to cover 100% of your clients' workloads with cyber protection at an affordable price, while having the flexibility to add advanced services to the most critical workloads.
About Acronis
Acronis is a Swiss company, founded in Singapore. Celebrating two decades of innovation, Acronis has more than 2,000 employees in 45 locations. Acronis Cyber Protect solution is available in 26 languages in over 150 countries and is used by 18,000 service providers to protect over 750,000 businesses.