Our commitment to keeping users protected means enhancing Acronis Cyber Protection Solutions with the capabilities needed to keep their system, device data, and backups secure from the latest threats. That's why today, we're releasing an update to Acronis True Image that adds a new vulnerability assessment tool to close the gaps in their system's security, as well as an enhanced antiransomware engine and improved disk cloning capabilities for Windows machines.
With the new update, individuals, prosumers, and home offices gain even greater control over protecting their data and systems. That's because our personal cyber protection solution already ensures they have the backups needed to recover following a data loss event, as well as integrated antimalware that continues to excel in cybersecurity tests.
Vulnerability assessments
The addition of a professional-grade vulnerability assessment tool into our personal cyber protection solution means that individuals can now scan their computer's operating system and the applications they rely on for security gaps and get suggestions on how to close them.
Just as the first step in securing your home is to close and lock the door, the same applies to your computer system. With this updated version, Acronis True Image users can quickly locate a vulnerability and close the door to the cyberthreats that put their data and system at risk.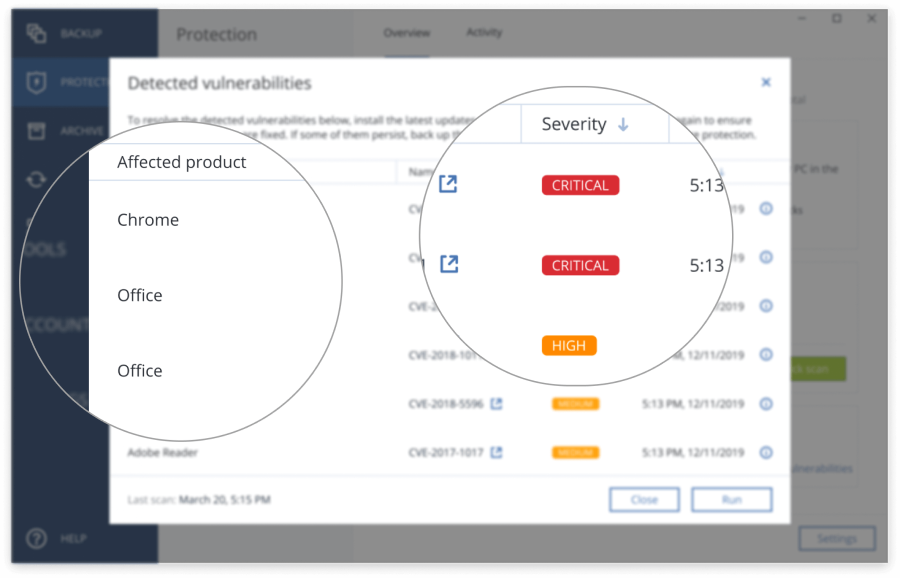 The importance of finding and fixing vulnerabilities cannot be overstated. There are more than 11,000 common vulnerabilities and exploits (CVEs) listed for popularly used software. Unfortunately, many users are lax in regularly applying the patches that close these gaps, which is why 60% of successful data breaches involve vulnerabilities that have patches available but haven't been applied. Perhaps the most famous example was the initial WannaCry ransomware outbreak, in which Microsoft had issued a patch for a vulnerability, but many users still hadn't installed it. The result was the most widespread ransomware attack in history.
"During the past five years, the emergence of ransomware as a service means criminals don't need to be particularly technical – they can just pay for a malicious toolkit that exploits unpatched vulnerabilities," said Serguei "SB" Beloussov, founder and CEO of Acronis. "Users need an easy and efficient way to identify and close those vulnerabilities to ensure their system data and backups are secure. Providing that capability in one solution with antimalware and backup delivers comprehensive cyber protection and tremendous value."
The new update to Acronis True Image also delivers an enhanced antiransomware engine, which improves the detection of the latest strains of this threat. Given how doggedly cybercriminals are updating their attacks, however, the defenses needed to counter them must be constantly updated.
"Increasingly, cybercriminals are leveraging artificial intelligence and other technologies to make their malware more effective and increase the frequency of attacks," noted Candid Wüest, VP of Cyber Protection Research at Acronis. "Yet even with strong system defenses and an antimalware solution, the reality is an attack can still get through."
Given that inevitability, it's important to recognize the traditional solutions are ineffective against today's threats. Today's malware strains attack backup files and backup software first in order to prevent recovery, which is why backup without cybersecurity is no longer sufficient protection. At the same time, a standalone cybersecurity solution that is not integrated with backup cannot help a user recover quickly from that a successful attack.
Our next-gen, full-stack antimalware defense has already been battle-tested, stopping more than 500,000 attacks against Acronis True Image users last year. In addition, Acronis True Image was included in Virus Bulletin's October 2020 VB100 certifications for endpoint security solutions. It was the first time Acronis True Image was included in the independent lab's certification test, returning a 99.9% detection rate with zero false-positives.
Earning VB100 certification in its first test is a wonderful validation that our unique approach to cyber protection can stand toe-to-toe with the leading cybersecurity solutions.
Update immediately available
Online holiday shopping is projected to surge as much as 33% this year, so the expectation is cybercriminals will be particularly aggressive. That means the ability to close their system's security gaps and update their ransomware protection comes just in time for the Black Friday and Cyber Monday deals.
Both the new vulnerability assessment tool and improved ransomware engine are included in all editions of Acronis True Image 2021. Anyone who purchased or upgraded their license since the product's launch in August can immediately download the update for free using the in-app console.
If an individual did not get Acronis True Image 2021 yet, they can do so now and save given the Black Friday discount we are offering online. For details, visit www.acronis.com/en-us/products/true-image/.