LabTech administrators can now deploy, manage, and monitor Acronis data protection on remote devices without leaving the comfort of their management console.
Here on the Acronis Backup Cloud team we pride ourselves in building tools and integrations that make it easy for any IT service provider to protect all of their customers' data using the programs and processes that they already have in place.

Today we are pleased to announce the availability of a LabTech® certified plugin that brings powerful backup and disaster recovery capabilities of Acronis Backup Cloud directly to the LabTech RMM console. With nothing more than a simple download and a subscription to the Acronis Backup Cloud service, LabTech administrators can quickly deploy and manage an easy, complete, and safe data protection solution for their customers without leaving the comfort of their familiar management console.
A Scalable Hybrid Solution
Acronis Backup Cloud equips technology partners with a scalable, hybrid cloud solution that protects all of their customers' systems and devices, anytime, anywhere, faster than anyone else. Built specifically for resellers and IT service providers, the multi-tier / multi-tenant Acronis Backup Cloud makes it easy for business to provide valuable backup-as-a-service with zero up-front costs and an affordable pay-per-use business model. Integration with the LabTech console and other business platforms allow business to deliver new services without changing the way they do business today.
The LabTech management console allows service providers to manage multiple customers and multiple locations from a single software interface. Integration with Acronis Backup Cloud happens at the system level, making the multi-tenant backup service instantly available across all of the service provider's customers. Simply download and install the Acronis Backup Cloud plugin from the ConnectWise marketplace and enter your credentials to enable backup services at the customer, location, and computer levels of the console.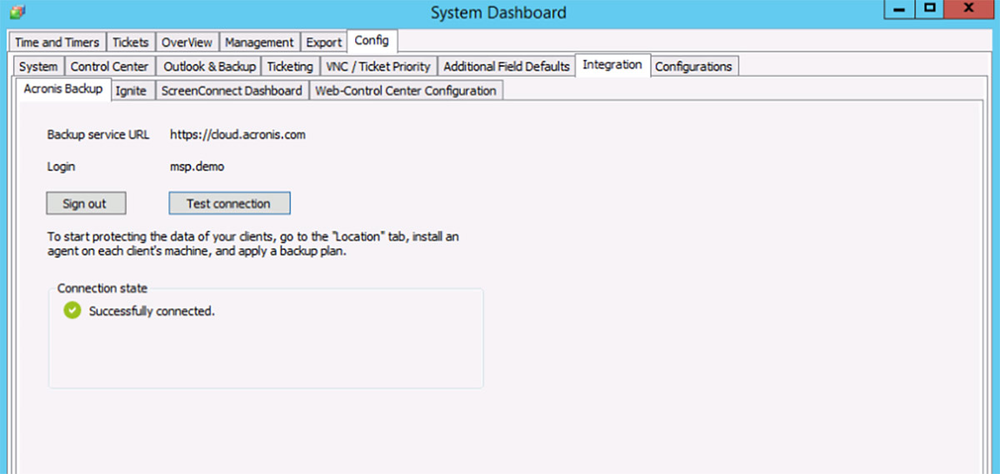 Acronis Backup plugin for LabTech — simple configuration
With the new LabTech plugin, deploying the backup agent and applying backup plans to customer workloads has become extremely simple. The plugin supports multiple machine selections, allowing operations to be performed across many customer machines simultaneously. The backup agent can be installed, updated, and even removed using the context menus in the console. Similarly, backup plans can be assigned to one or more machines simultaneously as well. These automation integrations allow system administrators to quickly and easily enable complete data protection for new and existing customers.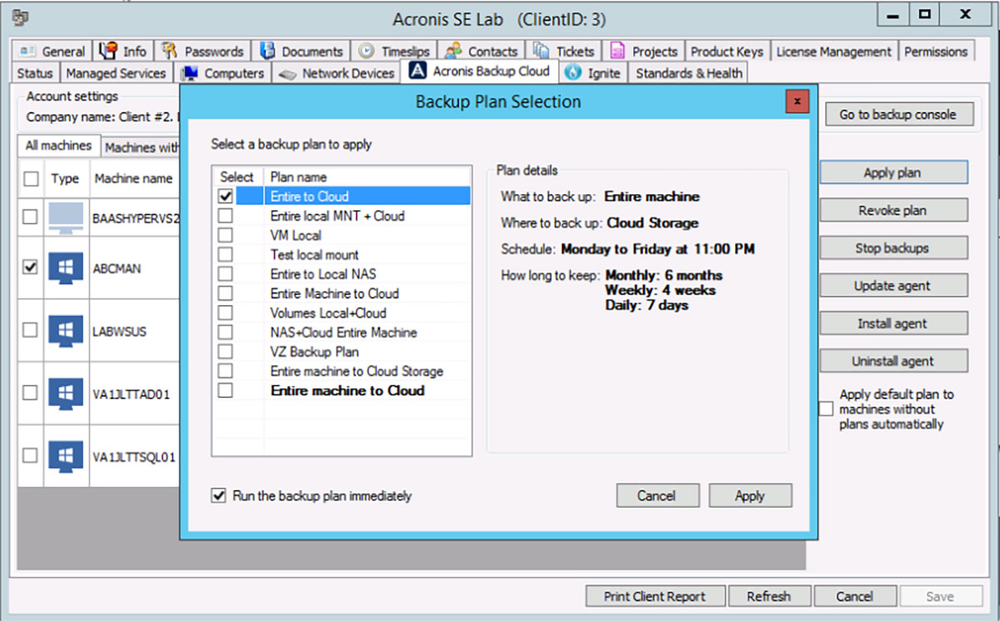 Enabling backup plans
In addition to automating the deployment and configuration of backup agents, the plugin also ties in to the LabTech alerting and ticketing systems to provide visibility to any problems or concerns with data protection operations. If a backup fails, or even if a protected machine fails to execute a backup plan in a reasonable amount of time, a ticket will be automatically created for the LabTech administrator to respond to. Acronis Backup Cloud's LabTech plugin makes sure that administrators can identify, track, and resolve any customer issues in a timely manner. It also integrates with the LabTech reporting engine, ensuring that partners and customers have complete visibility of their data protection environment.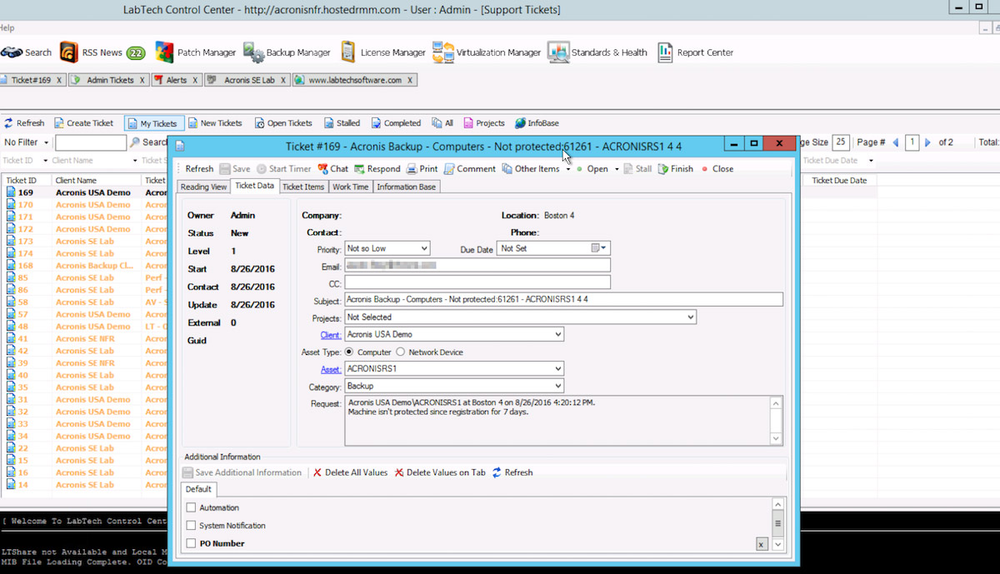 Automated ticketing and service alerts
The Acronis Backup Cloud allows service providers to easily control their customers' cloud storage locations. Acronis partners can choose to use a fully hosted model and store customer data in the Acronis cloud, or they can choose to provide their own storage for their customer data. Using the free Acronis Storage Gateway, service providers can direct customer "cloud" backups to their private datacenter, or even leverage cloud storage from another vendor. Large service providers can opt to implement Acronis Storage, a software-defined scale out storage solution designed to leverage cost-effective commodity hardware. Service providers can mix-and-match private and public cloud storage to meet their various customer needs and demands. Each customers' storage location can be set in the customer properties tab of the LabTech console.
The Advantage For Customers
From a customer perspective, a backup service powered by Acronis provides industry-leading data protection across a broad set of computing platforms. With protection for physical and virtual machines, servers and workstations, hypervisor platforms, cloud workloads, business applications, and the option for full-image backups with universal recovery to any bare-metal system, customers get the best backup solutions available on the market today. Customer data can be backed up locally to the customer location, to the customer's designated cloud storage location, or to both locations in tandem. Backing up locally and to the cloud ensures that data can be recovered quickly from local storage or from the cloud in the event of a larger failure.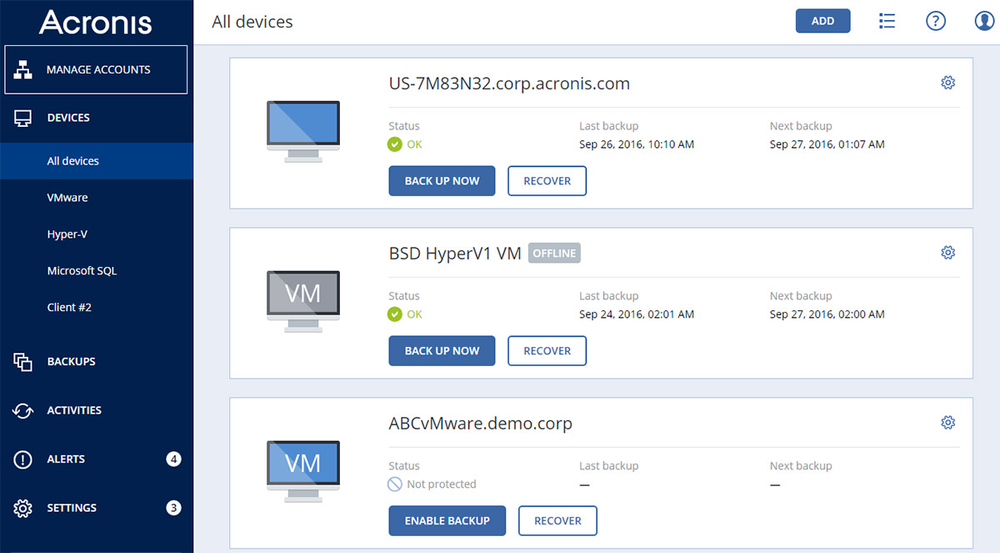 Acronis backup and recovery unified management console
Service providers can also offer their customers access to a custom-branded white-label backup and recovery console that can access from any machine anywhere on the internet. Through this web-enabled console, customers can use self-service recovery options to retrieve lost files or to restore lost systems without the need to contact the service provider for assistance. Customers may also have the ability to create and deploy new backup plans, though they will not be able to undo protection configured for them by their service providers. Service providers can trust that protection plans they put in place will not be compromised, only complimented, by allowing their customers access to the self-service console.
The Acronis Backup Cloud is a powerful, scalable, capable multi-tenant data protection solution. By providing integration with LabTech, Acronis has enabled service providers to operate their own uniquely packaged backup service directly from the LabTech console. Free trials of Acronis Backup Cloud are available through most cloud resellers, and the Acronis plugin for LabTech is available from the ConnectWise marketplace and the LabTech Solution Center. Together with the LabTech console, data protection for all your customers' systems is just a few clicks away.