formerly Acronis Cyber Backup
With this year's evolution from World Backup Day to World Cyber Protection Week, we've taken a fresh look at everything related to the annual event. Along the way, we found opportunities to build awareness of a broader array of topics, to expand the discounts we offer to new users and use cases, and to share the results of our global survey with a wider audience.
For this last point, we broadened the scope of our annual survey (formerly run as part of our World Backup Day celebrations) to learn more about the threats, challenges, and opportunities that face the global community.
Learn what our 2020 survey results mean for you:
IT professional results analysis
Service provider results analysis
Personal user results analysis
What's new in the 2020 Cyber Protection Week survey
In our fifth annual survey, we moved beyond a historic focus on the experiences of personal users to include more IT professionals than ever before. We grew the number of respondents to nearly 3,000 in 11 countries around the world. And we updated our survey to address more of the digital challenges and concerns that face modern IT users – whether they're at home, at work, or relying on a service provider who takes care of a wide range of clients.
This year's findings provide insight into the modern state of backup, cyberthreats, data loss events, data privacy, and more – while painting a clear picture of what individuals and organizations are doing well, and not so well, in trying to overcome modern protection challenges. Here are the key takeaways from the 2020 World Cyber Protection Week survey: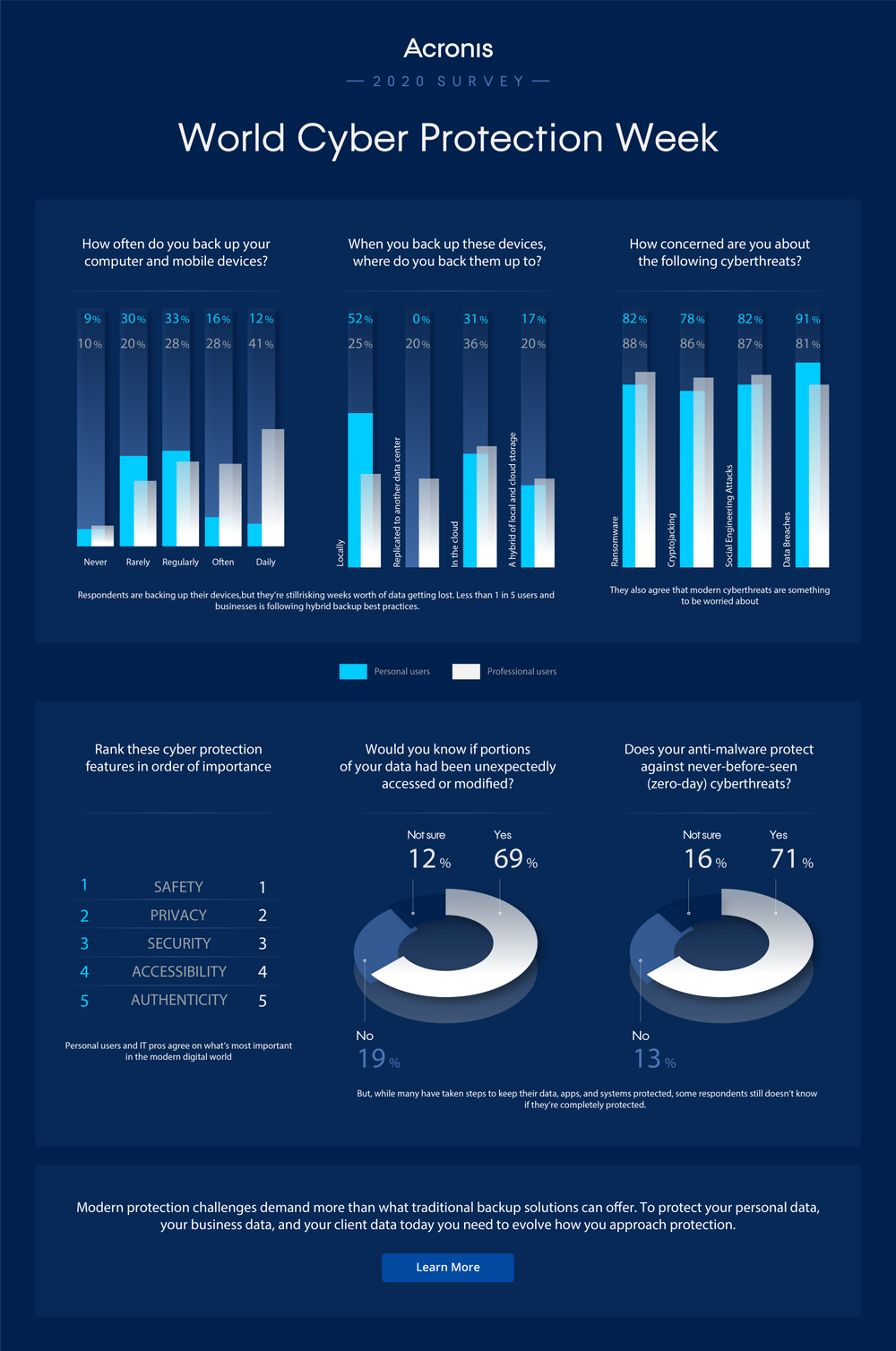 People are backing up, but they're also ignoring best practices
As we saw last year, a high percentage of respondents are backing up the devices they're responsible for (91% of individuals and 90% of organizations back up at least once per year). Troublingly, though, the frequency of backups and the method of storing backups are both lacking. The largest segment of individuals reported backing up once or twice a month (33%) while the largest segment of business organizations reported backing up weekly (28%). When performing backups, less than one in five uses the hybrid backup method – a recognized best practice.
51% of personal users and 25% of IT professionals back up to local storage devices or separate hard drive partitions
31% of personal users and 36% of IT professionals back up to the cloud
20% of IT professionals replicate data to other data centers
17% of personal users and 20% of IT professionals back up to a combination of cloud and local destinations
Of course, ignoring best practices is problematic. More than two-thirds of personal users (68%) reported losing data or devices, along with 43% of IT professionals. And with backups not run frequently enough, any one of those data loss events could result in days of work becoming irretrievable.
Data safety and privacy are universal top priorities
Despite these flaws in data protection approaches, both personal users and IT professionals report that they are concerned with the Five Vectors of Cyber Protection accordingly:
Safety – Ensuring that you have reliable backups that keep data, applications, and systems complete and recovery ready

Privacy – Maintaining control over who can view and access data, applications, and systems

Security – Establishing reliable defenses against cyberthreats and cybercriminals

Accessibility – Ensuring rapid access to data, applications, and systems when and where it's needed

Authenticity – Offering confirmation that data, applications, and systems are original and unmodified
This prioritization makes sense given the wave of data breaches and high profile ransomware attacks that continue to fill headlines and the personal experience many respondents have had with data loss incidents. The good news is that users are taking action, working to enhance their data safety, privacy, and security as follows:
43% of personal users and 69% of IT professionals have solutions in place to detect when data is unexpectedly modified
42% of personal users and 71% of IT professionals use anti-malware solutions that are able to defend against never-before-seen (zero-day) cyberthreats
88% of personal users have taken steps including password encryption, securing WiFi, and more to protect their privacy online
In our age of increasingly sophisticated and costly cyberthreats, there's good reason to take steps like these.
Dangerous gaps in understanding are emerging
This year's World Cyber Protection Week survey also revealed shared concern among individuals and IT professionals about a variety of cyberthreats:
78% of personal users and 86% of IT professionals are concerned about cryptojacking
82% of personal users and 88% of IT professionals are concerned about ransomware
82% of personal users and 87% of IT professionals are concerned about social engineering attacks
84% of personal users and 91% of IT professionals are concerned about data breaches
This high level of awareness sparked and increased focus on data protection and cybersecurity.
However, there remains a noteworthy segment of individuals and organizations that aren't aware of the threats that they're facing. Our survey found that 12% of individuals aren't doing anything to protect their privacy online, 32% wouldn't know if portions of their data were accessed or modified by unauthorized individuals, and 31% don't know if their anti-malware can detect newly emerging cyberthreats. That's on top of the 12% of consumers that don't use any anti-malware at all.
For IT professionals, this ill-informed segment is smaller but it's shocking to exist at all. In the modern digital world, 6% of IT pros aren't sure if their organization is subject to data privacy regulations, 12% don't know if they could detect unauthorized data manipulation, 13% aren't sure that their anti-malware could detect zero-day threats, and 9% aren't sure if their organization had a data loss event this year that resulted in downtime.
Whether you're primarily a personal user, a corporate IT pro, or a service provider responsible for keeping multiple clients running, you're faced with an astonishingly complex digital world. Data is both more important and more vulnerable than ever. Protecting it is essential – but this year's survey underscores the big question all users have: how?
Trying to safeguard modern devices and IT environments with traditional, legacy solutions continue to prove inefficient and unreliable – piecemeal solutions that respond to specific, individual use-cases leave gaps in your security, are frustrating to maintain and manage, and leaves you guessing about how safe, accessible, private, authentic, and secure your information really is.
Cyber protection is designed to bring data protection and cybersecurity into the present day. Users gain ready-access to easy, efficient, and secure solutions, which deliver integrated, advanced protection. Suddenly, it's not so hard to fill gaps in your defenses, reduce your expenses and tasks, and gain peace of mind that your data, applications, and systems are all covered.
Learn how Acronis Cyber Protection Solutions can help you evolve your defenses or enhance your service portfolio here, then share your own thoughts and comments on our survey with #CyberFit or #CyberProtectionWeek.
About Acronis
Acronis is a Swiss company, founded in Singapore. Celebrating two decades of innovation, Acronis has more than 2,000 employees in 45 locations. Acronis Cyber Protect solution is available in 26 languages in over 150 countries and is used by 18,000 service providers to protect over 750,000 businesses.