Acronis #CyberFit Summit World Tour 2021
The Acronis #CyberFit Summit in Schaffhausen ends on November 19, capping off a two-day event of insights and innovations from some of the world's leading IT channel and cyber protection experts and thought leaders with a full day of certification training courses designed to help technical and sales associates achieve greater results delivering and supporting cyber protection services.
Whether you were able to join us at the Acronis HQ in beautiful Schaffhausen, Switzerland or you're just looking to see what came out of the second stop of this year's Acronis #CyberFit Summit World Tour, here's a quick look at some of the top takeaways from the Acronis #CyberFit Summit Schaffhausen. Explore these insights and equip your IT channel business with the latest tools and tips for MSPs, resellers, distributors, HSPs and more.
The Schaffhausen Summit, running November 18-19, features major news, sales results, and future plans from our leadership team – as well as an exciting array of panels, networking opportunities, and exclusive events for the cyber protection community and Acronis partners.
All of these sessions and events are designed to provide attendees with guidance, support, and practical insights that they can use to expand their business' productivity, profitability, and success in the year ahead.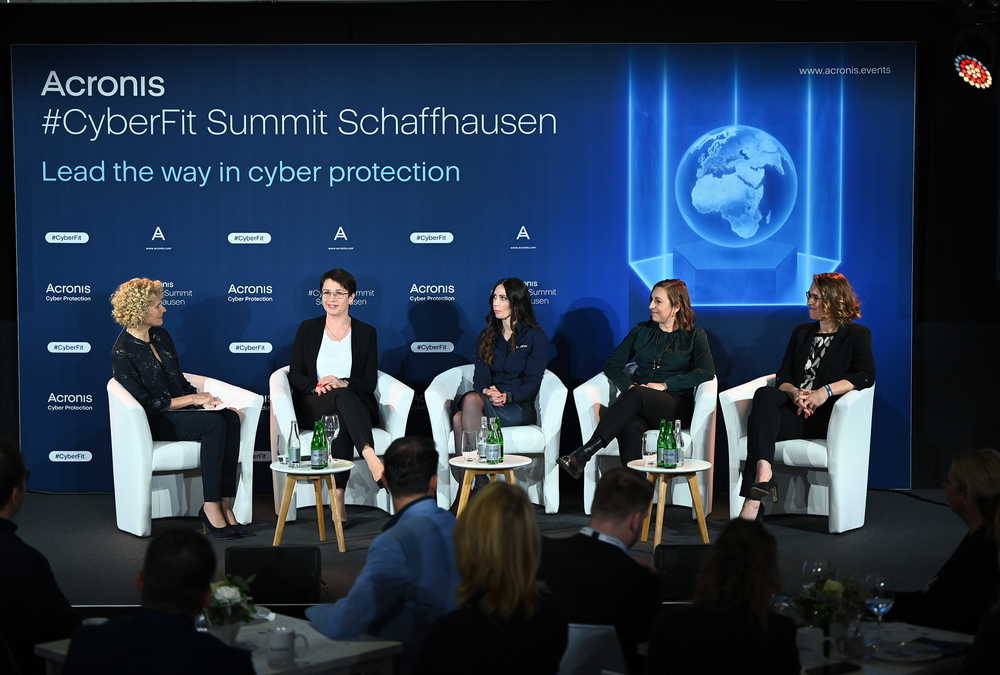 Women in Tech with Ana Maria Montero
Acronis CEO Patrick Pulvermueller and international journalist Ana Maria Montero opened the Schaffhausen Summit with an important and inspiring panel featuring female leaders from across the IT channel.
Panelists Svetlana Sorokina (Managing Director of Switzerland, Ingram Micro), Sabine Schulz (Channel Sales Expert, Acronis), Marija Plodinec, Ph.D. (CEO, Board member, and Co-Founder, ARTIDIS) and Elisabeth Stettler (Lead CC Modern Workplace, Competec-Gruppe) shared their experiences achieving success in a historically male-dominated industry and offered their thoughts on how the IT field can become more diverse and equitable.
Keys to this change, they highlighted include a commitment to lead by example, the reliable support of mentors, a re-energized approach to work-life balance, and a universal effort to remove biases, enable opportunities, and ensure success. "Change needs to come from the bottom and the top," explained Plodinec. For women beginning their career in the field, she offered this advice: "It's not possible to become successful without a network – and this isn't just business networks, but also networks of neighbors and family."
Keynote addresses with Dino Tamagni and Acronis leaders
Guest of honor and Schaffhausen government councilman, Dino Tamagni graciously welcomed the IT pros gathered at the Acronis HQ, noting that just a few years ago heavy industries largely disappeared from the Canton of Schaffhausen, replaced by tech, pharma, and material science businesses. This shift led to exciting advances for the region, advances that Tamagni reflected were kept secure through cybersecurity technology. "Cybersecurity is of immense importance and Acronis offers a solution that allows us to enjoy this technical transition with full peace of mind," he concluded.
Serg "SB" Bell and Patrick Pulvermueller
Taking the stage from Tamagni, Serg "SB" Bell (Acronis' Chief Research Officer and Founder) and Patrick Pulvermueller (Acronis' CEO) presented attendees with an overview of how Acronis evolved over time from a backup and disk-imaging company to become the leader in the modern field of cyber protection. This evolution was possible, SB noted, in large part to the expert team Acronis has assembled and clear foresight into the trends facing the industry today – be they edge computing, global localization, smart devices, machine intelligence, or increasingly fierce competition for IT talent.
"Part of my role now is figuring out the strategy for the company with Patrick," said Bell. "It's important to know the market and the competition. So we've launched an initiative to have a deep up-to-date knowledge of the market and its dynamics."
Through Acronis' evolution what hasn't changed, Pulvermueller said, is the company's passion to protect all of the data, applications, and systems that service providers and SMBs need. "I will invest in support and development to serve all of your global SMB customers," Pulvermueller pledged to the large service provider audience. "No matter where they are in the world, we will be there for them. This is cyber protection with the power of you."
Candid Wüest and Rick Hebly
Acronis' VP of Cyber Protection Research Candid Wüest made it clear why this global support and protection is so important to modern IT channel businesses on the Summit's mainstage: "About half a million new viruses are created every day," Wüest warned. "They are expanding to Mac and Linux and they are targeting MSPs. You have to have a holistic cyber protection approach to protect yourself and your customers."
Expounding on the cyber protection approach in practice, Acronis' Director of Product Management Rick Hebly explained how the unified, integrated service Acronis Cyber Protect Cloud is designed to offer a one-stop solution for IT service providers: "We're looking to centralize all of your interactions in a single location – a single product across many different workloads, a single console, a single partner portal for all your tools," Hebly explained. "We're very big on enabling your people, and we do that by integrating into the tools you already use today. We started with a few, now we have over ten RMM integrations, which cover 95% of the RMMs that MSPs use."
Acronis' 2022 product roadmap
Returning to the stage, Rick Hebly, Acronis Director of Product Management gave attendees a preview of how Acronis will advance and accelerate cyber protection in 2022. With partner interests at the forefront, Hebly covered how the Acronis Product Roadmap – which is full of new features, integrations and Advanced pack expansions – is designed to support Acronis partners as they scale their own businesses. In fact, Hebly reminded partners that "we will listen to your feedback – you are at the center of our prioritization."
Hebly also spoke directly to his work with Acronis' in-house integrations team, saying "I'm humbled to lead the team at Acronis that builds our integrations." He personally invited "ISVs out there to integrate into Acronis, or to build those integrations themselves" via the Acronis Developer Platform – "it really speaks for itself when you see the results".
How Automation and Delivery Drive Profits and Better Customer Outcomes
A panel of experienced IT channel professionals and analysts engaged in an in-depth exploration of the role automation plays in the ongoing success of managed service providers. Moderated by Canalys' Global Infrastructure, Cloud, and Cybersecurity Research Expert Matthew Ball, this panel dove into the improved business operations, client relationships, and cybersecurity postures that modern automation makes possible: "With IT, we are dealing with an industry that is more complex and more vulnerable than ever before," Bell noted. "Each jump in technology creates new challenges we need to overcome." Automation of certain processes and procedures helps to streamline this complexity and enable greater outcomes for businesses and their clients.
A look at the future of MSPs
97% of MSPs are worried about the threat of their clients suffering a cybersecurity breach in the next 12 months. In a recent Vanson Bourne report published by Acronis, 400 MSPs across the globe dove into the challenges and opportunities that are on the top of their mind. At the Schaffhausen Summit, IT business growth expert Richard Tubb led an exploration of what this report's results mean for modern MSPs.
"49% of IT businesses admit that their clients do not completely trust the security of their MSPs," Tubb explained. Citing his wealth of experience working with MSPs, Tubb noted that this represented a disconnect between what MSPs are doing and what their clients understand that they're doing. To counter this, Tubb advised attendees to overcommunicate with their clients: "on a daily basis MSPs need to be highlighting the issues they are resolving to keep clients safe."
What's next for the Acronis #CyberFit Summit World Tour
The Schaffhausen Summit featured stellar speakers from across the IT channel and hundreds of unique panels, sessions, and networking opportunities that can't be found anywhere else.
In the months ahead, Acronis will continue to deliver these unbeatable experiences in regions around the world: gathering even more celebrity guests, IT channel gurus, and thousands of cyber protection professionals to help guide the Acronis partner community to greater levels of profitability and success in the year ahead. Stay tuned for more news on each of the Acronis #CyberFit Summit World Tour 2021 events in the weeks ahead and register now to make sure you don't miss out on any of the business-building insights.