formerly Acronis Cyber Backup
BYOD is an acronym for "Bring Your Own Device." It is a growing industry trend where an employee uses their own personal devices – computers, smartphones, tablets, etc. – to connect to the company network and perform company work instead of using a company-issued device. Intel was the first company to introduce the BYOD concept in 2009. Other companies, including Unisys, IBM, and Citrix Systems soon followed suit.
In 2019, the BYOD market was valued at $186.09 billion and is expected to reach $30.45 billion by 2025, with a Compounded Average Growth Rate (CAGR) of 15% over the forecast period from 2020 through 2025.
What is BYOD security and why is it important?
BYOD (Bring your own device) security is critical to keep your company's network, systems, and corporate data safe and secure. The employee device is no longer behind the office firewall, so the device and the data residing on the device are not as secure.
While an employee uses their own personal device for work, they may also use the same device for personal use. If an employee unwittingly downloads an app or a game that contains malware or ransomware, it can open the door for attackers to gain entrance into your corporate network and compromise or leak data. Using unsecure networks at home, in a coffee shop, or at the airport can also lead to compromised and lost data. And if an employee exits your company, you need to ensure that this individual no longer has access to the corporate network and any company confidential or sensitive data is removed from the personal device.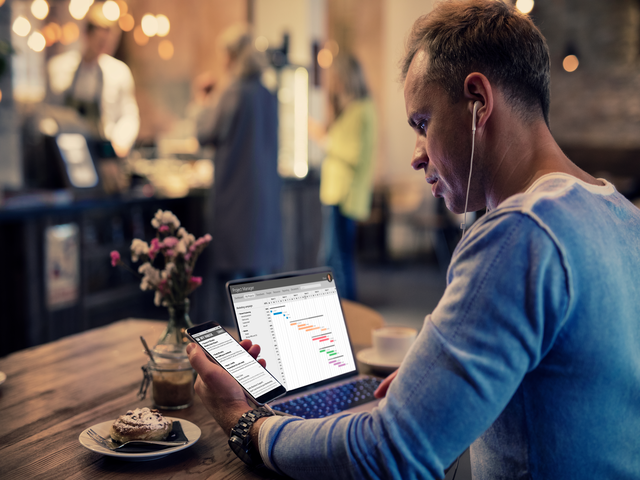 BYOD security can be a challenge for organizations as it requires them to maintain control over employee's personal devices. Any organization that allows BYOD must be sure to develop and adhere to a BYOD policy.
When it comes to BYOD, your organization should either prohibit employees from using their own personal devices for work or enact a BYOD policy that is strictly enforced. A BYOD policy spells out the rules that employees and the IT department must follow to onboard, support, and stop the devices from accessing company networks and data upon termination or loss/theft of a device. The policy should also address the:
Minimal security controls required on the device

Need for company-provided components, such as Secure Sockets Layer (SSL) certificates for device authentication or a Universal Second Factor (USF) device

Rights of the business to alter the device to install or uninstall software and to remotely wipe a device upon employee termination or if the device is lost or stolen
Each employee who uses a personal device for work should sign an agreement that acknowledges the employee read and understood the policy.
Advantages and Disadvantages of BYOD
BYOD brings advantages to both the employee and employer. Employees have a greater choice in the type of device they can use, from a Windows PC to Mac, iPhone to Android device, etc. Providing these choices improves employee productivity and job satisfaction and decreases the level of employee training needed to work with unfamiliar devices. In fact, surveys indicate that a company can gain an extra 240 hours of work per year from employees due to mobile working.
A company that supports a BYOD policy can reduce hardware and software licensing costs.
While many believed that IT could save time with BYOD because the department is not supporting company-owned devices, that time may be offset by the need for IT to provide and enforce improved security policies and solutions to secure these devices.
Indeed, security is one of the biggest BYOD challenges so IT must take action to ensure the device and the data it holds are secure. And since the personal devices employees use can run different operating systems and versions, IT support may get complicated as company-required applications may not always be compatible on each device.
Enforcing an appropriate exit strategy when an employee terminates employment can also be a challenge because a remote wipe deletes both company and personal files.
Acronis Cyber Protect (includes Acronis Cyber Backup): BYOD Security Solution
Acronis Cyber Protect (includes Acronis Cyber Backup) integrates backup, disaster recovery, protection against malware and ransomware, remote desktop, and security tools in a single agent to protect both company-owned and BYOD devices. With Acronis Cyber Protect (includes Acronis Cyber Backup), you can:
Quickly recover your applications, systems, and data on any Windows or macOS device from any incident, as well as essential data (contacts, photos, videos, calendars, and reminders) on iOS and Android mobile devices.

Protect against malware – including ransomware and cryptominers – with full stack, next-generation AI/ML-based protection.

Remotely wipe all data in case of device loss to ensure no data leakage.

Easily resolve issues on company-owned and BYOD machines with a remote access capability.
About Acronis
Acronis is a Swiss company, founded in Singapore. Celebrating two decades of innovation, Acronis has more than 1,800 employees in 45 locations. The Acronis Cyber Protect Cloud solution is available in 26 languages in over 150 countries and is used by 20,000 service providers to protect over 750,000 businesses.