Acronis

Cyber Protect Cloud
Other languages available:
日本語
A key to providing our managed service provider (MSP) partners the support and solutions they need to build profitable businesses is to listen to them. Without a dialogue, we're talking at them, not with them.
So Acronis recently conducted a survey with MSPs as a follow-up to our in-depth research project led by Omdia (formerly Ovum) in 2020 to take the pulse of the industry nearly a year later. Unsurprisingly, the results of that survey reveal that the MSP market is undergoing a significant transformation – particularly as the trends that were already in play were accelerated by the COVID-19 pandemic.
Let's take a quick look at the top findings from this Pulse of the MSP 2021 report.
Demographics of the MSP Pulse report
At the end of 2020, Acronis conducted an online survey and received 244 responses from MSP managers and business leaders. Among those that responded, 79% came from MSPs in North America while the remaining 21% were spread across the rest of the world.
Of the MSPs we surveyed, 71% had been in business more than 10 years, 61% reported less than $2 million in annual revenue, and 73% had less than 100 customers. The basic demographic information collected from respondents included the age of the business, annual revenue, client segmentation, and verticals served.
How demand changed in 2020
Based on the data, it is fair to say that the traditional MSP is not only an endangered species, it may soon be extinct. When we asked MSPs how they would characterize client demand for services since the start of 2020, not surprisingly, remote work support and cybersecurity were significantly increasing. Meanwhile, many other services that were historically the "bread and butter" of MSPs (e.g., system integration projects and help desk) were flat to down.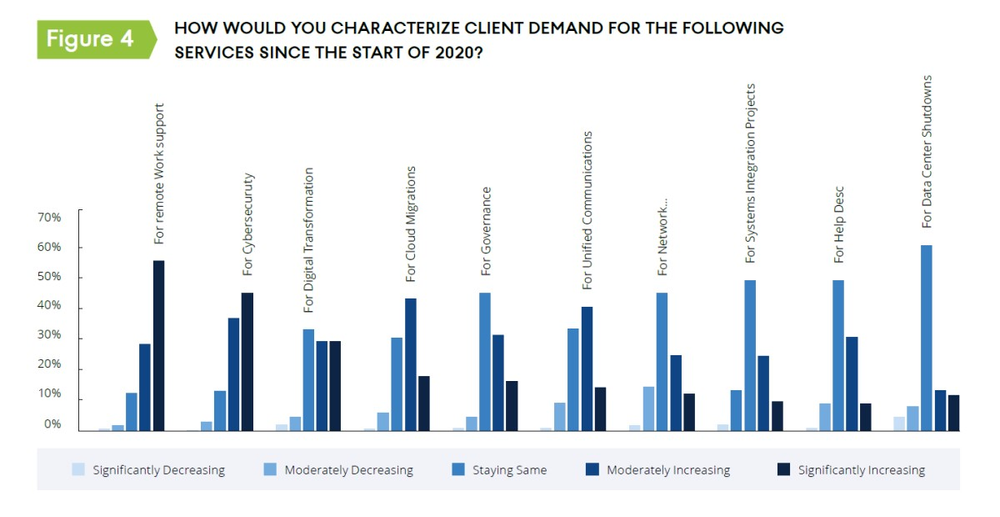 Even more telling, when MSPs were asked how things will change over the next two years – specifically, how will their top revenue-generating services change – their response was clear: growth will come from managed security and managed cloud services, whereas all previous core revenue streams will be on the decline.
It's clear from those projections that the days of MSPs reselling hardware and software, as well as offering traditional support services, are numbered.
Offering security services and working with security vendors
Given the growing importance of managed security services, the second half of the report dives deeper into this topic. Reinforcing the broader changes to the market noted above, when asked how the top five revenue-generating security services would change over the next two years, we see that cloud/software as a service (SaaS) security and backup shoots straight to the top of the list. That's surprising since that does not even register as a top-five service today.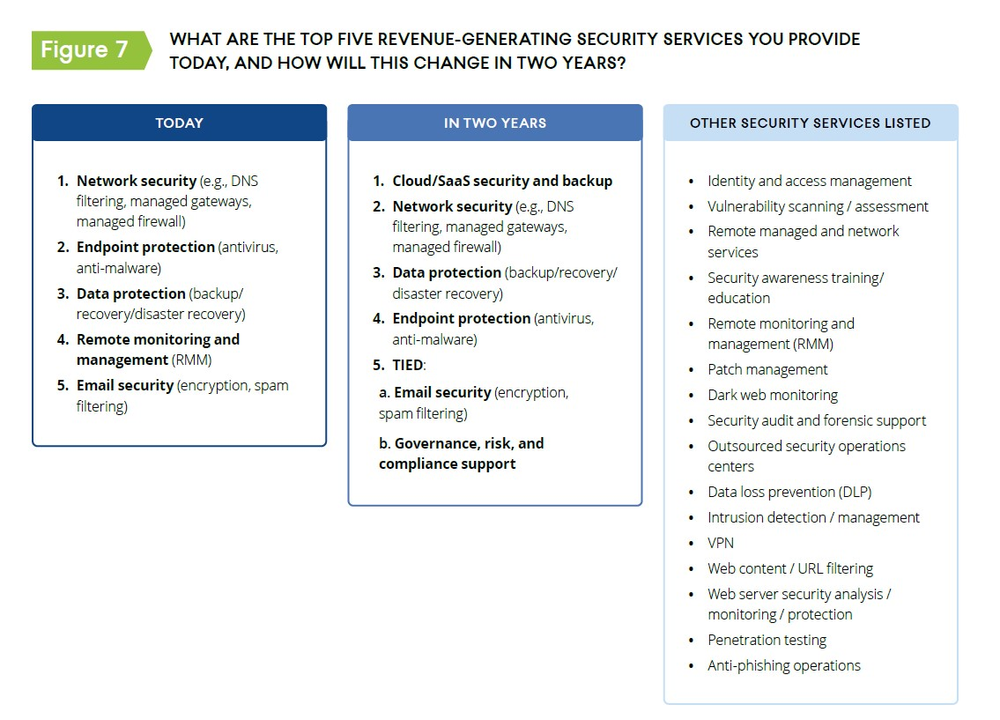 Other questions the report addresses include:
What are the biggest challenges selling managed services?

How many security vendors do you work with?

What's important when selecting a security vendor?

What services would you prefer to be integrated into a single platform?

What is the average number of agents running on a managed endpoint?
One of the greatest challenges facing the IT channel is the speed of change – both in the technologies used, services required by clients, and IT demands of today's businesses. Gauging how the MSP channel has changed – particularly in the wake of a global pandemic that saw the majority of employees working from home – can provide a good roadmap to what lies ahead.
As valuable as those insights are, today's MSPs also need to understand how they can prepare and respond to those challenges. Thankfully, the Pulse of the Managed Service Provider 2021 report, which is now available for free, also highlights how Acronis Cyber Cloud can help MSPs survive and thrive in this changing landscape.
About Acronis
Acronis is a Swiss company, founded in Singapore. Celebrating two decades of innovation, Acronis has more than 1,800 employees in 45 locations. The Acronis Cyber Protect Cloud solution is available in 26 languages in over 150 countries and is used by 20,000 service providers to protect over 750,000 businesses.