In our last blog on the 2020 MSP cybersecurity readiness survey results, we dove into the first main section of the survey, which looked at security, and discussed how the findings related to the benefits provided by Acronis Cyber Protect Cloud. In this blog, we'll take a similar approach but shift our focus to the results for backup and recovery capabilities.
Specifically, this section of the survey focused on exploring the backup and recovery capabilities that MSPs currently offer or plan to offer in the next 12 months. There were over a dozen capabilities to choose from, and the graphic below shows the top three current capabilities that MSPs indicated were the most important: automate the backup process, protect against ransomware, and back up SaaS workloads (like Microsoft 365).
Chart 1: Current and Future Capabilities for Delivering a Security Service to Clients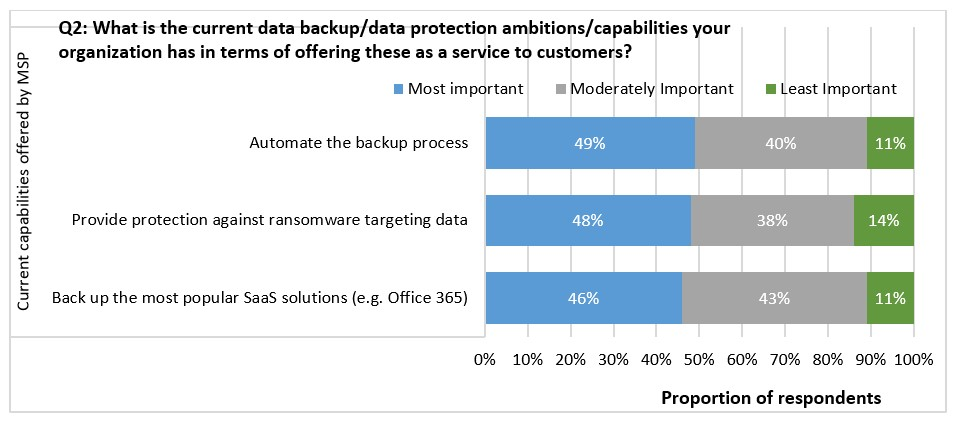 How Acronis Cyber Protect Cloud Relates:
Let's start by focusing on the most important answer: automating the backup process. Automation and integration are central to the entire Acronis Cyber Cloud value proposition.
Acronis Cyber Cloud is a platform that enables service providers to deliver cyber protection in an easy, efficient, and secure way. With this one solution, MSPs and their clients gain access to backup, disaster recovery, AI-based anti-ransomware and anti-cryptojacking, security and management tools, file sync and share, and blockchain-based file notarization and e-signature services, all managed from a single console through a single agent.
As the newest part of Acronis Cyber Cloud platform, Acronis Cyber Protect Cloud extends these automation capabilities even further, integrating features like anti-malware/anti-virus scans, vulnerability assessments, and patch management with backup, as illustrated below.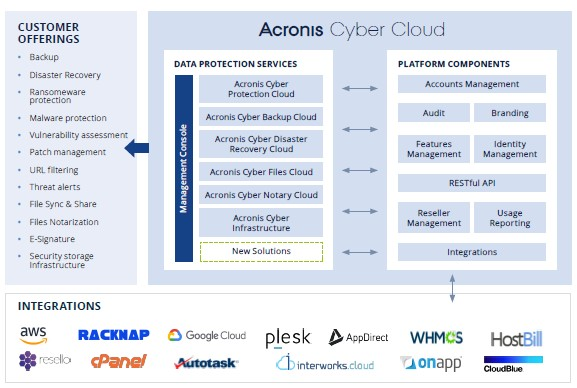 Next, we focus on the likeliest areas of investment during the next 12 months by MSPs. Chart 2 looks at the three largest deltas between what MSPs currently offer and what they plan to offer within the next 12 months.
Chart 2: Top Three Areas of Backup Improvement in the Next 12 Months

How Acronis Cyber Protect Cloud Relates:
Rapid RTO and RPO – Acronis Cyber Backup Cloud already delivers industry-leading RTO/RPO capabilities with features such as Acronis Instant Restore and bare metal recovery. Now with Acronis Cyber Protect Cloud, MSPs can expect minimal planned and unplanned downtime because of streamlined maintenance routines, built-in continuous data protection, anti-malware scans of backups in centralized locations, and the ability to install the latest patches and malware definitions during recovery.
Recover to dissimilar environments – Long a core feature of Acronis' backup and recovery products, it enables the restoration of an entire system to new, dissimilar hardware with just a few clicks. It even supports migration between physical and virtual platforms.
Anti-ransomware protection – Acronis' award-winning anti-ransomware technology uses AI-based detection of suspicious activity to prevent attacks. If an attack somehow is successful, it automatically restores affected files from backup. With behavioral heuristics and white listing, Acronis persistently guards files (including local backups) from unauthorized modification and encryption, and was named among the top five anti-ransomware backup solutions by DCIG.
In our next and final blog in this series, we will look at the challenges facing MSPs when it comes to execution. These include business challenges, people and process challenges, and technical challenges.
For immediate access to all of the survey results, download the full report. Additionally, Acronis is also hosting a live webinar on June 11 to help MSPs understand the report's results and get better prepared for future challenges.