Acronis

Cyber Protect Home Office
formerly Acronis True Image
A survey conducted by Acronis in December 2016 exposed the lack of awareness and understanding of the imminent danger presented by ransomware — an increasingly-pervasive form of malware that encrypts the victim's files, denying access to them until the user pays an online ransom of hundreds or thousands of dollars. Respondents placed high value on personal data, but were not prepared to pay any ransom in case of an attack.
The survey revealed that while 71 percent of the respondents worry about the safety of their personal data and 41 percent say they cannot afford to lose any of it, 56 percent have no plan for recovering that data if it is lost or held hostage by cyber criminals.
70 percent of the respondents also said that it is important for them to know that the backed data is secure and untampered, exposing the need for advanced data verification technology as part of the daily backup routine.
"These survey findings explain why cybercriminals have such high success rate in attacking unsuspecting users. People mistakenly believe that they are safe from ransomware and other malware attacks, and that it is possible to recover files encrypted by such attacks without having to pay a ransom. With the surging proliferation of ransomware and its ability to evade defenses like anti-virus software, users are increasingly likely to become victims of an attack that will put all of their personal data at risk. The ransomware threat underscores the need for complete, easy-to-use data protection technology that can identify and stop a ransomware attack, then recover any damaged files," said James Slaby, Senior Manager, Global Campaigns at Acronis.
The survey was conducted online with the help of Google Consumer Surveys publisher network in U.S., Canada, U. K., Germany, France, Japan and Australia. It reached out to the general adult population of internet users to determine the typical consumer's understanding of ransomware, data security, and the value of personal data.
Can you explain ransomware to a friend?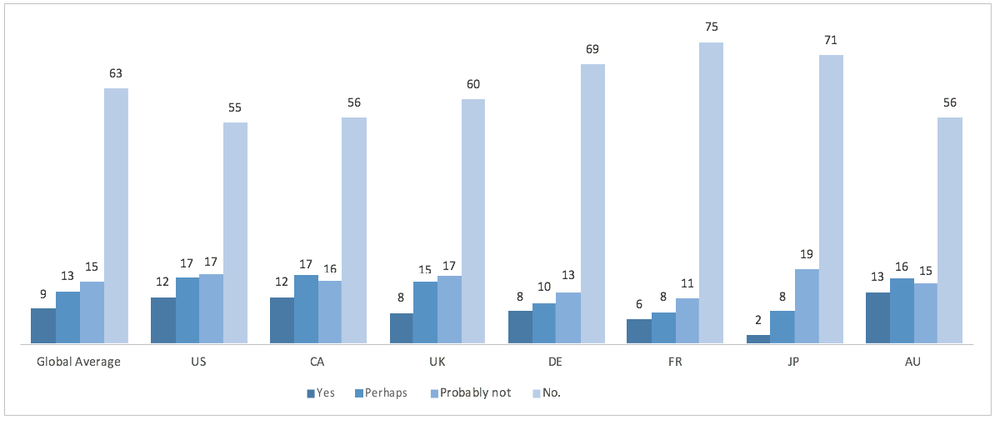 Do you worry about the safety of your personal data?

Do you have a plan to retrieve your photos, files and data If you are hacked?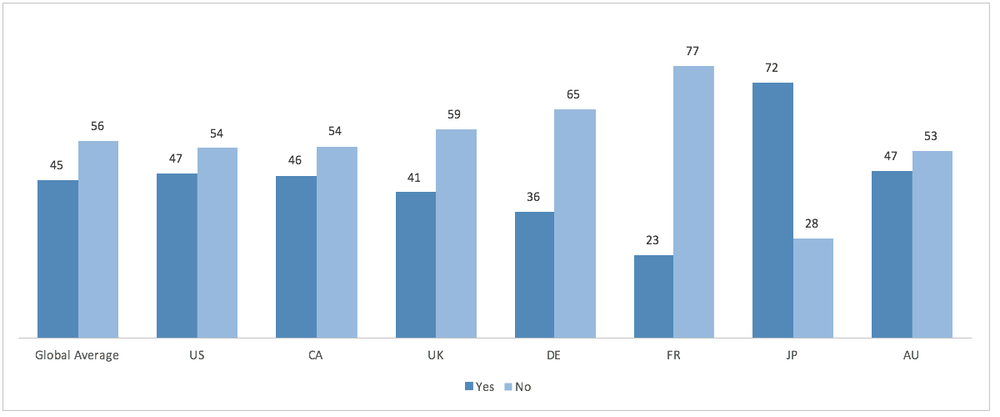 Would you pay a cyber-criminal to give your data back if they stole it or held hostage?

Are you worried that connected home devices like cameras, a voice controlled speaker or other Internet of Things devices could make you vulnerable to a cyber-attack?

If you could, would it be important for you to understand that a file you backed up (a week, month, or year ago) is completely unchanged?
(This functionality can be achieved with blockchain-based data fingerprinting.)

What data is the most important to you?
Percentage of people who said that all data is important and they can't afford to lose anything.

Most important data for US, CA, UK, FR, AU respondents: personal finance information and photos of friends and family.
Most important data for DE, JP respondents: personal finance information and files related to work.
What are you doing now to protect data?
Percentage of people who answered with the word "nothing."

Updated January 23, 2017: This article was edited to remove Acronis product information.
For more information or comments about this survey please contact Acronis Blog editor guennadi.moukine@acronis.com
About Acronis
Acronis is a Swiss company, founded in Singapore. Celebrating two decades of innovation, Acronis has more than 2,000 employees in 45 locations. Acronis Cyber Protect solution is available in 26 languages in over 150 countries and is used by 20,000 service providers to protect over 750,000 businesses.