Following the partner awards last night, the main program of the Acronis Global Cyber Summit 2019 is officially over. No more celebrity keynotes. No more insightful panels. No more wining and dining at the luxurious Fontainebleau Miami Beach Resort.
Yet the opportunity to gain valuable knowledge and insight continues on Day 3, as IT pros, salespeople and engineers roll up their sleeves and get formal training on the strategies and solutions that will make the cyber protection revolution a success. Attendees who can stay another day have the opportunity to join a series of training and certification sessions that will help them put the knowledge that they gained during the Summit into practice.
Acronis is committed to helping members of our community stay at the forefront of the IT industry. So while some of these certifications often cost up to $1,000, we're providing them free-of-charge to Summit attendees so they can hit the ground running when they return home. Here's what the training offered.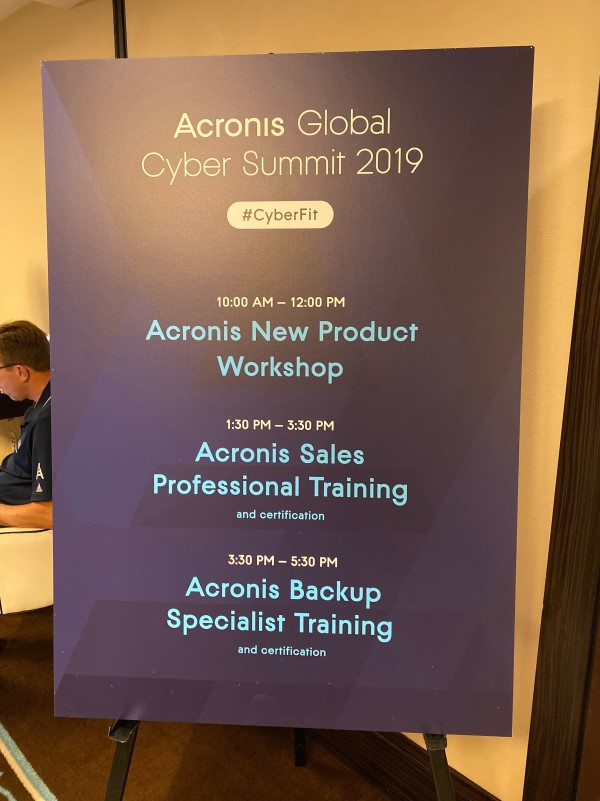 Acronis New Product Workshop
The Acronis Global Cyber Summit saw three new innovations unveiled: Acronis Cyber Protect, Acronis Cyber Infrastructure, and Acronis Cyber Platform. While several of the presentations provided the strategic context for these advances and highlighted the opportunities they create in terms of new capabilities, new offerings and new revenue sources, this workshop provided a deep dive into the functionality and benefits that end-users and customers will enjoy.
Acronis Sales Professional Training (and certification)
This training and certification course advised sales professionals about Acronis' patented hybrid cloud data protection technologies, their unique value propositions and positioning of all major Acronis product lines, and the available licensing models. By the end, attendees had a better understanding of the sales opportunities, support options, and benefits of partnering with Acronis. After successfully completing the training, attendees received official certification from Acronis.
Acronis Cyber Backup Specialist Training (and certification)
Designed to complement Acronis Sales Professional Training, this session featured advanced sales knowledge related to Acronis Cyber Backup. As a result of the in-depth review of the solution's functionality, licensing, sales arguments, competitive analysis, and a high-level product demonstration, attendees were better prepared to connect their customers with the product dubbed "the most secure business backup". After successfully completing the training, attendees received official certification from Acronis.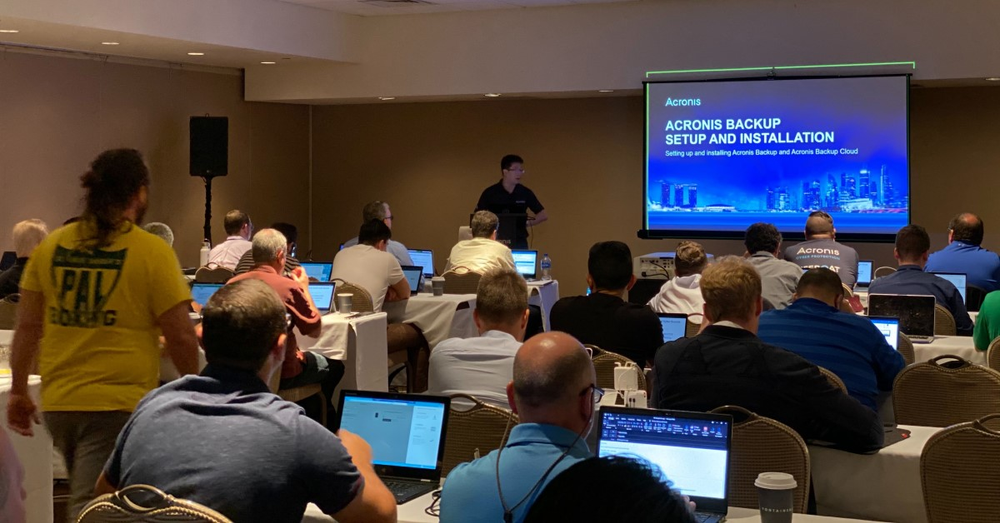 Acronis Certified Engineer Backup Cloud
This technical class on Acronis Backup Cloud provided full training covering everything from installing and configuring Acronis Backup Cloud to managing your multi-tier, multi-tenant services using Acronis Cyber Cloud. The session included all the tips, workarounds, and best practices that are critical to effectively implementing the solution. After successfully completing the training, attendees received official certification from Acronis.
Additional training opportunities
Anyone who could not attend the Acronis Global Cyber Summit 2019 or who could not stay for these training and certification sessions, but who still wants to take advantage of the opportunities presented by the cyber protection revolution should visit our Partner Program page.
Whether you're an MSP looking to bring cyber protection to your customers, a value-added reseller looking to augment your business by offering cloud services, or an OEM vendor who wants to layer cyber protection onto your product, you'll find a program that will help you reach your goal and sell more.
If you're an ISV or developer interested in accessing the Acronis Cyber Platform so you can customize, extend and integrate Acronis Cyber Protection into your solution – or to access Acronis' larger ecosystem – you can learn more here.