Today was another big day of presentations, information sharing and learning at the Acronis Global Cyber Summit 2019 – and there was plenty of time for some fun as well.
Before the keynotes, presentations, and panels got started, many of the CIOs, service providers, resellers, and developers in attendance joined Arsenal FC's Gilberto Silva on the "pitch" at the hotel to watch Acronis staffers from the Americas take on their European peers in the first Acronis Cyber Dragon Cup ... which saw the Americas team pull an upset!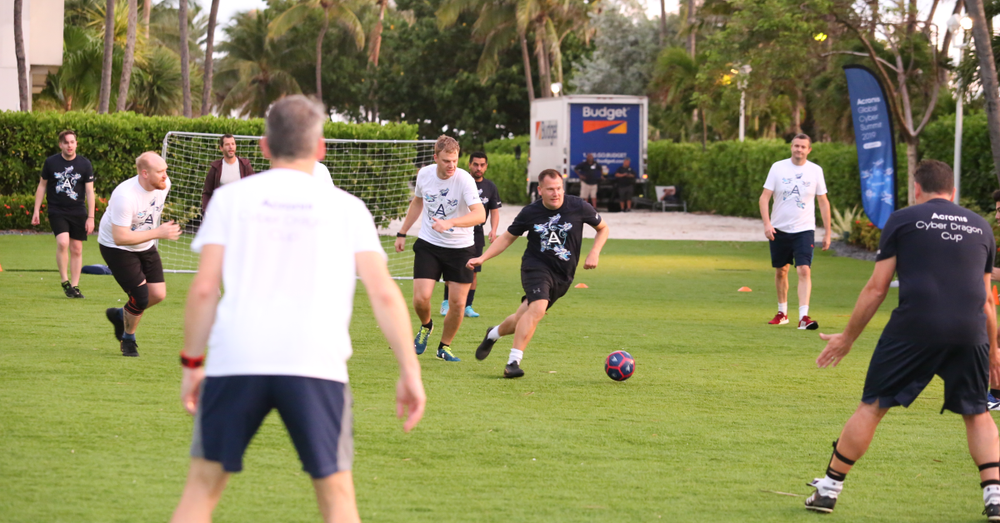 After that fun start and a delicious breakfast, the Summit got back to business with the morning keynotes.
"Acronis Cyber Protect is going to really change the industry and the way people use security products," said Acronis' founder and CEO Sergei Beloussov. That's a bold statement that's grounded in almost three decades of industry experience – and one of the reasons that the energy in the room this morning was so palpable.
While SB described building platforms as "incredibly complex and involves not just technology but working with partners' ecosystems," the potential to deliver cyber protection that protects any data and any workload – Acronis' vision – is one that's worth realizing for partners and their customers alike. Acronis aims to deliver a "cloud service provider channel," or an integrated platform that enables service providers to build profitable cyber protection businesses.
Acronis' President Stanislav Protassov followed SB to explain just how we started to build the solution based on our own Acronis Cyber Infrastructure, and where opportunities for development – and profitability – exist.
Currently, Acronis has built SDKs currently focused on Data Sources, Services, Data Management and Data Destination. To develop additional services and create unique services, Acronis is excited to open the door to developers to customize, integrate and extend its capabilities in order to deliver complete cyber protection. Indeed, Stas acknowledged that to work faster and realize greater success, we need to partner. He closed by encouraging attendees to "start working with us today on building new opportunities" together.
Next, Karen Elazari took the stage with a flourish, warning attendees to "Buckle up – we're going to go on a journey into my world, the world of hackers – it's going to be a fast drive."
You may know Keren from her TedTalk, "Hackers: The Internet's Immune System". She's a cybersecurity analyst and senior researcher at the Tel Aviv University Interdisciplinary Cyber Research Center – her focus is on hackers and technology and their social implications. And this morning she took participants on a tour of "the future of cybersecurity, from the hacker's point of view."
Keren offered five recent lessons she's garnered from "the bad hackers, the criminals":
The trust that we place in our digital lives relies on outdated systems

Sophisticated attackers that create chaos are a distraction for something else

We live in an expanding universe – which means there's also an expanding attack surface

Everything has value …

Automation and innovation can increase the impact
Certainly, Keren's keynote was as eye-opening as it was animated! If you missed it, you'll want to be sure to watch the replay.
Many of the participants at this year's #AcronisCyberSummit are attending to learn how to build a profitable cloud business – and that's exactly what Michael Frisby, Managing Director at Vuzion – a company dedicated to helping cloud resellers, MSPs, SIs and ISVs build a sustainable, profitable business model – focused on during his keynote.
He kicked things off by touching on key themes you may have noticed so far throughout this year's #AcronisCyberSummit – the value of partnership and how working together can boost growth potential and the benefit of hooking customers with a solution and being able to deliver more services in order to keep them coming back for more.
"The partnership with Acronis is really, really important for us," began Michael. "When we go to market, one of the key pillars that we go to market with is a 'secure your business solution set;' and, being able to have a 'land and expand' strategy for our partners so they can sell not one particular solution but go in there and hook customers and drive future customer lifetime value."
Michael offered the audience a few concrete tips for success:
Transition to recurring revenue

Accelerate customer acquisition

Change the sales culture (aka help customers buy by showing value)

Know that adoption drives customer success

Improve continually and boost operational efficiency

Embrace learning and partnerships
"Today in terms of providing the best solutions, it's about working together as organizations. And if you're a cybersecurity professional, go out and partner with that infrastructure partner who doesn't have those skills so you can deliver that combined solution …The solution for that customer is only as strong as the weakest link within that entire chain."
Panel: Governments Face Cyber Threats, an Inflection Point
For this special session, Swiss Army Colonel Marc-Andre Ryter, Co-founder of the Swiss CyberSecurity Association Maria Bicsi, and Calypso.AI's Davey Gibian joined us for an engaging discussion about how governments from around the world are faced with rapidly evolving cyberattacks, which threaten privacy and security for citizens, business, and core infrastructures.
Moderated by Katya Fisher, Partner at Greenspoon Marder LLP, the panel addressed a wide range of concerns that keep leaders up at night, and the tough considerations they must weigh when making decisions. It was a fascinating exchange on what keeps government IT officials up at night.
Before the attendees broke to join panel discussions and breakout sessions designed for their particular part of the business – from service providers to VARs and resellers to developers and ISVs to enterprise IT pros – Acronis CMO and Chief Cyber Strategy Officer took the stage to review the key announcements and learnings from the previous day and a half.
We'll end the day as we began it ... with a fun networking event.
Tonight we'll be recognizing the partners who have helped Acronis promote and spread the vision of cyber protection around the world. We hope you'll join us at the awards reception. You might even be surprised with an honor yourself.
Tomorrow's certification and training programs
While the Summit essentially ends with this evening's Awards Reception, many attendees will be staying on for the certification and training programs we're offering tomorrow. Free to Summit attendees, you'll get instructions on Acronis' latest cyber protection solutions.
Sessions included:
Acronis Certified Engineer Backup Cloud
Acronis New Product Workshop
Acronis Sales Professional Training
Acronis Backup Specialist Training