formerly Acronis Cyber Backup
The Acronis Global Cyber Summit 2020 kicked off its main program today with thousands of attendees connecting with a line-up of experts and thought leaders from around the world to gain exclusive access to insights, advice, and networking opportunities.
If you weren't able to catch all of today's sessions, you're in luck: we've collected some of today's key highlights below to give you an at-a-glance view of Day One of the #AcronisCyberSummit. Plus, as part of our effort to share the cyber protection approach to everyone in IT, all of the Summit content will be available on-demand for attendees to revisit and share following the event.
Click on the session or speaker names below to watch today's top moments.
Want to see what's next? Be sure to register and join the Summit tomorrow for our closing day celebration.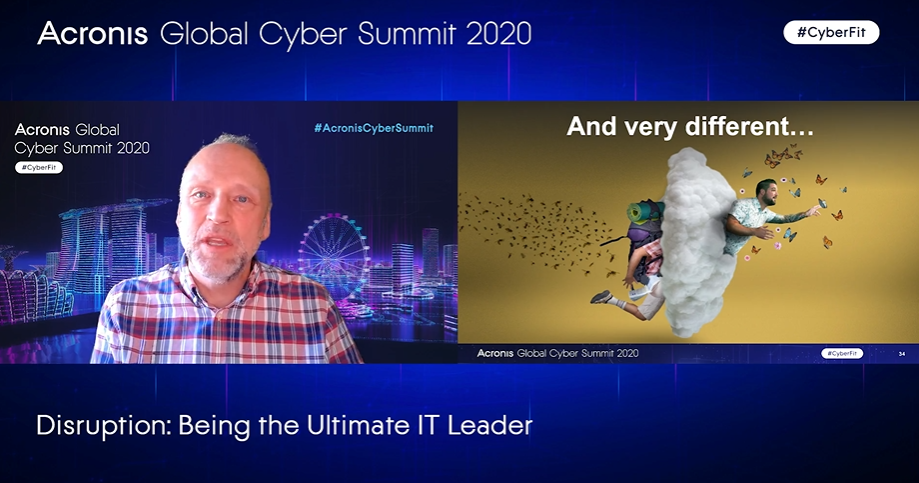 The Acronis Global Cyber Summit launched it's main program with two inspiring and enlightening keynotes from recognized leaders in the field of cyber protection: René Bonvanie, a cybersecurity veteran with a legacy of forward-thinking, disruptive technology and Serg "SB" Bell, the founder and CEO of Acronis.
Both shared their unique view on the future of cyber protection and forecasted it's growing importance in a world that's increasingly reliant on data and digital connections while also under the threat of increasingly sophisticated cyberattacks.
In his keynote, Bonvanie spoke about cyber protection as a major disruptor to the world of IT – where traditional cybersecurity and data protection solutions remain entrenched in the average organization's IT stack. He reflected that the shift to cyber protection posed a significant change for organizations like these, but was necessary nonetheless: "If you disrupt the beliefs and wisdom people have about cybersecurity, you'll sometimes uncover amazing things."
In his keynote, Acronis CEO SB took this message a step further, highlighting the wide array of challenges that modern IT teams face and the inability of traditional, legacy solutions to address them. Speaking live from Acronis' headquarters in Schaffhausen, Switzerland, SB laid out a vision for cyber protection solutions that enable organizations to overcome complexity, cost, security, and privacy challenges while remaining scalable and easy to manage.
Through demos of Acronis' newest, most comprehensive cyber protection solutions, SB offered attendees a look at this future of cyber protection that is now well within their reach.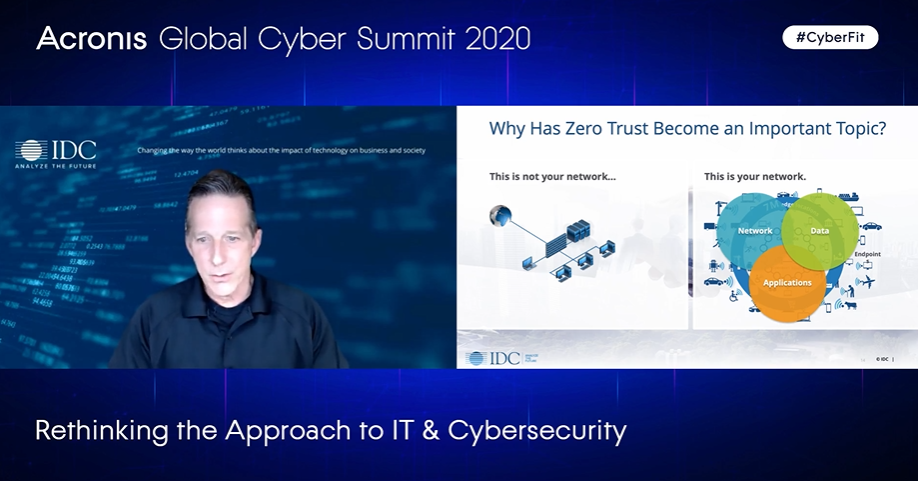 The four conference tracks at this year's Summit jam-packed today's agenda with nearly 30 sessions, workshops, panels, and networking hubs finding their place on the schedule. These engaging, interactive events invited attendees to explore, discuss, and discover topics ranging from business best practices to automation, cybersecurity research, and more.
Recordings of all these sessions are available now on the Summit platform. Below are some of the day's greatest moments from sessions in each track – just as a sample of the insights on display.
Workshop: Don't Become Obsolete! Learn How to Build a Security-First Managed Service Business
Amy Babinchak, President of Harbor Computer Services led IT Channel pros in a deep-dive workshop exploring some of the key steps to take when building a security-first managed service business. One of her key takeaways: embrace an honest view of your capabilities and availability in your marketing, messaging, and behavior. Good relationships with clients need to be based on honesty.
Rethinking the Approach to IT & Cybersecurity
IDC Program Vice President, Frank Dickson unveils recent research that analyzes the new approach to IT and cybersecurity, which was accelerated and amplified in light of the COVID-19 pandemic. He reveals that the issues and trends behind this shift in thinking is actually based on a broader concern that began before the pandemic: complexity. "Complexity is the enemy of security. It's incredibly easy now to attack an organization, even without sophisticated IT skills. Defending your environments needs to be easy too."
Infrastructure Optimization at the Edge
As work becomes more distributed, getting central data out to employees or customers is critical. With the explosion of 5G and the proliferation of devices – both IoT and mobile – it's possible, and infrastructure at the edge is needed to support it. In this panel, David Klauser, Virtuozzo's Sales Director Americas, Acronis VP of Cyber Infrastructure Alex Miro and Virtuozzo CEO Alex Fine dig into this topic, highlighting the role regional service providers and cyber protection play to achieve an optimized edge infrastructure.
The Evolution of Malware Tactics and Techniques
Acronis' own Candid Wüest detailed the new tactics that cybercriminals are using to ransom, steal, exploit, and destroy valuable data with example deep dives into macOS attacks and Ragnar locker, RIPlacer, and RobbinHood ransomware strains. Candid noted that ransomware is no longer just about encrypting data to blackmail victims into paying for a decryption code. Data exfiltration attacks are on the rise, where the attackers not only encrypt proprietary or sensitive data, but they download it as well and threaten to publish it if the victim doesn't pay.
Rapid Pitch Sessions – Acronis #CyberFit Platform Program Integration Partners
Members of the Acronis Cyber Platform ecosystem came together to pitch solutions integrated with the platform to support and interest IT channel pros. Leaders from seven distinct organizations including interworks.cloud, Atera, GreatHorn, and Vuzion presented their integrations to solve challenges ranging from real-time cost analytics and license deployment automation to expanded resell opportunities and API enablement.
A Discussion on the Power of Integration and the Journey of Development in the Drive to Deliver Value for Multiple Parties
An engaging inside-look at the value that integrations provide modern ISVs and service providers delivered by some of Acronis' partners who personally understand that value. The conversation particularly highlighted the opportunities integration creates in regard to differentiating your business, adding new revenue streams, and making your services stickier in the minds of your clients – both to enhance your relationship and to reduce the risk of churn.
Insights from the Industry Press: What Media Pros Really Look for in a Story and How to Tell Your Tale
Four journalists shared their tips and insights on how to work with channel and broadcast media and get your story across. Their tips included how to pitch, what they want to see in a press release, and what catches their attention. Some of their top tips: "Media outlets are not homogeneous. We have different needs," said Craig Galbraith, Executive Editor of Informa Tech. "Keep in touch with us. Make sure you're the one we want to speak to when we have a question," said Joel Zaidspiner, Associate Publisher of ChannelPro-SMB Magazine.
Virtual – Marketing Considerations for SMBs
Acronis Campaign Manager Kristin Allen and Director Regional Marketing, Americas Rosalba Lugo-Masterovsky discussed the current virtual event landscape and provided best practices and resources to engage your audience and deliver your message during an online event. A particular point of interest was an honest assessment that only 40%-50% of virtual event registrants attend – but both halves deserve your attention and follow-up. To help with this, Acronis created a virtual event toolkit for partners to use that is available to download on the partner portal.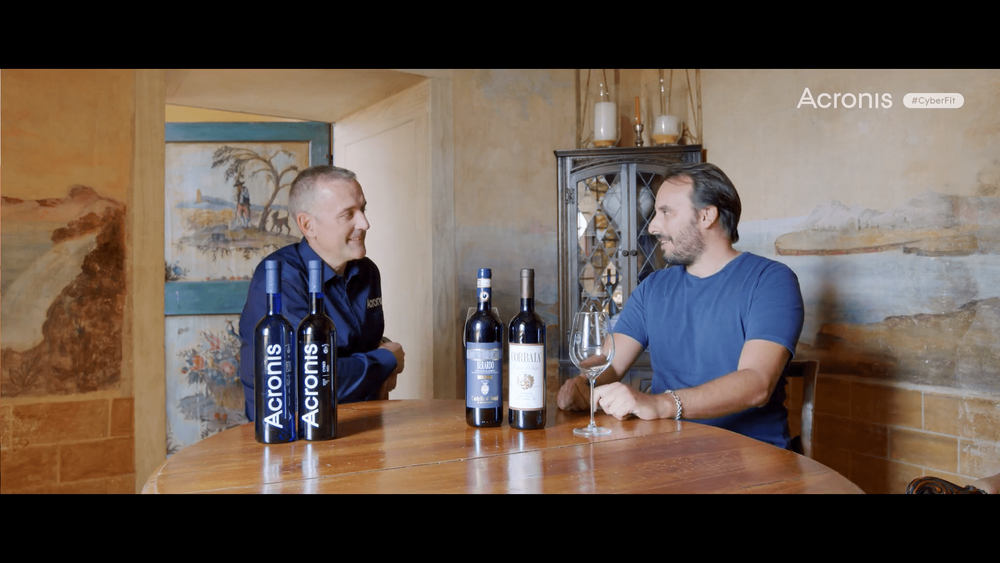 Acronis Cyber Foundation Charity Auction
At the second annual Acronis Cyber Foundation Charity Auction, attendees had the unique opportunity to give back and benefit the education of children supported by Foundation schools and programs around the world. The silent virtual auction continues until October 23 at 12:00 PM EDT on the Handbid app, but at this special session, the full Summit program paused to dedicate time to this wonderful cause. Acronis CEO SB and Red Sox legend Pedro Martinez spoke about the value of giving back, with Martinez giving a heartfelt call for donations: "Giving back is the greatest feeling you can have. We have an opportunity to help children be better, feel better, and do more with an education."
Cooking with Miami-based Celebrity Chef Michelle Bernstein
James Beard Award-winning Miami chef and food TV personality Michelle Bernstein joined Acronis SCS' John Zanni to prepare two dishes: a Peruvian-style shrimp ceviche and an Argentine-inspired panqueque con dulce de leche (crepes with caramel) pumped up with macerated blueberries for an Acronis-blue accent. The segment provided the recipes, too, which Michelle helpfully adapted to the skills and equipment of amateur home cooks.
Exploring the Heart of One of Tuscany's Great Wineries
Ronan McCurtin, Acronis Regional VP for Northern Europe, tours Castello di Bossi, one of Italy's most venerated wine estates, with owner Marco Bacci and his son Jacopo. Attendees gained an inside look into the world of wine, as well as a deep dive into this gorgeous estate in the heart of Chianti country and the artisans who create some of Italy's most acclaimed wines.
Inside the Intricate Heart of a Swiss Watchmaker
A fascinating look at the history of innovation housed by H Moser & Cie in Schaffhausen. Attendees joined CEO Edouard Meylan and Acronis' Vice President of Cyber Protection Candid Wüest as they discussed how time has changed processes at the historic manufacturer. "We've evolved to use new technology, new tools, new techniques, but at the end of the day the real magic is in the craftsmanship and the human passion that goes into each piece," said Meylan.
Protecting Your Edge with Arsenal F.C. Legend Ray Parlour
Ronan McCurtin, Acronis Regional VP, Northern Europe, spoke to Ray about his career, his time at Arsenal, how Arsene Wenger gave them their edge and the success of the current Arsenal team. Also, three first-team Arsenal players (Emile Smith Rowe, Cédric Soares, Bernd Leno) participated in a Protect Your Edge Quiz. The questions in the quiz included who on the team has the edge on dribbling, tackling, social media and fashion.
About Acronis
Acronis is a Swiss company, founded in Singapore. Celebrating two decades of innovation, Acronis has more than 2,000 employees in 45 locations. Acronis Cyber Protect solution is available in 26 languages in over 150 countries and is used by 20,000 service providers to protect over 750,000 businesses.