What is Backup as a Service (BaaS)?
Backup as a Service (Baas) is an approach to organizational data backup that involves purchasing online backup and data recovery services and secure storage space from a data backup provider. Instead of performing backups via an on-premises IT team, BaaS connects systems to public, private, or hybrid cloud backup features managed by a third-party service provider.
BaaS solutions are easier to manage and pilot than other offsite services. Instead of employing a dedicated team to rotate and manage tapes or hard disks at an offsite location, data storage admins can outsource management and maintenance to the service provider.
Many businesses turn to Backup as a Service when their legacy backup systems can't handle the growing amount of data requiring backup, and the company can't afford costly high-level backup upgrades to their on-premises infrastructure. Moreover, outsourcing backup and data recovery keeps data accessible and ready for restoration from a remote location following an outage, failure, or cyber attack.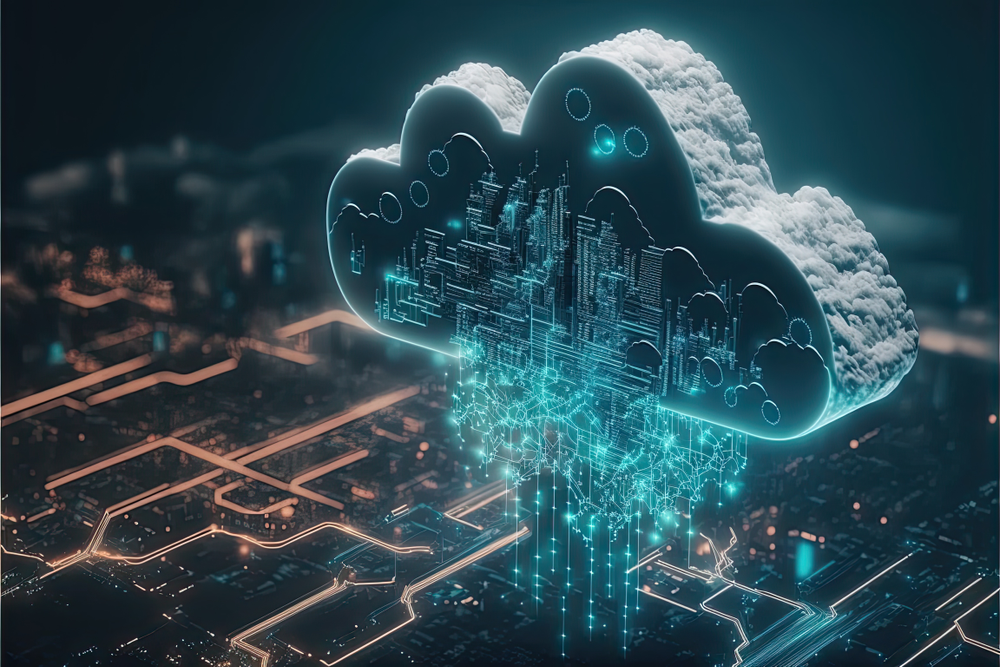 Why is Backup as a Service important?
While enterprises can often afford to maintain and run on-premises private (or hybrid) cloud storage, many SMBs can not. Here, a BaaS provider can deliver enterprise-grade services for a set monthly subscription, ensuring top-tier data security and backup integrity for your organization's data.
Furthermore, SMBs must remain compliant with data security regulations; otherwise, they risk invoking legal ramifications, fines, and loss of reputation following a data-loss event. Additionally, data loss directly affects business continuity and leads to expensive downtime. For organizations of all sizes, Backup as a Service is a data insurance policy - it protects business data against data breaches, minimizes downtime, and ensures backup accessibility and quick recovery services.

Benefits of Backup as a Service
In today's digitized business landscape, data breaches can be devastating to companies of all sizes. This is why backup and recovery services are vital to ensure business continuity. Without a reliable data backup in storage, organizations won't be able to recover lost data following a hacking event, ransomware attack, natural disaster, or accidental deletion.
Backup as a Service helps companies avoid data loss and eases the backup process by storing data on a managed backup cloud. BaaS also reduces costs and ensures a healthy data recovery infrastructure. A reliable BaaS provider brings even more benefits to organizations.
Let's explore them below.
Data protection and reliability
When using BaaS providers, your business data is stored in the BaaS storage space, meaning you won't have to worry about traditional threats - natural disasters, hacking attacks, legacy workloads compromise, and human error. Moreover, BaaS uses data encryption to protect data in transit and at rest, minimizing the potential risks to your data's integrity and availability.
Backup data redundancy and disaster recovery capabilities
BaaS stores multiple copies of your backups in different locations. This approach, called "data redundancy", ensures you have a reliable backup to recover in any data-loss scenario - accidental deletion, power outage, software failure, data breaches, or hacking attacks. Moreover, Backup as a Service solutions are easy to pilot - users need to configure the solution to their preferences and let automation take care of the rest.
Auditing and inventory are also streamlined - backed-up data is easily located and categorized to support compliance auditing and restoration processes.
Convenience and cost control
Backup as a Service relies on automation. Once you set up the solution, all new data on your network and devices will automatically be streamed to secure storage. You won't need a dedicated team to save, categorize, and monitor data. Instead, your workforce can focus on critical business operations.
BaaS providers offer competitive pricing, so a managed backup service can be less expensive than maintaining tapes, external drives, servers, and other hardware and software required to perform on-premises backups. Moreover, you won't have to worry about storage space media, backup transportation to a remote location, and the added IT workforce to manage and troubleshoot remote backup systems.
How does Backup as a Service work?
Backup as a Service is a reliable, highly-secure managed cloud offering dedicated to backup and recovery services for businesses and organizations. Client companies don't have to purchase and maintain servers and external hard drives to store backups. Instead, they can connect to the cloud backup app, configure backup preferences, and let the solution handle data encryption, backup files, and data center maintenance.
Moreover, you can enable backups to run simultaneously or at set intervals in the background, depending on your desired service level. After a successful backup, BaaS transmits the data to the cloud backup server via a secure network. The data is saved directly to the cloud instead of a local (on-premises) server.
Some BaaS providers rely on industry titans - Microsoft, Amazon, and Google - for distributed cloud storage, app services, and data processing. Others maintain and operate a private backup infrastructure with an anti-malware system and specific backup features.
BaaS providers manage the entire backup process; clients can customize their settings and backups via a user-friendly dashboard. Since BaaS is a subscription-based model, your company will be billed monthly or annually. Pricing plans depend on required storage space, backup frequency, bandwidth usage, and how often your company needs to access the backup data. With Backup as a Service, backup files typically contain an exact copy of the original business data and all associated metadata.
If your company needs to recover lost or corrupted data, you can access all required information from the backups and restore files, folders, single pages, images, product lines, or the entire system.
Organizations of all sizes can benefit from Backup as a Service. For SMBs, cloud backup is their only option to store backups at an offsite location; BaaS enables them to maintain high data availability and protection. As for enterprises, they may often use BaaS as a supplemental option.
Key features of Backup as a Service
A robust BaaS provider can streamline your backup process via comprehensive online backup, enhanced security features, automation, and storage space optimization.
Automated cloud backup processes
Organizations using Backup as a Service can follow a simple automation process to ensure their data is backed up regularly and securely. Once you install the backup agent, you can configure it according to your backup preferences, and it will make a complete copy of your organization's data to put in secure storage.
Subsequent backups can only copy changed data since the last backup. (incremental or differential backups) They will usually take less time to complete and optimize storage space.
Automation saves time and workforce efforts as companies don't need a dedicated team to handle backup services. Moreover, you can rest assured that no essential data will be left outside storage as the BaaS solution follows your strict backup frequency preferences.
Automated backup services can run in the background without compromising network performance. As long as you configure the backup settings according to your data creation habits, the backups shouldn't halt business processes or slow down day-to-day tasks.
Continuous data protection
As mentioned, Backup as a Service protects all the data in your company via military-grade encryption. Encrypting data at rest and in transit ensures that sensitive company information will be protected on your network and in backup storage.
Encryption minimizes the risk of data corruption or loss and ensures frequent backups are eligible for speedy disaster recovery. This, in turn, ensures business continuity and a steady revenue flow.
Moreover, a dedicated BaaS provider offers user authentication as part of its services. Strong authentication is crucial to avoid unauthorized access to critical company data. In addition, regulated backup access ensures backup integrity and availability to satisfy security or regulatory compliance audits.
Cloud backup infrastructure
On-premises backup infrastructure requires purchasing and maintaining physical storage media - tape, external hard drives, or Network-attached Storage (NAS). It enables quicker backups but requires additional staff and costs to maintain it properly. On the other hand, a cloud backup doesn't require companies to keep storage hardware in their offices.
As more and more companies adopt a cloud-native approach, cloud backup is not only more convenient - it is often mandatory to ensure competitive service offerings. It can also reduce costs and minimize data loss risk. Cloud adoption aims to minimize or eliminate on-premises backups and only send company data copies to dedicated cloud backup.
As most companies don't have the resources to maintain a private cloud, a cloud-based service can provide the complex infrastructure without needing its clients to maintain it.
Hybrid cloud backup
Hybrid cloud backup is a cloud environment comprising private and public cloud resources, orchestrated to optimize backup processes and reduce costs. To better understand the hybrid cloud concept, let's explore what those two terms represent.
Public clouds reside in a data center used by many (different) tenants and maintained by an outside provider. (e.g., AWS backup)
Here, tenants all benefit from the same physical hardware, with their data separated so that no tenant can access another client's data.
Private clouds are dedicated to a single tenant. They are traditionally thought of as on-premises. To pilot such a private cloud, your company needs to provide and maintain the infrastructure to run the cloud inside your offices.
On the other hand, you can rent private, dedicated cloud servers in a data center to store cloud backups off-premises but still benefit from a private cloud.
Hybrid clouds are typically run by a combined management approach. They have some form of orchestration between public and private servers to allow data transfers as needs, costs, and demands change. This gives businesses more flexibility and backup options for data use and deployment.
A hybrid cloud backup strategy is an optimal way to accomplish the 3-2-1 Rule of Backup, which suggests you keep two copies of data on two separate media carriers in local storage and one data backup offsite. (either at a physical location or the cloud)
Backup as a Service is designed to protect company data but can also handle disaster recovery. A robust Backup as a Service provider will deploy DR plans to counter a data-loss event that affects its own data centers, such as storing data in several geographically dispersed locations.
Typically, BaaS providers use multiple availability zones (AZs) from a public cloud provider to diversify your backup storage. This way, even if an unexpected event affects the BaaS data center, companies can rest assured their data is safe in multiple other locations.
A robust Backup as a Service solution offers flexible backup options.
Incremental backup only backs up changed data since your last full or incremental backup. This approach is used to optimize backup timers and storage space. As incremental backups are smaller than full backups, your company can initiate them daily (or even multiple times a day) to ensure all essential data is sent to secure backup.
You can also employ differential backup to diversify your backup structure further. Differential backup takes changed data since the last full backup to send to storage. Differential backups can be larger than incremental but enable easier recovery for extended data volumes.
Keep in mind, both incremental and differential backups rely on existing full backups. You must create at least one complete system backup (including files, folders, documents, file systems, OS configurations, etc.) before initiating an incremental backup.
Choosing the right Backup as a Service provider
The best BaaS providers share a few critical features. Moreover, some are equipped to serve the unique needs of specific industries - finance, eCommerce, software development, etc.
Choosing the most suitable managed service provider for your business requires extensive research, testing, and planning. To ease your hunt, we will discuss the five primary functionalities of a robust backup service.
Backup data scalability and cost efficiency
Sometimes, your company can experience unexpected growth associated with significantly enhanced data backup needs. If you're prepared for such a scenario, you will only boost your business expansion via a robust Backup as a Service solution. It's best to pick a service provider capable of automatic scaling on demand to ensure frequent backups and optimal storage space.
Furthermore, your backup costs can grow depending on the size and frequency of your backups and the backup retention rate you've set. If you're handling massive amounts of data, your storage needs may quickly increase the cost of the data backup service. It's imperative to choose a data backup plan that fits your budget and be aware of the data limits in the corresponding pricing tier.
Pay-as-You-Go pricing model
The pay-as-you-go (PAYG) pricing model is an increasingly popular offering for Backup as a Service and Software as a Service (SaaS) clients. Essentially, users utilizing the PAYG model pay only for the services and products they use. For example, a cloud storage service provider can charge users based on the amount of storage they use. This is why pay-as-you-go is often referred to as a "usage-based" or "consumption-based" model.
PAYG pricing model example - AWS
Amazon Web Service (AWS) offers more than 200 cloud services (including AWS backup); each offering has its unique pay-as-you-go pricing system. For example, you can use AWS storage and pay based on your backup size and the backup retention rate.
Eliminating infrastructure costs
Two major factors impact your company's infrastructure costs - hardware and personnel costs.
Hardware (non-cloud) solutions have two primary drawbacks. First, you must pay in advance to build the infrastructure - the opposite of the pay-as-you-go pricing model.
The second concern is infrastructure capacity. You must ensure your services and applications run smoothly at all times. The surest way is to purchase more capacity than you need to handle growing data volumes. However, if you end up not needing the extra capacity, its associated costs will count as an additional (potentially deemed "unnecessary") expense.
You can reduce physical infrastructure costs by moving your operations to a cloud-based solution. However, if you rely on in-house cloud storage, you will need a dedicated team to manage, maintain, and scale it.
A Backup as a Service solution can eliminate both factors impacting infrastructure costs. The provider will manage data protection, cloud storage implementation, and even data storage maintenance in an offsite location.
Compatibility with existing infrastructure
Cloud adoption will eliminate outdated legacy workloads, reducing infrastructure and maintenance costs. However, your company will still house an IT infrastructure to run updated systems and applications. You must ensure that the Backup as a Service is compatible with all existing systems to streamline deployment and minimize the risk of potential conflicts.
Backup as a Service will help battle data loss, improve your Recovery Point Objective (RPO) during DR, and provide an array of cloud backup services. However, all robust BaaS providers procure these offerings for their clients. What makes a BaaS provider stand out is their ability to support your future growth.
It's best to look for a provider offering responsive, knowledgeable customer support to fix any issues that may arise during deployment or day-to-day use after a successful implementation. Moreover, your company requires a scalable solution to ensure its data backup is always taken care of. In a perfect scenario, you will implement an automated solution that offers the full array of cloud-based services and can quickly adapt to growing data volumes, ensuring minimal (or zero) downtime.
Best practices for implementing Backup as a Service
Your chosen Backup as a Service provider will help you streamline the deployment process. However, your company must do extensive preparation to configure the service backup settings, thus ensuring optimal data protection and backup data integrity.
Defining data backup policies and retention periods
A data backup policy is a set of procedures and rules used to describe your organization's strategy for creating backup copies and storing data securely.
Enterprise data backup policies are integral to your data protection, disaster recovery, and business continuity strategy.
The 3-2-1 Rule of Backup is an example of a robust backup policy. As mentioned, the Rule suggests you keep two backup copies on-premises (but stored on different media) to enable rapid recovery, with a third copy stored in an offsite location (or cloud storage) to ensure data is available for restoration following a disruption event. The data backup can contain diverse data sets - structured and unstructured data used by critical applications, databases, or data created by email apps.
Depending on your infrastructure and data assessments, your company can implement specific Backup as a Service approaches. For example, you can create a mirrored storage space to ensure backup redundancy, which, in turn, will enable a remote file copy function at all times. This way, you will be able to recover a critical service backup following a local disruption event without physically accessing the backup's location.
Outlining a data backup policy
Your data backup policy should include what data requires protection, where to store backups, how often to create backups, and how long to retain backup copies. Companies must adopt comprehensive backup policies to enhance their disaster recovery posture and avoid data loss or extensive downtime due to unexpected events.
In addition to adequately outlined backup frequencies, a reliable Backup as a Service requires including Recovery Point Objective (RPO) metrics. RPO defines how much data loss is acceptable to the company before you can restore the data from a previous backup. The RPO value requires more resources to satisfy shorter RPOs concerning critical applications and services - the faster you get them up and running after a disruption event, the better.
Ensuring an adequate RPO also requires a sensible data retention plan. An organization should consider which backups are critical for DR purposes and which can be removed from storage after a specific period. A proper retention strategy is also crucial for optimizing storage space and reducing costs.
Identifying critical data for regular backups
Before implementing a Backup as a Service solution, you must identify essential data for your organization. Typically, critical data is deemed necessary for the company's success or is information you must retain for regulatory purposes.
Important data can be personal customer information, employee data, operational data, vendor and business partners data, financial details concerning auditing purposes, and any data used for analytics purposes.
Your company must decide which data to consider critical. The process isn't exclusive to your IT teams; every company department must be involved in the identification.
Defining what data is critical
In larger companies, different teams or departments may disagree on which data is critical. To help focus the identification process, your organization can use a weighting system to define data criticality. To do so, try answering the following questions:
What is the purpose of the data?

What are the potential consequences if the data is deleted or lost?

What number of internal stakeholders rely on the data?

How useful is the data for future projects?

What are the regulatory requirements for storing the data?
Upon answering all necessary questions, your company can assign different criticality levels to all the data within your systems. Typically, data regarding compliance and customer success is deemed the most critical. If such data is compromised or lost, it could immediately impact your company's ability to operate adequately.
Best Backup as a Service solution - Acronis Cyber Protect Cloud - Advanced Backup
Modern companies can choose from numerous Backup as a Service solutions to battle data corruption, power outages, and cyber-attacks. However, most of those solutions are costly and challenging to pilot. On the other hand, Acronis Cyber Protect Cloud - Advanced Backup offers the best-in-breed cloud backup for MSPs, enhanced with comprehensive cyber protection features.
Traditional backup is not enough to protect clients' essential data - MSPs need to employ an integrated approach to extend the cloud backup capabilities so organizations can protect their data optimally. Acronis Cyber Protect Cloud offers increased automation and productivity to deliver near-zero RPOs and eliminate downtime via cloud backup enhancements. Moreover, combining cloud backup with anti-malware and antivirus keeps clients' data fortified, with data protection functions encrypting data at rest, in transit, and secure storage.
With Acronis Cyber Protect Cloud, MSPs can protect over 20 workload types from a single console - Microsoft Exchange, Microsoft SQL Server, MySQL, MariaDB, SAP NAHA, Oracle DBMS Real Application clusters, and more. Acronis offers the power to pilot an all-in-one solution via one agent and a single console to deliver the top-tier cyber protection your clients seek.
Moreover, Backup as a Service with Acronis offers file- and disk-level backups, image, and application backups available for hybrid storage - public clouds, MSP local storage, or the Acronis-hosted cloud storage.
Clients can implement flexible recovery options - from granular files to full systems. Acronis Cyber Protect Cloud also enables cloud-physical-virtual migrations to support hybrid IT environments, as well as traditional incremental, differential, or full backups powered by adjustable backup scheduling, extended backup support, and continuous data protection.
About Acronis
Acronis is a Swiss company, founded in Singapore. Celebrating two decades of innovation, Acronis has more than 2,000 employees in 45 locations. Acronis Cyber Protect solution is available in 26 languages in over 150 countries and is used by 18,000 service providers to protect over 750,000 businesses.