formerly Acronis Cyber Backup
Ben Waterhouse, Scuderia Toro Rosso's Deputy Technical Director, and the new STR12.
Enjoying the warm sunshine of an Australian Saturday afternoon, the smell of burnt rubber, the electric atmosphere of anticipation preceding the first Grand Prix of the year, Ben Waterhouse spoke to Acronis about the value of data in designing the new STR12 car.
What is your involvement with the new STR12?
I picked up the project for STR12, our 2017 car towards the end of 2015. It's been the best part of 18 months in the making. I've led the project right from the outset until where we are now under James Key's guidance and supervision. Last year James was busy with the STR11, and I was working on the new car.
How close is the STR12 to what you envisioned two years ago?
It's very interesting because from the outset you don't really know how it's going to look. From our perspective, everything we do is driven by performance. So we can't tell whether one geometry or one front wing or rear wing is going to be better performing than the other just by looking at it. We make decisions based on the data that we find from the tests and simulations that we perform, and that's ultimately what drives it.
However, what you do envisage from the start, is the process and method you want to use. From the outset we wanted the STR12 to be the best-engineered car we ever made. So we worked very hard to improve internal processes to maximize the value that each team member could bring to the development of this car.
What is one thing that you're watching when you see the car on the track here in Melbourne?
The main thing we're watching is how the car is behaving on the track. Visually we can tell if the car is handling well, if there is something the driver needs to do, or whether it's a real handful and we need to do more work. That's from a visual point of view.
But it all comes down to looking at the data. We have thousands of sensors in the car, and we're monitoring thousands of channels at the same time. Some are for reliability, some for performance, and some to ensure that we're offering the correct operating conditions to the driver.
Here, different people have different responsibilities. One person monitors the gearbox temperatures and pressures. Other people monitor the engine, aerodynamic performance, the tyre behavior and so on. When we put everything together, we have a clear picture of what is going on. My job is to have a good overview of the whole picture and to identify any potential areas for improvement.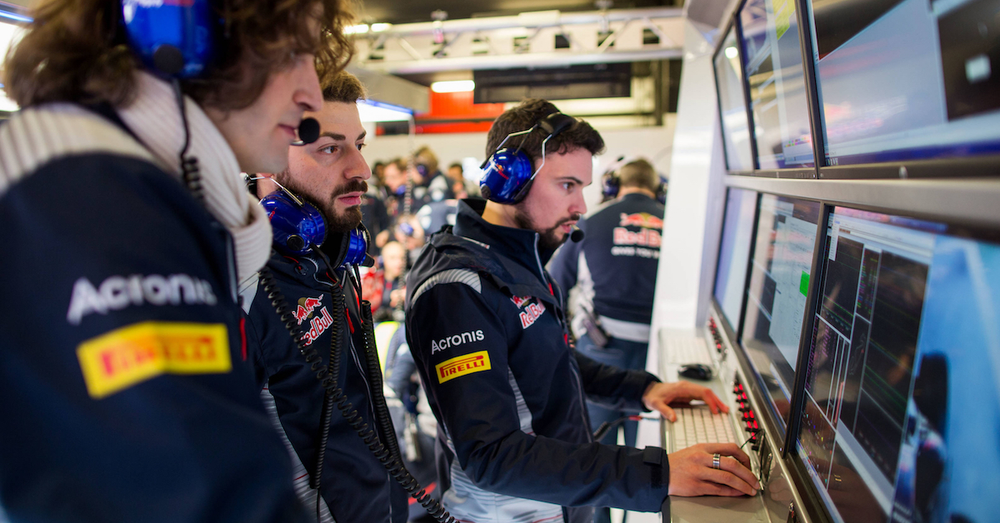 Scuderia Toro Rosso race engineers examining the telemetry data.
Why have shark fins returned to this year's cars?
A shark fin brings performance via an aerodynamic gain, and that's the main reason it's there. Effectively, it helps to align the airflow to the rear wing and therefore increase the downforce.
The reason why it's here in 2017 and not in the previous years is because the regulations didn't permit it. When the new 2017 regulations were defined, the exclusion zone crept back in. Nobody perhaps expected that shark fins would reappear, but of course, if it makes the car go faster, everybody is going to do it, including us.
What makes overtaking difficult?
There are a few factors in play. Overtaking may be difficult simply because this year's car is wider, but the track width hasn't changed, so there is less space to overtake.
In addition, the car generates more downforce, so potentially there is more turbulence behind each car and of course, you cannot follow the car in front as closely as you used to.
There is, however, a flipside to this argument: the car in front creates a bigger wake, therefore there is more drag reduction and it's easier for the cars behind to overtake. Tomorrow we'll find out which one is correct.
Our expectations are primarily that we'll find it more difficult, that's been our experience so far. Tomorrow we'll have the proof.
UPDATE: Following the Sunday's race, Ben confirmed that a greater turbulence behind each car makes it difficult to overtake, something that has also been reported by some drivers.
If you can control what happens behind your car, what can you do to make it more difficult for other drives to overtake you?
Make your car go faster!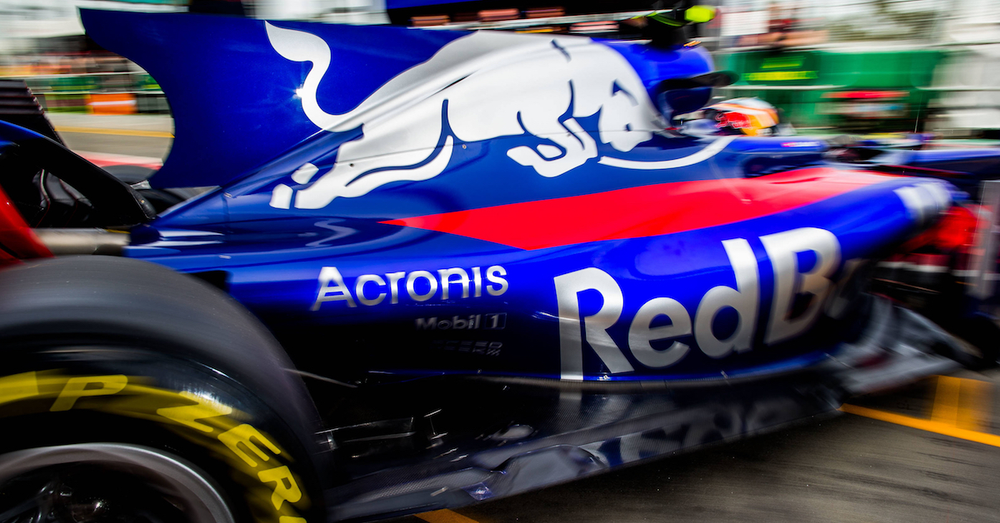 Scuderia Toro Rosso STR12 in during the Australian Grand Prix in Melbourne.
What is the biggest innovation in this year's car?
There is a lot I wish I could share with you! Apart from what's hidden under the bodywork, the biggest innovation is what we've done on the front suspension.
The front suspension is by and large a different concept to what the majority of the grid have done. It's something that we did quite early on, in a bid to gain performance.
And ultimately, when we saw Mercedes had the same idea, we actually were a little disappointed, because we believed we had something unique there for performance improvement.
The flipside of that is knowing that the team that's won the championship three years in a row has also, through the same methodology, arrived at similar results — it validates your processes!
Can you place a value on all the data that you collect here at the track?
We accumulate huge amounts of data — gigabytes during every single session. Some of this data is analyzed in real time, and some is sent back to the factory for future developments.
So the actual value of data is in how we interpret it. Data is the currency we have to use to make the car go faster.
If we were to lose it all, the consequence would be huge. We'd have no reference points from previous years, and we wouldn't have good predictive methods to use for simulation. This would dramatically slow down the development rate of our program. That's why we invested so heavily in data sources, to make sure we can control and manage data. It is a very valuable asset.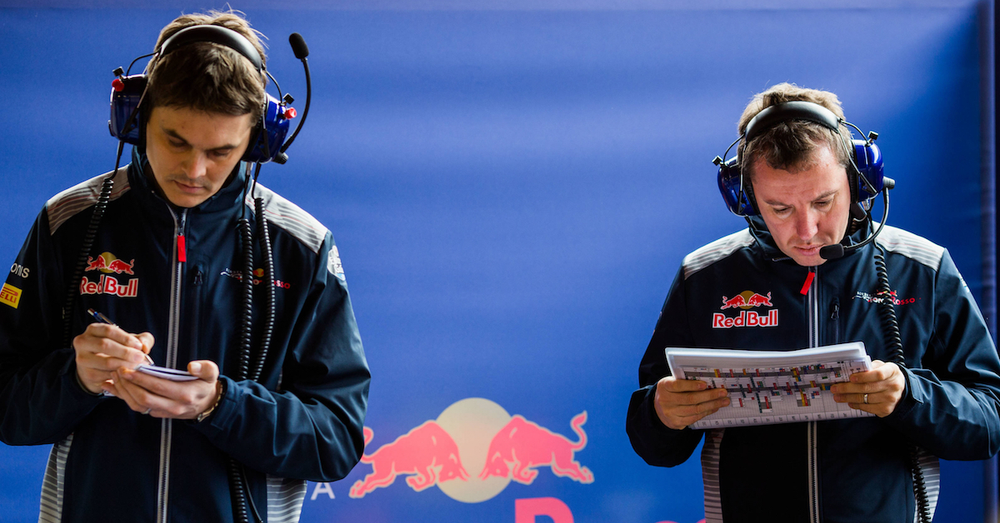 Ben Waterhouse and Jody Egginton, Head of Vehicle Performance for Scuderia Toro Rosso, checking their notes during day one of Formula One winter testing in Spain.
And now, for all the kids and students out there, how do you become a motorsport engineer?
There are a lot of ingredients to this profession. The most important thing is you need to have a real, very detailed interest and passion in what you want to do.
And then, it's really about the not-so-exiting things, such as studies, choosing the right university, selecting the right courses, and making sure you understand the physics behind the CFD, aerodynamics, tyres, and so on. It all comes back to science.
To be successful in this industry you need the foundation of knowledge, seek opportunities, persevere and have a relentless passion for what you do.
(All images: Red Bull Content Pool)
READ MORE:
About Acronis
Acronis is a Swiss company, founded in Singapore. Celebrating two decades of innovation, Acronis has more than 1,800 employees in 45 locations. The Acronis Cyber Protect Cloud solution is available in 26 languages in over 150 countries and is used by 20,000 service providers to protect over 750,000 businesses.