formerly Acronis Cyber Backup
The Acronis Global Cyber Summit 2019 is in the history books. From October 13-16, the world's largest gathering of cyber protection professionals filled the beautiful Fontainebleau in Miami with fun, excitement, and innovation that will help shape the future of the IT industry.
From the inspiring Women in Tech Breakfast that kicked off the Summit's first day to the electrifying Partner Awards ceremony and Closing Reception that capped off the second day there was no lack of insights to learn from, experiences to build, and entertainment to enjoy.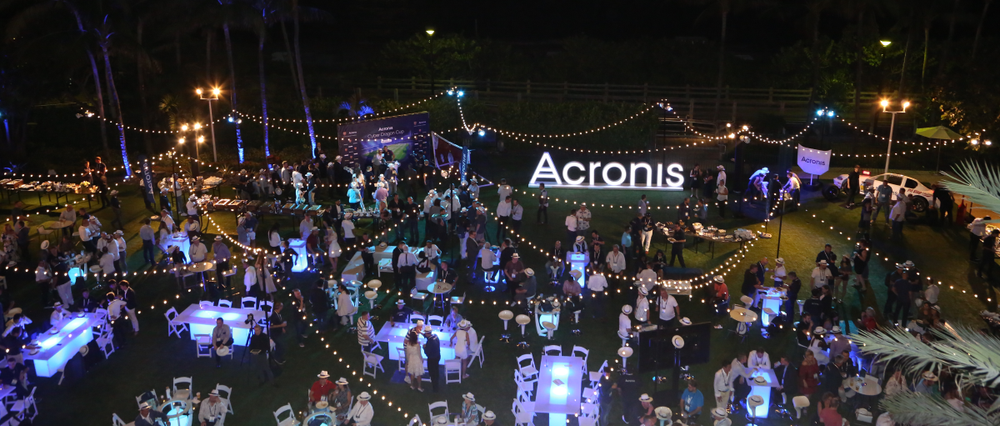 If you aren't one of the cybersecurity, CIO, IT pro, MSP, value-added reseller, ISV, and developer attendees packing up their learnings and swag to catch a flight back to the IT environments they call home, here's a quick recap of the best moments from the Acronis Global Cyber Summit 2019.
Special thanks to our sponsors:
Ingram Micro / Vuzion / Structure Research
SherWeb / Bitdefender / ConnectWise / EzeCastle / Exagrid / Lifeboat / Scale Computing / Giacom / pax8
Teknov8 / Virtuozzo / Interwork / Erick Simpson / SIT / XcellHost / devtech
Reactions from attendees @SysFixITSupport and @SabariSampath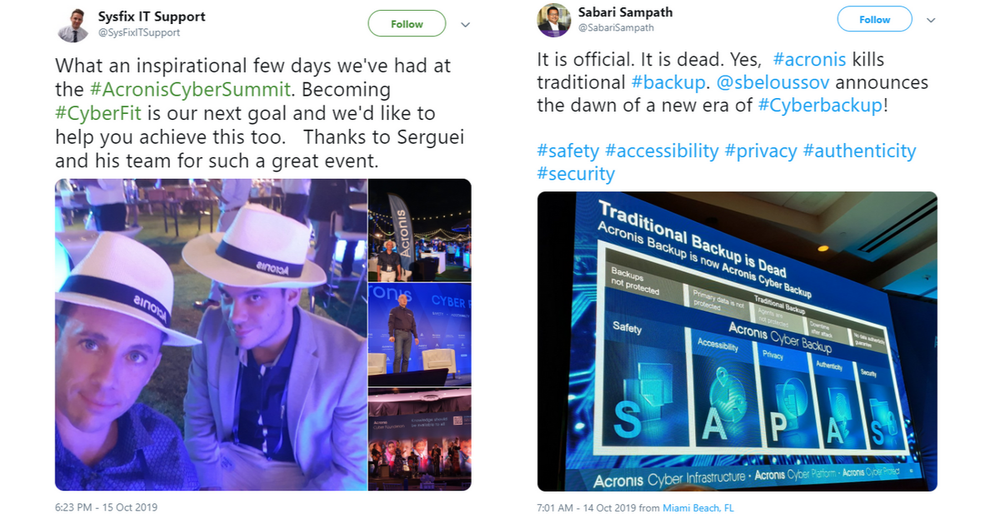 Cheryl Robinson (Ready2Roar, Forbes Women); Linda Babcock (Carnegie Mellon University); Katya Fisher (IBM); Katya Turtseva (Acronis)
A diverse group of participants committed to addressing complex issues and fostering greater success industry-wide joined a panel of four prominent women in the field to share their unique experiences. Topics ranged from work-life balance to workplace disparity research to what it's taken the panelists to carve out successful careers in the IT industry.
New Cyber Protection Solutions Unveiled
Serg "SB" Bell (Acronis); Stas Protassov (Acronis); Nick Grebennikoff (Acronis); Alex Miro (Acronis); James Abercrombie (Acronis)
The Acronis Founder and Executive Officer energized a jam-packed room of IT professionals with his vision of cyber protection and the highly anticipated announcement of three new cyber protection solutions designed to "provide comprehensive cyber protection, providing a great margin and market opportunities for our partners."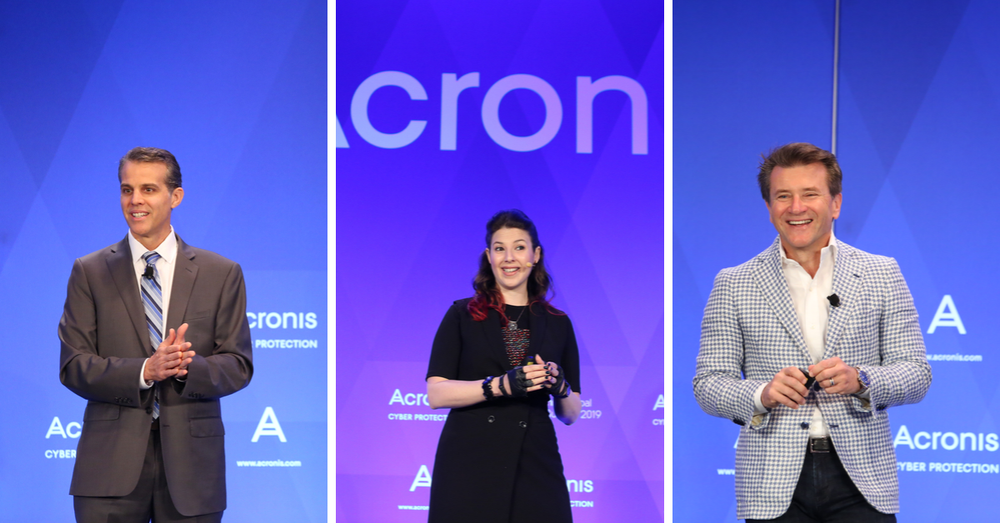 Insights from IT Industry Leaders
Robert Herjavec (Shark Tank, Herjavec Group); Renee Bergeron (Ingram Micro); Eric O'Neill (Author, Former FBI); Serg "SB" Bell (Acronis); Stanislav Protassov (Acronis); Keren Elazari (Tel Aviv University); Michael Frisby (Vuzion); Gaidar Magdanurov (Acronis)
The mornings of October 14 and 15 were full of captivating speeches from experts and visionaries from the worlds of IT, cybersecurity, and cyber protection. In these keynote messages, our speakers shared research and experiences from their storied careers and predictions for the future of the industry.
Take a look back at the most interesting moments from Day One keynote speeches and Day Two keynote speeches and share them with your colleagues to make sure your organization has all the insights it needs to start getting #CyberFit.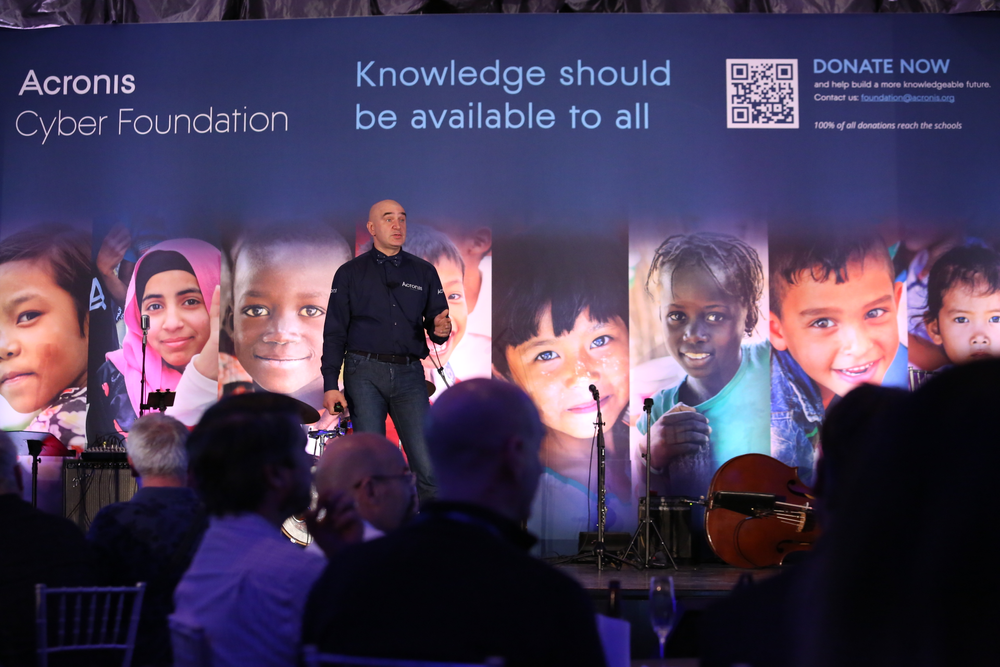 New School Construction Funded
Serg "SB" Bell (Acronis); Cheryl Robinson (Ready2Roar, Forbes Women); Melinda MacPhee (Acronis); Jim Ziolkowski (buildOn)
Day One of the Acronis Global Cyber Summit 2019 ended with more than $30,000 in donations – enough to fund the Acronis Cyber Foundation's construction of a school in Nicaragua. This generous support from the cyber protection community followed the announcement of exclusive gifts and experiences that were randomly awarded to donors at the event. The year's Charity Reception prizes:
Two VIP experiences for two with the Boston Red Sox

A VIP experience for two with NASCAR's Roush Fenway Racing Team

The Ultimate Arsenal Fan Experience

A two-night stay at the Fontainebleau Miami Beach Hotel

An Acronis School Construction Trek for two

A CAR.O.L Exercise Bike, the world's first AI-powered exercise bike

An H. Moser & Cie. Swiss luxury watch
Live Expo-Floor Interviews with theCUBE
Serg "SB" Bell (Acronis); Linda Babcock (Carnegie Mellon University); William Toll (Acronis); Gaidar Magdanurov (Acronis); Pat Hurley (Acronis); Naveen Chhabra (Forrester); and 12 others
SiliconANGLE's hit enterprise tech show theCUBE was on the Acronis Global Cyber Summit show floor throughout the event conducting live interviews with thought leaders from Acronis and its partners. These interviews offered tremendous insight into the evolution of cyber protection, its integration in service offerings, and its necessity in the modern IT landscape.
Take a look back at all theCUBE interviews from the Acronis Global Cyber Summit and be sure to share your favorites with #CyberFit to keep the conversation going.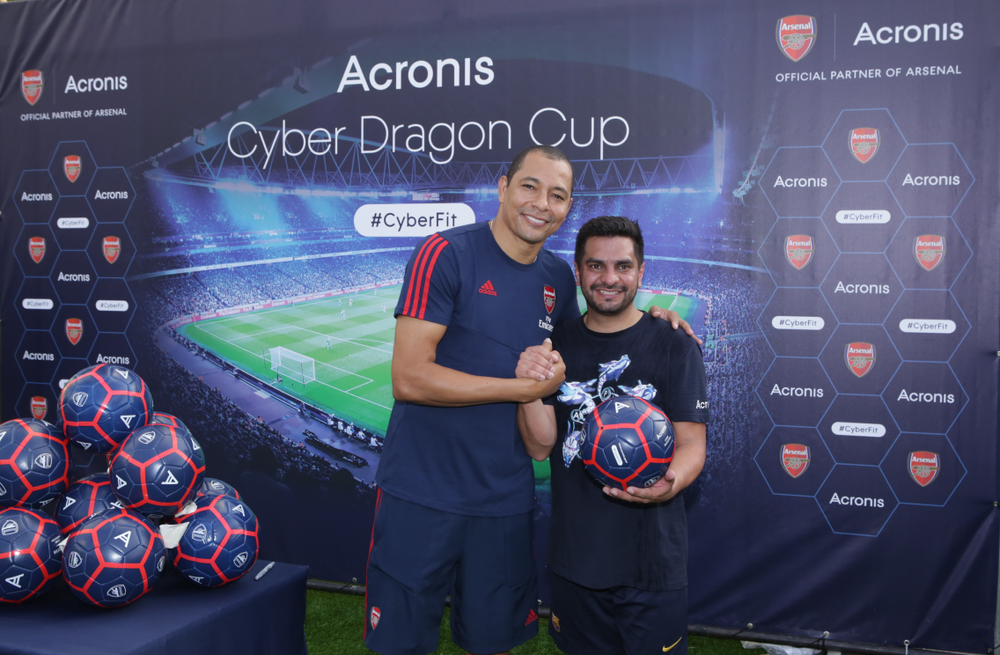 The Acronis Cyber Dragon Soccer Cup
Gilberto Silva (Arsenal FC legend)
Day Two of the Acronis Global Cyber Summit 2019 kicked off with a friendly – if competitive – game of soccer. Acronis staffers from the Americas took on their European peers with Arsenal FC legend, Gilberto Silva and Summit attendees cheering from the sidelines. The American team, dubbed "Cyber United", walked away with the Acronis Cyber Dragon Cup.
Enlightening Panels and Educational Tracks
Marc-Andre Ryter (Swiss Army); Maria Bicsi (Swiss-CyberSecurity Association); Katya Fisher (Greenspoon Marder); Davey Gibian (Calypso.AI); Lance Crosby (Stackpath); Erick Simpson (Ericksimpson.com); and more than 20 other speakers and panelists
Afternoons at the Acronis Global Cyber Summit were dedicated to four unique educational tracks, each designed specifically for service providers, resellers, developers and ISVs, and enterprise IT professionals. Tracks consisted of six panel sessions featuring world-class speakers illuminating topics as varied as business strategy best practices and the future of AI, ML, and blockchain.
Get an inside look at some of the sessions in each of these tracks in our Day One highlights review.
Acronis Partner Awards Ceremony
As Day Two of the Summit came to a close, the Acronis team gathered attendees and partners to the beachside lawn of the Fontainebleau Hotel Miami to recognize Acronis' top partners. With prizes in 10 different categories, the award ceremony was a public display of appreciation for being part of the Acronis community and an acknowledgment of how central the partner network is to the organization's growth and success.
This year's partner award winners were:
Executech and Skybackbone Engenio – Most Innovative Partner Award

Infologic and Lidera – Loyalty Award

Dasher Technologies and Teknov8 – New Partner Award

Backup ONE and Star Link – Exceptional Marketing Recognition Award

ConnectWise – Best Acronis Cyber Platform Partner Award

ADN and Ingram Micro – Best Cloud Distributor Award

Eze Castle Integration; Lidera; Vuzion – Best Cloud Service Provider Award

ADN; Tangun Soft; DiS – Best Distributor Award

Racom Business; Shi; Software One – Best Reseller Award

Best Buy Canada – Best Retail Partner Award
Professional Training and Certifications
While the main program of the Acronis Global Cyber Summit 2019 ended with the partner awards, opportunities to gain knowledge and insight extended into Day Three. Attendees who stayed for the extra day were invited to join a series of training and certification sessions that help them put the knowledge they gained at the Summit into practice.
Learn about the training sessions and how you can become certified in Acronis technologies here.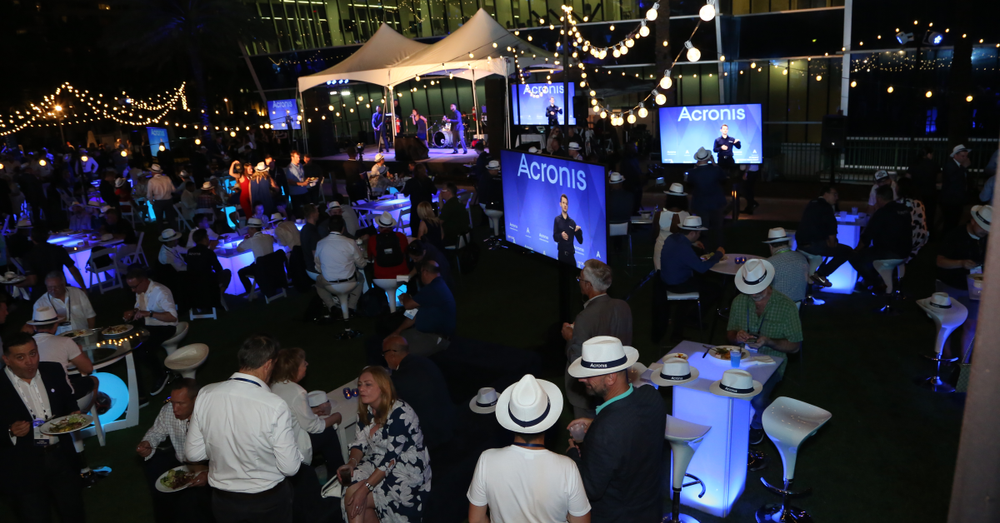 What's Next in the Cyber Protection Revolution
The first-ever Acronis Global Cyber Summit was a huge success according to the hundreds who attended and helped kickstart the cyber protection revolution. But it's just the beginning.
As cyber protection professionals return to their own organizations, the tech, insights, and connections made at the Summit go with them – and the cyber protection revolution grows along with it. To stay at the forefront of modern IT and stay up-to-date on all things cyber protection, be sure to follow Acronis and explore how Acronis cyber protection services can fit into your IT environment.
There's plenty of advances, innovation, and news to benefit your organization in the months ahead – including details about next year's Acronis Global Cyber Summit.
About Acronis
Acronis is a Swiss company, founded in Singapore. Celebrating two decades of innovation, Acronis has more than 1,800 employees in 45 locations. The Acronis Cyber Protect Cloud solution is available in 26 languages in over 150 countries and is used by 20,000 service providers to protect over 750,000 businesses.