The Acronis Global Cyber Summit 2019 is now in full swing! Hundreds of IT infrastructure managers, CIOs, managed-IT service providers, resellers, ISVs, and developers from around the world gathered in Miami, Florida to see the unveiling of cutting-edge technology, discuss the future of the IT industry, and hear from cyber protection experts and pioneers.
On all these fronts, the first-ever Acronis Global Cyber Summit offers a wealth of opportunities for attendees.
Miami Mayor, Francis X. Suarez announcing CyberFit Day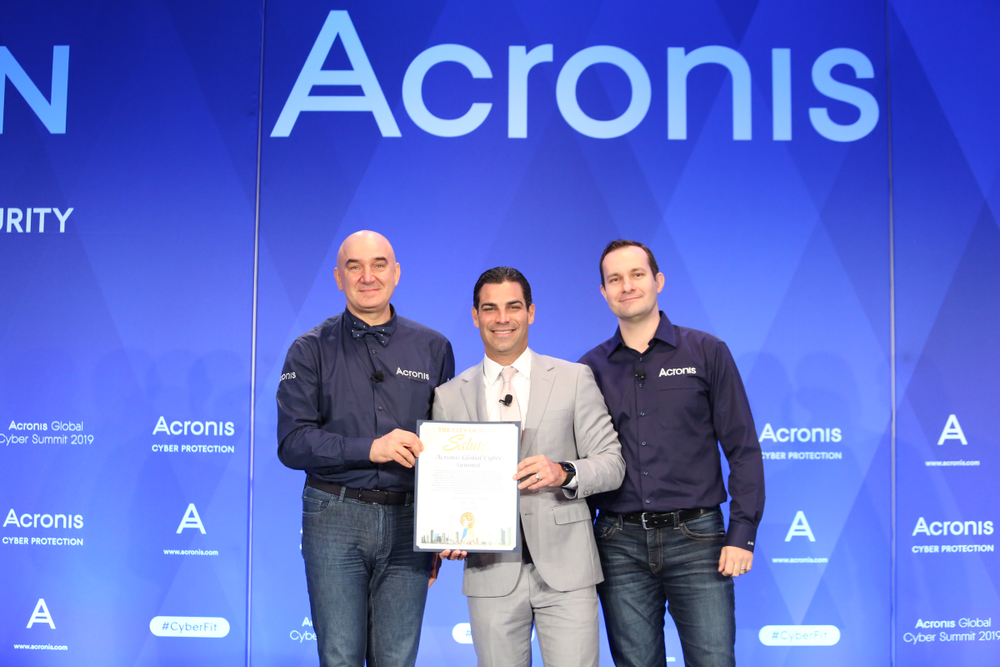 If you weren't able to make it to the Acronis Global Cyber Summit to take part in the festivities, don't worry. In addition to recordings of some of the most popular panels, speeches, and interviews, we've also collected some of the most important takeaways from our keynote presenters.
For an inside look at the insights our cyber protection experts have shared with the Acronis Global Cyber Summit community check out this quick recap of our Day One keynotes and then catch up with everything #AcronisSummit on our livestream feed and through our event hashtag: #CyberFit.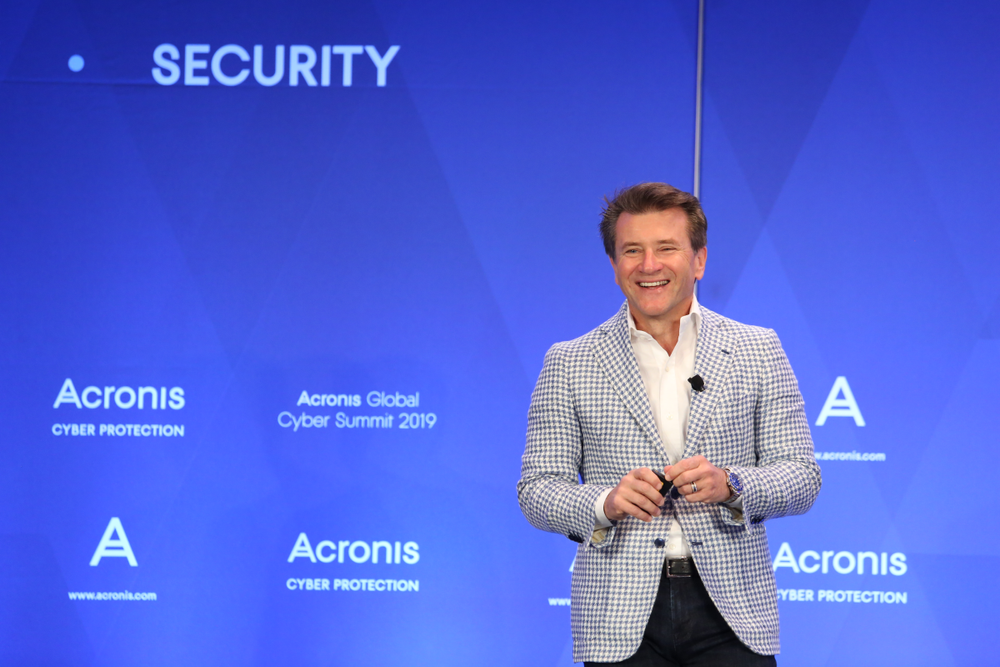 "Every year, we create more data than the 50 years that came before"
World-renowned entrepreneur, Shark Tank host, and cybersecurity leader, Robert Herjavec took to the Summit stage shortly after Acronis founder, Serguei Beloussov to deliver an inspiring message on the importance innovation plays in business success. Citing necessity as a major driver in innovation, Herjavec pointed to the increasing mainstream awareness of cybersecurity. "Every year, we create more data than the 50 years that came before," he said. Herjavec noted that to protect that data and reduce the risk of data loss or corruption there would need to be a fundamental shift in how protection is done.
Speaking to the cyber protection movement that Acronis and Acronis partners are leading, Herjavec said: "The cybersecurity industry is experiencing tremendous growth and extreme fragmentation." This, he said, is not a viable strategy for robust cyber protection. Instead, Herjavec predicts that "the biggest trend in cybersecurity in the next three years will be a move from point solutions to bigger, homogenous solutions."
And, in fact, through the cyber protection revolution, this unified approach to risk reduction is already on the rise.
"MSPs have become prime targets for cyberattacks"
Ingram Micro's SVP Global Cloud Channel, Renee Bergeron, brought a wealth of insight to the Acronis Global Cyber Summit 2019 community, exploring the current state of cyberthreats and managed services. "Cybercrime is up 22% this year over last year," she said. "MSPs have become prime targets for cyberattacks" because they allow cybercriminals to infiltrate multiple targets at once.
To defend against this increasing risk, she cited the importance of being "a change agent, because technology is constantly changing and your survival depends on being able to change at an ever-increasing pace." Facilitating this rapid flexibility, Bergeron promoted the wealth of resources and solutions available through the Ingram Micro Cloud Marketplace – a self-service solution where partners and MSPs can find all the cyber protection products they need to comprehensively support and protect their IT environments, including a number of Acronis solutions and services.
"There are no hackers. There are only spies."
"There are no hackers. There are only spies. Hacking is nothing more than the necessary evolution of espionage," former FBI Counterterrorism and Counterintelligence Operative, Eric O'Neill said, launching into an in-depth look at the cyberthreats that confront organizations today.
Pulling from his career in cybersecurity and his experience bringing an end to the worst intelligence disaster in US history to offer examples of how businesses can fight back against cyberthreats as they both evolve and exploit known vulnerabilities – a trend that still looms large in the digital world. "81% of the successful data breaches today are still based on passwords bought on the dark web years ago. We always have to be evolving past those problems."
To achieve this, O'Neill advises the cyber protection community to "hunt the threat before the threat hunts you". Cyber protection services from Acronis make this possible, by enabling proactive threat detection and prevention and extending end-to-end protection to all the corners of sophisticated IT environments.
Don't Miss a Moment of the Acronis Global Cyber Summit
This year's Acronis Global Cyber Summit is full of opportunities for IT professionals looking to improve how they protect their most critical data, assets, and systems. At the frontlines of the cyber protection revolution, we're changing how the IT industry runs – and you can join the conversation and follow all the talks that guide the way.
Watch the most exciting interviews and sessions in real-time on our livestream feed, read daily recaps of the biggest events and reveals here on the Acronis blog, and follow minute-by-minute updates from the show floor on Twitter with #AcronisSummit and #CyberFit.