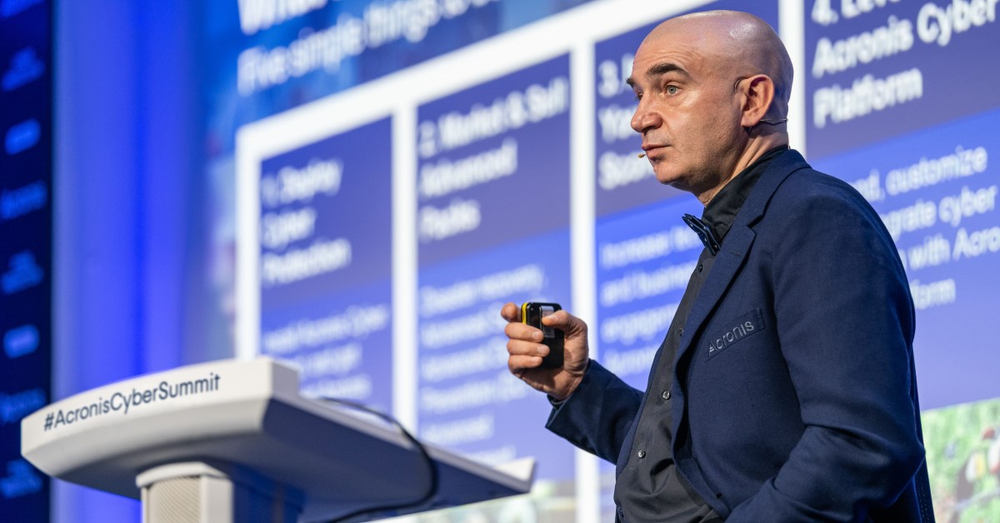 The Acronis Global Cyber Summit 2020 is officially over but the opportunities to learn, protect, and grow your organization with cyber protection are here to stay. In our first-ever hybrid-virtual Summit, which ran from October 19-21, the Acronis team hosted the world's large gather of cyber protection professionals from around the world to engage in three days dedicated to insights, innovation, and actionable advice from some of the foremost leaders in the community.
These learnings – delivered by 130 speakers in more than 60 sessions, workshops, and panels – addressed a wide array of challenges, threats, and opportunities that modern MSPs, ISVs, developers, resellers, enterprise IT pros, and tech sales and marketing specialists. And, by taking part in these sessions or replaying the full catalog of events available on-demand now, these members of the cyber protection community gain valuable advice and insights that enable them to achieve more complete and consistent protection for their organizations.
If you weren't able to join the #AcronisCyberSummit this year, or if you missed out on any of the sessions or segments, here's a quick recap of the best moments from the Acronis Global Cyber Summit 2020.
Find recordings of all these events and more on the Summit platform to watch and share at your convenience.
Special thanks to our sponsors:
GoDaddy Pro / Ingram Micro Cloud / Scale Computing / Pax8 / Climb Channel Solutions
Intel Optane / Sherweb / IntY / CMS Distribution / Virtuozzo
Apple Print & Creative / interworks.cloud / EzeCastle / SIT / Vuzion
Busymouse / US Signal / Hintsa / H. Moser & Cie. / Bacci
Forecasting the Future of Cyber Protection
At this year's Acronis Global Cyber Summit, three recognized leaders in the tech industry delivered keynote addresses highlighting their experiences in the modern world of cybersecurity and cyber protection and forecasting how the industry will adapt and evolve in the years to come.
In his keynote, Bonvanie spoke about cyber protection as a major disruptor to the world of IT – where traditional cybersecurity and data protection solutions remain entrenched in the average organization's IT stack. He reflected that the shift to cyber protection posed a significant change for organizations like these, but was necessary nonetheless: "If you disrupt the beliefs and wisdom people have about cybersecurity, you'll sometimes uncover amazing things."
In his keynote, Acronis CEO SB took this message a step further, highlighting the wide array of challenges that modern IT teams face and the inability of traditional, legacy solutions to address them. Speaking live from Acronis' headquarters in Schaffhausen, Switzerland, SB laid out a vision for cyber protection solutions that enable organizations to overcome complexity, cost, security, and privacy challenges while remaining scalable and easy to manage.
Through demos of Acronis' newest, most comprehensive cyber protection solutions, SB offered attendees a look at this future of cyber protection that is now well within their reach.
Speaking on the geopolitics that underlie technology developments in Europe and the UK, Sir Julian emphasized that the global "balance of power is increasingly based on technology and the data that drives it. Business voices have a crucial role to play in driving development and a competitive advantage in tech, AI, and surveillance."
Sir Julian concluded that the future of technology development and implementation needs to be based upon a clear drive to do good for the world: "There's a clear need to put people and their fundamental rights at the heart of technology development."
Introducing the New Acronis #CyberFit Academy
More than a thousand Acronis partners from APAC, EMEA, and the Americas joined Righter Kunkel, Jon McCarrick, and the entire Acronis #CyberFit Academy team for in-depth training sessions on Acronis' newest solutions. In these courses, unveiled for the first time at the Acronis Global Cyber Summit, partners experienced a completely revamped approach to enabling cyber protection sales and support.
"We now have a massive partner base – 50,000 partners and growing rapidly," Acronis Chief Operating Officer Gaidar Magdanurov said. "Things also change rapidly in technology. We have to be able to educate our partners about all these things. We need to provide what they need when they need it."
At this debut of the new training and certification courses, Acronis partners proved that they were ready for this new approach, completing courses all day and becoming better equipped to position, sell, and deploy cyber protection solutions. Interested in getting certified? Partners can join the academy training sessions here.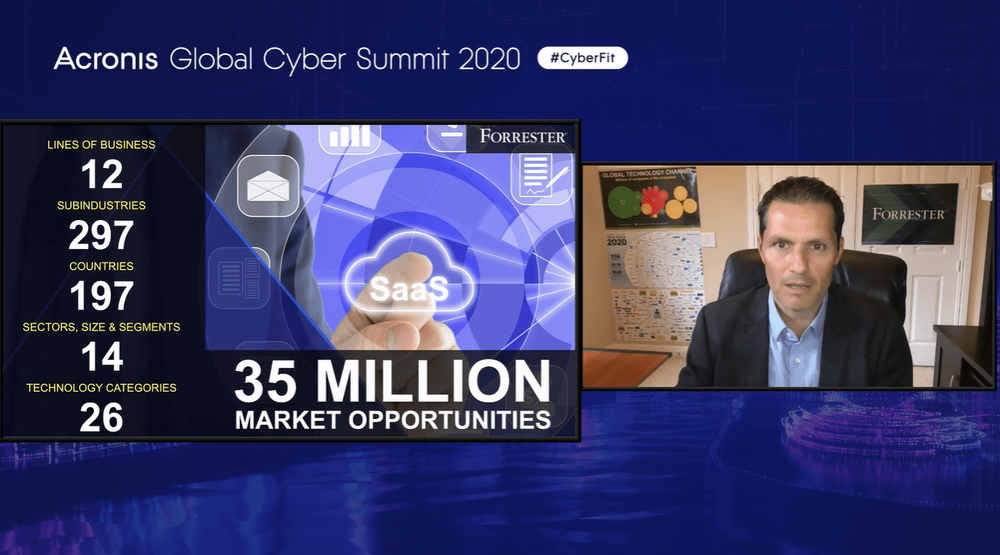 Expert Insights from Across the Community
This year the Acronis Global Cyber Summit featured four distinct conference tracks – IT Channel, Enterprise IT, Developers and ISVs, and Sales and Marketing – all of which were jam-packed with sessions, workshops, panels, and networking hubs. These engaging, interactive events invited attendees to explore, discuss, and discover topics ranging from business best practices to automation, cybersecurity research, and more.
For a look back at some of our can't miss sessions from this year, be sure to check out our daily recap articles for an overview of the biggest events at the Summit:
Looking for a subject or session in particular? Recordings of all 2020 sessions are available for on-demand replays now on the Summit platform.
Unforgettable Experiences
It wouldn't be the Acronis Global Cyber Summit without a few surprises and with this year's hybrid format, attendees had the opportunity to take part in unique events and inspiring conversations from all around the world.
Our panelists: Amanda Lee of Pax8, Amy Luby of Acronis, Ann Cloyd of DeepTech Inc., Christelle Heikkila of Arsenal F.C., and Michelle Ragusa-McBain of the JS Group, spoke about the positive effect of diversification and inclusion on business culture and success while also commenting on the key lessons they've garnered to this point in their careers, and the importance of inspiring the next generation of women to explore the industry.
Key takeaways from this inspiring panel include the importance of staying true to yourself in your chosen career, the value of a solid network, and the point that real, lasting change needs to begin with children at home. Amy Luby addressed this saying, "Talk to your kids and get them to challenge the 'things that girls do' and the 'things that boys do'. We've got to start at home if we're going to change corporate culture in the long term."
Behind the Scenes with Sports Stars
In three eye-opening sessions, sports stars from some of Acronis' professional sports partners joined the #AcronisCyberSummit to offer an inside look at their world.
In all three of these sessions, world-class experts from sports teams around the world connected over the dedication and focus that drove their own success, reflect on some of their most legendary moments in sports history, and offer advice for individuals and organizations working to become champions in their own industry.
Giving Back with the Acronis Cyber Foundation
At this year's charity silent auction, the Acronis Cyber Foundation raised funds to advance education in at-risk communities around the world with more than 100 amazing items up for auction, including hospitality packages with professional sports teams, once-in-a-lifetime travel experiences, and stunning jewelry and apparel pieces.
During the Summit charity event, attendees had the opportunity to see how their support directly impacts the lives of children around the world with testimonials from some of the Foundation's educational projects, an inspiring speech by Acronis Founder SB, and an impassioned interview with Red Sox legend Pedro Martinez, who benefitted from donations like these when he was growing up.
Journeys Around the World
This year's Summit also included unique opportunities for attendees to journey to a world-famous chef's kitchen, an acclaimed Italian winery, and a historic Swiss watchmaker's facilities – all from the comfort of their own home office.
Each one of these unforgettable happy hour sessions provided attendees with a sneak peek into the mastery of professionals and gain a few pointers along the way. Replay the sessions you missed to make sure you don't miss out on any of the lessons, or any of the fun.
What's Next for Cyber Protection?
The cyber protection era is here. At the Acronis Global Cyber Summit 2020, the community came together to learn how they can best prepare for it and succeed in the years to come with cyber protection solutions that reduce the complexity, security, cost, and privacy challenges currently threatening their growth.
If you were able to join the Summit this year, you're now equipped with the advice, resources, and next steps needed to launch or expand your cyber protection capabilities. We ask that you help us make our 2021 Acronis Global Cyber Summit even more valuable by completing our feedback survey or recording a video testimonial about your Summit experience.
If you missed this year's Summit or just missed out on a few sessions that your organization could benefit from, we invite you to replay all of our events and share these insights with your network here.