Acronis

Cyber Protect Cloud
Wow. I have been involved in creating a lot of events during my career but I've never been involved with anything as big – or frankly as historic – as the Acronis Cyber Summit 2020. During the Summit's three days, we welcomed more than 8,500 professionals who registered to hear 130 speakers and 20 sponsors, which means we may have pulled off what might be the largest security-focused hybrid event ever.
As a former managed service provider (MSP), I was thrilled that the Summit's mission was different than some of the vendor events I've attended in the past. That's because it wasn't focused on pitching a product, but rather it delivered the information, training, and content to help our IT channel partners grow.
Jay McBain talks directly to the channel
I have a confession to make: Keynotes are generally not my favorite thing. They tend to be a bunch of wild statements about some future predictions and past accomplishments that never really seem to speak to the audience as much as they speak to the keynoter's ego.
Not at the 2020 Summit! The speakers were charged with delivering actionable insights, and they delivered.
My favorite keynote happened Tuesday morning and was given by Jay McBain, principal analyst at Forrester. I learn something every time I listen to Jay. One thing Jay is really good at is taking in all of the data and giving a summarized view, as well as a clear understanding of what the channel is, why it exists, who is involved, and how we should all be thinking about the channel.
You can watch Jay's presentation here. Starting at the 2:58 minute mark, Jay summarizes the channel and highlights the specific opportunities for cloud vendors.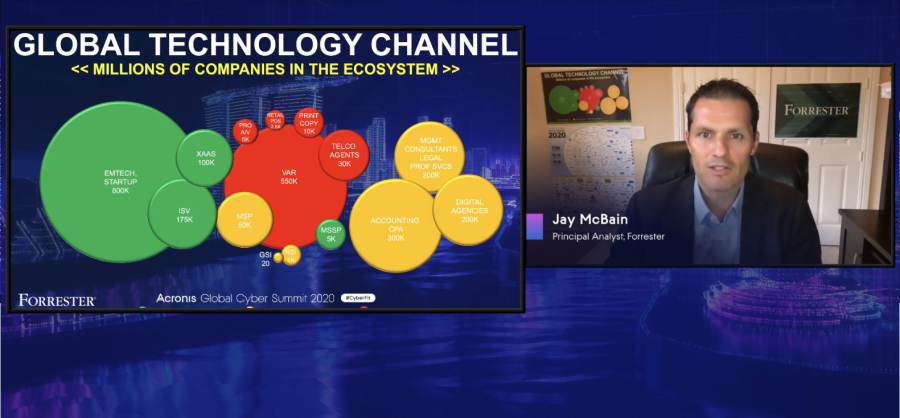 Jay details how $2.2 billion now flows through the channel, $189 billion of which is from Managed Services. While many hardware and consulting entities are down 50 - 60%, the Managed Services sector is down just 1.9%. Cloud companies, on the other hand, are up 40 - 50%.
Four post-pandemic opportunities for the channel
Jay noted that there's a new buyer's journey where much of the IT spend happens outside of IT, which means that verticalization and localization is key. In his opinion, this creates four distinct opportunities in the post-COVID environment that can be addressed with cyber protection:
Automation, which will enable humans to run in parallel with processes instead of being in the middle of it.
Cloud, where dollars are being spent in multi-cloud environments and the opportunity is in securing these kinds of environments.
Remote Work, since there are massive numbers of employees working from home and an exploding number of new threat vectors to protect against.
Tactical Business Consulting, which will enhance the customer, employee, and partner experience through the use of technology.
Then I participated in the Women in Technology panel, which turned out to be an amazing and inspirational discussion. We covered so many important topics during the hour we had to talk.
One observation I was particularly struck by occurred toward the end of the panel (at the 55:26 mark), when Michelle McBain, VP of Global Channel and Digital Strategy for the JS Group, talked about how COVID has affected women in tech especially hard as they balance their career, home life, and remote learning.
"Women are opting to leave technology because they are not able to do it all," she reported based on the conversations she was having as well as the research that's come out since the start of the pandemic that shows women are doing the lion's share of domestic and educational work in the family, in addition to their full-time jobs. They need real help and she urged substantive change needs to take place in the remote work culture inside our organizations.
In effect, Michelle sounded the alarm for all of us to pay attention to the women we work with – both to protect their mental health, safeguard their contributions at work, and protect the advances women have made in the industry.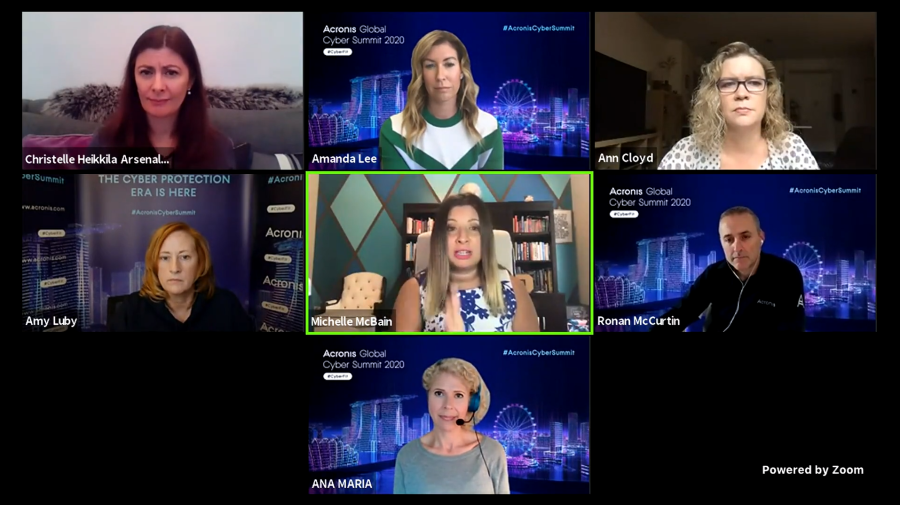 We have a lot of strong women at Acronis, and I know a lot of strong women in the channel. Let's do our best to talk to each other, get to know each other, and to really share our struggles so that we can effect real change, real growth, and real empowerment.
I'm really proud to have been a part of such a great, insightful conference and urge anyone who was not able to attend the Acronis Global Cyber Summit 2020 to spend some time watching the session replays. All of the general and channel-focused sessions are available for free until December 20.
In the meantime, stay tuned for my next blog where I highlight our live workshops with some of the greatest MSP minds in the business!
About Acronis
Acronis is a Swiss company, founded in Singapore. Celebrating two decades of innovation, Acronis has more than 1,800 employees in 45 locations. The Acronis Cyber Protect Cloud solution is available in 26 languages in over 150 countries and is used by 20,000 service providers to protect over 750,000 businesses.